Fresh off the $25,000 gas give-a-way, Rod Wave is at it again with an Easter celebration this Saturday from 1-6 p.m. at the Lakewood Junior Spartan Complex, 4801 31st St. S.
BY KARIN DAVIS-THOMPSON, Staff Writer
ST. PETERSBURG — Deloris Green-Foster admits she wasn't sure how her grandson would support himself by making music.
"He was just about to graduate from high school, and I wanted him to get a job," she said. "But he believed in his dream."
Today, her grandson Rod Wave is not only a local celebrity and has made a name for himself in the world of hip hop. And now, he wants to give back to the community that helped him get his start.
Born Rodarius Marcell Green, he rose to fame in 2019 with the single "Heart on Ice," which went viral on TikTok and YouTube and peaked at number 25 on the Billboard Hot 100. Wave's debut album, Ghetto Gospel (2019), peaked at number 10 on the US Billboard 200, his second album, Pray 4 Love (2020), peaked at number two, and his third album, SoulFly (2021), debuted at number one.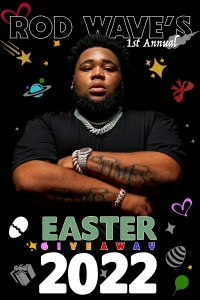 Last Saturday, the Lakewood High School alum gave away $25,000 worth of gas at the Sunoco gas station in the Skyway Marina District. Hundreds of people showed, waiting hours for up to $50 worth of gas.
This Saturday, however, is all about the kids. On April 16, he will give away bikes, food, and Easter baskets to children from 1-6 p.m. at the Lakewood Junior Spartan Complex, 4801 31st St. S.
Green-Foster, who the superstar calls Nana, said Green would also have face painting and bouncy houses for the children to play.
"He just wants to say thank you to the community that supports him," she said. "I am so proud of him. His dad gave him his first microphone, and that was it."
To think back to how he started and the support the city gave him, Green-Foster said, it makes it easy to understand why he wants to help as many as he can in any way he can.
"He was a student at Lakewood High School making his songs, and his friend put them on YouTube," she said. "People liked it, and he started selling his CDs for $3, and people would buy them. This is his way of saying thank you."
Saturday's Rod Wave's Easter Giveaway is first come, first served, and an adult must accompany all children.