Left, Judith Turner and Ramona Brayboy's Southside Fresh Market opens this Sunday at 2184 9th Ave. S. (Photo Credit: Antonio Herring)
By J.A. Jones, Staff Writer
ST. PETERSBURG — Two women entrepreneurs aim to improve south St. Pete's community economy and access to locally sourced-handmade food products with a brand-new Sunday market on Ninth Street South.
Southside Fresh Market opens April 4 at 2184 9th Ave. S, and founders Ramona Brayboy and Judith Turner say the market's mission is simple: to develop opportunities for small vendors to provide wholesome alternatives in food-insecure areas … and impact community health and wealth.
Brayboy, the daughter of Chief's Creole Café's Elihu and Carolyn Brayboy, said starting some kind of market has always made sense. "I've always gone to markets — I'm a market girl; I've done the whole shebang," she explained.
Creator of her own handmade health and beauty line, Natural Vanity, Brayboy has had the experience of setting up and selling products at community markets in the past and recalled thriving markets on 16th Street and behind Chief's Creole.
"I always wanted to keep that good energy coming back to the area … because there's a lot of talented people here, and we want to showcase their art."
Brayboy said the idea is to "keep it 51 percent produce, and edible foods — and then the rest will be things like handmade soaps and clothing, handmade hair products, skincare products, artistic endeavors – paintings, music, things of that nature."
She notes that right in St. Pete, customers can experience a "global market" atmosphere through the variety of representative talent and produce that exists right within the community — "in walking distance."
The entrepreneurial beauty maven and restauranteurs' daughter said this market would not only bring fresh produce into "in an area that is a food desert," but the pair also have plans to support community entrepreneurs who want to build and expand their business model.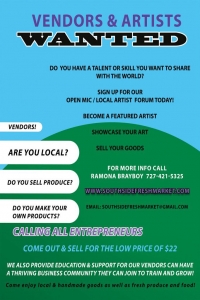 Up to 20 vendors will be able to set up in 10-feet-by-10-feet space and sell their product every Sunday – and the market is planned year-round.
But, added Brayboy, "It's not just come to the market and then go home and figure it out." They have plans to support vendors in making their products shelf-ready through a "retail-ready lab" – a curriculum-supported process for preparing small-home producing vendors for the big time.
The two started working on the idea in 2019, and Turner's non-profit, Florida Cooperative Empowered Economic Development Corp (Florida-CEED) received a small grant toward developing the project from Pinellas Community Foundation's Venture Philanthropy Fund.
An award-winning business owner of a successful contracting business for more than 30 years, Turner said the idea for a retail-ready lab came from a grocery co-op conference she attended. There she learned about a project that supplied home-producing vendors with a new level of business acumen. The program includes instruction on proper ingredient labeling, appropriate packaging, procuring barcodes, locating suppliers, and learning what standards and regulations must be followed.
Turner returned from the conference and relayed what she'd learned; she noted, "It was exactly what Ramona was facing: 'I have all these homemade products, but I don't know where to get good packaging, I'm just kind of doing this homemade stuff.'"
While the two agreed this was the route they wanted to go and started to talk to various community partners to locate space, COVID-19 struck just as they were ready to move into a location in 2020.
But, acknowledged Turner, "Ramona was just relentless and was not going to give up on finding the space."
After another space fell through, Brayboy convinced her parents to offer an area on the property across the street from Chief's Creole Cafe for a year, and they began to plan for their spring 2021 opening.
As a co-op project, the Southside Fresh Market's website shares the following concepts:
Market Philosophy: Our market formed to develop opportunities for small vendors to provide wholesome alternatives in food-insecure areas that will impact community health and wealth.
Vendor Philosophy: The idea is not only to rent table space to vendors but provide them with development assistance for their products, business, funding, and ownership opportunities.
Implementation:
To offer classes to help vendors develop the packaging of their products
Help food vendors with unique ideas refine their food product
Business development classes
Access to funding opportunities
After one year of market participation, the vendor may apply for market ownership
The list of current vendors reveals a variety of products that will be on sale, including:
Yummy Wellness Living — "Delicious solutions to easily jumpstart and maintain a healthy lifestyle"
Jay's Jazzy Jewels – "Fun, Fashionable Accessories at a price EVERYONE can afford!"
Tree Fairy Spirit — "Vegan, cane sugar-free, gluten-free chocolates"
Sudz with Sydney — "Handcrafted artisanal soaps and body pampering products to uplift your spirits"
Moringa Growers' Co-op – "Providing moringa trees and fresh handmade moringa products"
There is still room for more vendors, and the price is nominal at $22 a week. The market will begin at 11 a.m. and end at 5 p.m.
Interested vendors should call 727-755 6134 or email southsidefreshmarket@gmail.com.
To reach J.A. Jones, email jjones@theweeklychallenger.com