BY MICHELLE LIGON, Contributor
ST. PETERSBURG — After an eventful year of dynamic industry growth and agency development, team members, spouses and team guests of the St. Petersburg Housing Authority, Inc., (SPHA) were treated to a very special Saturday night out.
The evening was hosted in the serene ambiance of the Hilton Carillon Park Hotel with the contemporary jazz stylings of Tampa Bay artist and musician Jevon Smooth. Presented in a progressive awards program format, keynote speaker Rev. Dr. Manuel L. Sykes, senior pastor of Bethel Community Baptist Church, inspired the audience.
Starting with detailed reflections on the past 80 years of public housing and ending with a clarion call to action in response to evolving national trends and services for affordable housing, Sykes left no doubt as to the urgency of social need and the intimacy of obligation for individuals, cities, counties, states and the federal government.
"If we can pass and enforce a city ordinance requiring shelter and clean water for our dogs, who live outside, we can and must do better than that for our people who live outside in cars, under bridges and in the woods.  In this city where the sun does not yet shine on everyone, we can and must move forward together, putting aside any personal agenda or political difference that is keeping us from doing right things–right now–for people in need."
In appreciation for exceptional efforts made in 2018, SPHA commendations were presented to established community cohorts: The Pinellas County Urban League, Watson Haynes; St. Petersburg Police Athletic League, Erika Hardison and the Edible Peace Patch, Linda Marcelli.
Agency commendations were also presented to local attorneys serving as SPHA Hearing Officers for residents including, Katherine Fall, Esq., John Joseph, Esq. and Patrick Hogan, Esq.
St. Petersburg Housing Authority, Inc. team service awards
The Housing Choice Voucher Program — Larry Gonzalez, accepting
Public Housing Program — Robin Adams, accepting
Longevity Award – Joyce DeBardeleben, awardee
Rookie of the Year- LaShunda Battle, awardee
Exceptional individual achievement
Resty San Juan, Wanda Adkins Award
Grenecia Gilmore, Rookie of the Year Award
Sherika Roberson
Larry Butler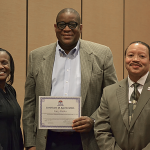 SPHA Chief Executive Officer Tony Love closed out the evening with words of appreciation for an impressive array of departmental and individual achievements made in 2018, followed by a call for continued team excellence and encouragement as to reach agency goals set for 2019.
"By mission, we provide a variety of safe, sanitary, accessible, decent and affordable housing to eligible citizens of the City of St. Petersburg, while enhancing and promoting resident self-sufficiency.  That's what we do and I thank each and every one of you for your individual and team efforts to do it all to the very best of your ability every day in every department of the St. Petersburg Housing Authority. "