"We are trying to get to the essence of the truth of Jordan Park," said SPHA CEO Tony Love at the July 16 workshop held at St. Petersburg College Midtown campus. "We want to make sure that everybody understands that there's history in Jordan Park and we want to preserve it, but we want to preserve the correct history."
By J.A. Jones, Staff Writer
ST. PETERSBURG – The standing-room-only crowd attending the St. Petersburg Housing Authority's (SPHA) July 16 informational workshop on the future of Jordan Park was left dismayed when CEO Tony Love abruptly ended the meeting without taking questions.
But even more disturbing was a baffling handout displaying property deeds dating back to the early 1900s relating to the land that Jordan Park Apartments now sit on.
What was missing from these records was the name "Elder Jordan," but what was not missing from the conversation was the insinuation that there is no recorded proof that Jordan ever owned the land that the housing development is situated upon.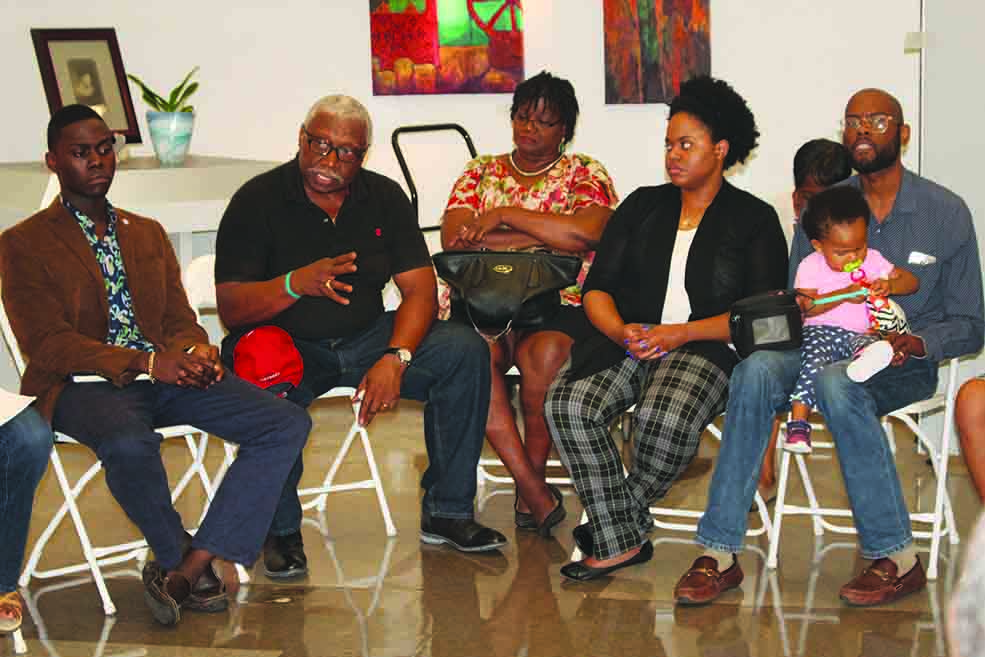 Present at the workshop were architect Robert Reid Wedding, SPHA Media Relations/Information Officer attorney Michelle Ligon, real estate attorney Alexandra "Sandy" Maclennan of Squire Patton Boggs and Susan Bradley, a project manager at Robert Reid Wedding Architect & Planners.
Residents were also confounded by the presence of at least four police officers in the meeting room.
Love began by informing attendees they were there to "listen" to a history of the plotting and rehabilitation of Jordan Park, as he focused on his theme of "fact-based information regarding where we are, how we got here and the key issues to consider for the next step toward being able to stay here."
Wedding offered a short development history of Jordan Park, and discussed upgrades for 206 units that are "under design and consideration financially at this time." He also shared the proposal of adding 60 new units for seniors, which would increase the total number of units for the entire development to 266, the maximum residential density allowed under current city code.
While Ligon assured residents that the decision whether to tear down or rehab the Historic Senior Village was "not being made in the dark" and that public "input is critical to the process," attendees were clearly displeased that they were not permitted to ask questions — not even Senator Darryl Rouson.
She added that an upcoming meeting on Aug. 1 would allow the commission to gather additional information and introduced Maclennan, who, she assured listeners, would educate them on Jordan Park's creation from a "fact-based basis."
Rouson halted proceedings as Ligon passed the mic to Maclennan to ask, "So why isn't the public allowed to comment today if the input from us is critical?" To which Ligon responded, "The input from you is critical in terms of the overall decision-making; a determination was made that we would not entertain questions at this forum."
"This isn't the meeting we were promised," exclaimed Terri Lipsey Scott, director of the Carter G. Woodson African American History Museum, who has brought to light the poor-quality housing that seniors were forced to move to after the condemnation of the Historic Senior Village.
Maclennan then gave a presentation to show "how land was pulled together to create Jordan Park." She presented a handout explaining the transfers of a number of subdivisions and properties to the City of St. Petersburg or housing authority, including those in 1938 that seemed most immediately relevant to the current conversation.
However, it was difficult to tell how the properties related to the current Jordan Park development; some listeners asked for the relevance of the information being given. The reason for the presentation soon became shockingly clear.
As Maclennan once again emphasized how the documents made clear the land Jordan Park was erected upon was transferred from a wide variety of previous owners and inhabitants, Lipsey Scott asked from the audience, "Was the land not donated by Elder Jordan?"
Maclennan responded: "All the property records indicate that all the land that is today Jordan Park was transferred by deed by all these different people."
When Lipsey Scott pressed the issue to get a firm response to the question of whether or not Jordan donated the land to the city, Maclennan said: "We didn't find any indication in Pinellas County public records of a single deed among the papers," which created an audible murmur of dissatisfaction in the room.
Brenda Gilstrap, president of the Jordan Park Nostalgic Association, inquired if it was true that the original documents that started Jordan Park with the United States Department of Housing and Urban Development have not been located. Love responded:
"Currently we are researching.  While we're doing our research, we're trying to get the essence of the truth of Jordan Park. Everybody should understand that there's history in Jordan Park, and we want to preserve it, but we want to preserve the correct history."
With that, Love thanked the now clearly distressed audience for coming out and ended the meeting.
But before he could leave the podium, Dr. Basha Jordan, the grandson of Elder Jordan, declared: "What you just said is totally astounding. That denies all records in St. Petersburg in the museum…that all these people gave the land, and my grandfather didn't give it? I'd like you all to research that and come back with some documentation."
With the temperature of the room rising, Love continued to assert: "This meeting is adjourned!" and attempted to have the police to clear the room.
No mention was made as to why the SPHA displaced elderly and disabled residents before securing funds to either build or rehab the units they were living in.
"I think the meeting was a failure," said Rouson. "Information is brought through dialogue, through question and answer, not just preaching down to people or giving information out to people without receiving questions in true dialogue. What they have done effectively is shut the community out until Aug. I don't even know why they called this meeting."
Many were left thinking the "workshop" was just a ploy to erase the history of a former slave-turned-businessman who obtained enough wealth to leave a legacy to the black community in St. Pete.
"All I know is that my father told me that his father donated the land for Jordan Park. So there's a lot of information in the African-American community that is not recorded in history," said Dr. Jordan.
"Even if it's true, they are not going to take anything away from the legacy. As a matter of fact, it will probably add something to it because when you sling mud, you get dirty," Dr. Jordan exclaimed, adding that the meeting was a "mudslinging informational workshop."
In the United States, the histories of marginalized communities have a nasty habit of being erased. Court records go missing, deeds are changed, and some residents are now thinking this is happening right here in St. Pete.
"We need to research, and we need to know our own history," said Rouson. "I've read many places where Elder Jordan donated this land to the city, even through city documents. This certainly was surprising for me today."
Many in attendance were outraged enough to convene to the Woodson museum to continue a discussion and develop a plan of action for protecting the culturally and historically significant African-American development.
Lipsey Scott revealed that she was able to secure proper housing for many of the displaced residents who moved into uninhabitable conditions after the senior village was condemned.
She also revealed how the financial and physical burden of yet another move would make it impossible for some families to leave their current shoddy dwellings arranged by the SPHA.
"There's one woman living in such deplorable housing, and I have begged her. She said 'to move again would kill me.' She is going to stay in this deplorable housing situation because she cannot bear the thought of moving again."
At this point, Paul Hendriks, chair of the Pinellas Realtor Organization, said they would foot the bill to move the residents that Lipsey Scott secured housing for.
"I'm grateful…I shamed the housing authority into a position of doing what they are doing," she said, adding that SPHA will pay for the deposit and transfer of utilities to the new units, but won't pay for moving costs.
Council Chair Lisa Wheeler-Bowman has called a press conference for this Friday, July 20, at 10 a.m. at the Carter G. Woodson African American History Museum, 2240 9th Ave. S.