BY CINDY SWISHER, Neighborhood News Bureau
ST. PETERSBURG ―In 2015, the Tampa Bay Times labeled five south St. Petersburg elementary schools failures: Campbell Park, Fairmount Park, Lakewood, Maximo and Melrose.
The Cathedral Church of St. Peter's partnership with Campbell Park, one of the schools identified in the report, began soon after when Rev. Canon Katie Churchwell reached out to them.
"Labeling a school, and consequently its students, as 'failures' can be damaging to their success in school and in life," she said.
"St. Peter's main goal is to help ensure that Campbell Park kids get the best education possible. It is not only a school issue but a home issue, a community issue," said Churchwell. "There is a lot that impacts a student and their ability to perform in school."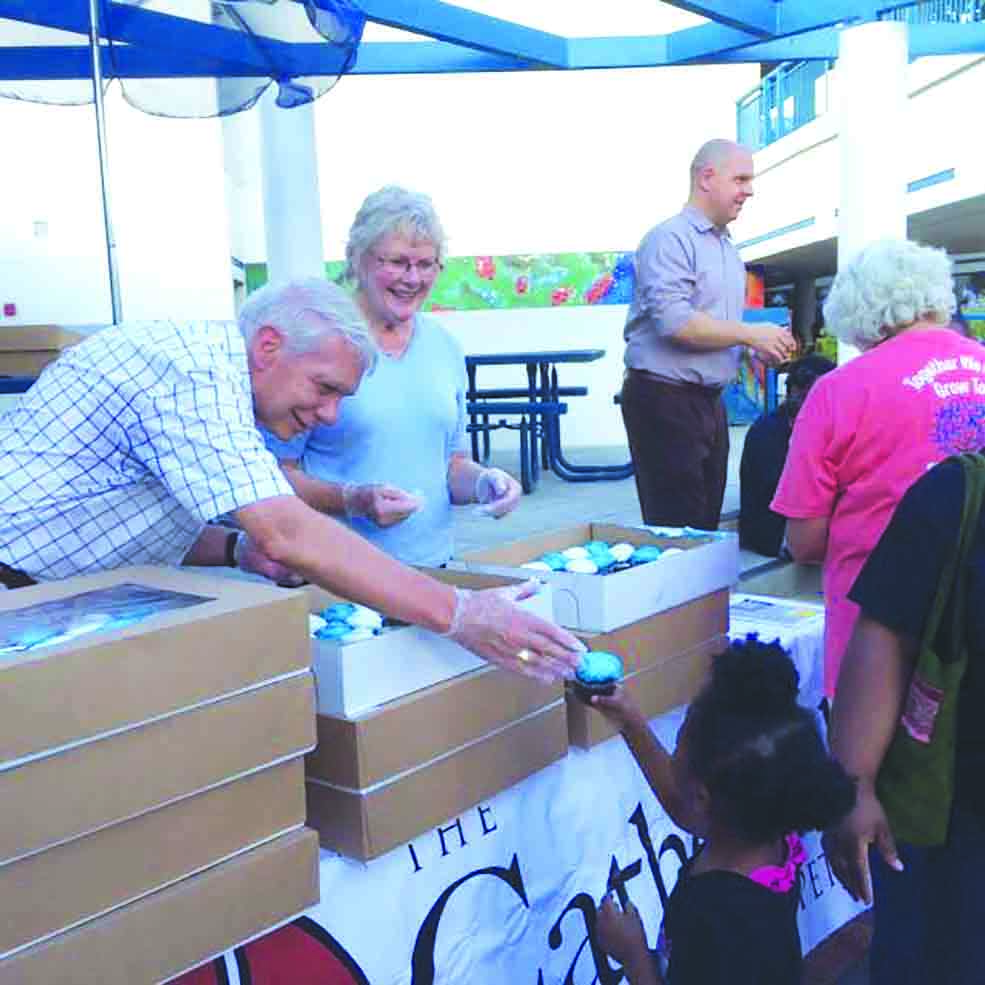 What started as breakfast for teachers on the first day of school, lunches during teacher appreciation week and block parties at the end of the year has blossomed into much more.
The Cathedral functions as an additional resource for students to enhance and support the programs already in place at the school.
"We wanted to engage with our community in a way that is meaningful and transformative," Churchwell said.
One way the church helps is by providing meals for Campbell Park families over school breaks. Many students rely on the meals they receive at school to supplement what is available at home. During breaks, students worry about what they will eat while they are away from school. St. Peter's parishioners donate and deliver groceries for these students and their families.
Mentoring has also become a big part of the partnership. Volunteers from St. Peter's meet with students once or twice a week. They are not there to tutor or problem solve, but to "just be a supportive and caring adult," Churchwell said.
"Our number one goal with mentoring is to show up and show up and show up continually, not dependent on (a student's) grades or behavior," said Churchwell. "We show up because we are committed to them unconditionally."
Some needs change from year to year. For example, last year the Cathedral provided $8,000 for uniforms as well as funding for an incentive program for fifth graders who met specific educational goals―a trip to Washington, D.C.
Some needs, however, remain constant. According to Churchwell, St. Peter's will continue to do what needs to be done―providing school supplies and breakfast for teachers―while looking to increase the truly transformative work such as mentorship.
Another way the Cathedral is partnering with Campbell Park is by being part of a 40-member advisory board that is working to implement a community school model. Last year was a planning year. This year hopes to see the model up and running.
According to Campbell Park principal, Kathleen Young-Parker, a community school is not only a physical location, it is also a set of partnerships between the school and other community resources.
"Community schools offer a personalized curriculum that emphasizes real-world learning and community problem solving," she said. "Schools become centers of the community, are open to everyone-all day, every day, evenings and weekends."
In addition to academics, they focus on health and social services, youth development and community engagement in hopes of fostering improved student learning, stronger families and healthier communities.
Young-Parker and Churchwell's goals for Campbell Park are one and the same.
"The goal of having a community school will eliminate many of the barriers for why students don't come to school," said Young-Parker. "We want the school to be a safe and positive place for not only our students but our families."
Cindy Swisher and Michelle King are student reporters in the Neighborhood News Bureau of the University of South Florida St. Petersburg. Visit http://www.nnbnews.com/ for more info.