PETERSBURG — This fall WBPU 96.3 FM radio has doubled its local listening area after receiving the go-ahead from the FCC. The black-owned St. Pete community radio station, known as "Black Power 96," can now be heard beyond the south side in neighborhoods north of Central Avenue, and out to Gulfport and the Tyrone area.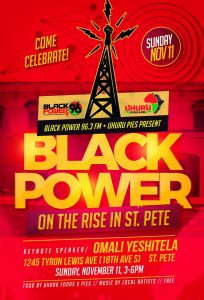 Black Power 96 broadcasts from its studios at the Uhuru House on 18th Avenue South, also known as TyRon Lewis Boulevard. It is a project of the African People's Education and Defense Fund (APEDF), determined to address the grave disparities faced by the black community in health, education and economic development.
Black Power 96 plays a powerful role in achieving the goals of APEDF by offering public service programming geared to the black community, free training in broadcast journalism and by providing local club owners, organizations, artists and entrepreneurs affordable exposure for their businesses, events and projects on the local airwaves.
Currently the station's format features a mix of popular hip-hop music along with old school, neo-soul, gospel and blues. The broadcast line-up also includes speeches by African political leaders like Chairman Omali Yeshitela, nationally syndicated public affairs programs like Glen Ford's Black Agenda Radio and live locally hosted talk shows for all ages such as "My People's Keeper" and "#NoKlass," a weekly program hosted by Gibbs High School students.
To celebrate its expanded coverage and to thank those in the community who have contributed to make the growth of the station possible, Black Power 96 is having a party on Sunday, Nov. 11 in Akwaaba Hall, the events hall located in the same building as the radio station.
Themed "Black Power on the Rise in St. Pete!" the event will also bring together long-time volunteers and supporters of Uhuru Pies, another economic development program of the APEDF. For those new to Uhuru Pies, tastes, slices and whole pies will be available for purchase and the Uhuru Pies volunteers will be taking orders for the 2019 holiday season.
This year, the popular holiday seasonal pie sales campaign will raise funds for the "Black Power Blueprint", a ground-breaking project spearheaded by the APEDF that has purchased and renovated properties for community use in the devastated black working class community of St. Louis.
The celebration on Nov. 11 will begin at 3 p.m. and will feature live performances from rapper Pedro Losa, singer-guitarist Eddy "Florida Blind Boy" Maultsby and the Soulful Music ENT band featuring vocalist Imani, along with tours of the radio station studios and a keynote presentation by Chairman Omali Yeshitela, just returned from a 10-city speaking tour.
Black Power 96 DJs including Station Manager Diakiesse Lungisani, DJ Heavy Love, Eddy Maultsby, Larry Fayson, and #NoKlass' hosts Iquan, Jaquez and Cameron will be on hand to meet and greet their fans and hear from listeners about the community issues and music they would like to hear on the station.
A delicious Karamu (African feast) will be provided by Heavy's Food Truck and Tamara's Catering. For more information, to R.S.V.P to the event or to get involved in the station, call (727) 914-3614 or email info@blackpower96.org.