Grammy award-winner Paul Anthony will be one of the featured guest artists in this year's production.
BY JOYCE NANETTE 

JOHNSON, Staff Writer
ST. PETERSBURG —The Mahaffey Theater will come alive Dec. 23 when the lights come up on the musical "The Family Blessing." The production, which has become a show-stopping holiday tradition, will showcase local, young dancers, musical acts and fabulous costumes while telling a story of hope and love for family and the community.
This year, however, playwright, director and producer Jai Hinson has served up a twist on the magical story line.
"The Family Blessing" was originally written for the lead character, a young boy, being exposed to homelessness where even sleep could not give him reprieve from his harsh reality. His dreams then took him to mythical lands in search of assistance.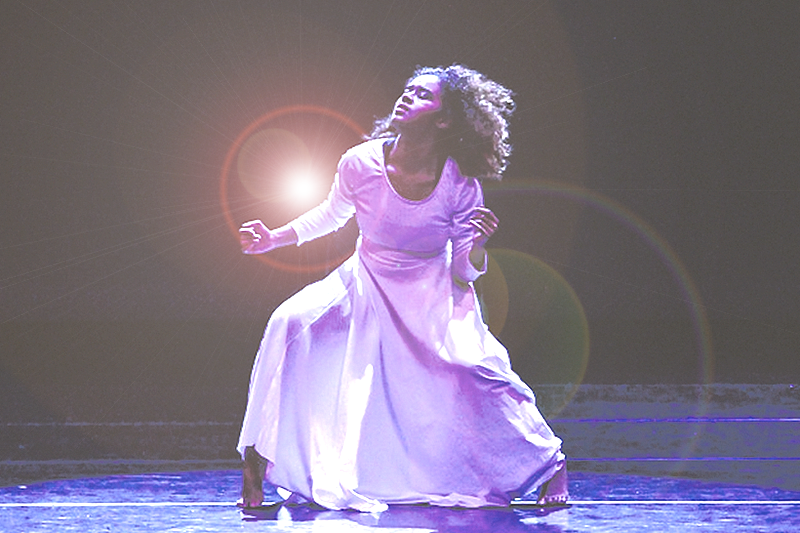 The protagonist is now a young girl named Aliyah, played by 10-year-old Pharyn McCrae. Instead of homelessness, she is confronted with cancer and the possible loss of a loved one.
In her dreams, Aliyah journeys to exotic lands and is given special healing gifts to bring back to her ailing grandmother. Her journey is a cultural explosion of dynamic dance sequences and music as she visits lands such as the Land of Peace (gospel), Harlem, the South American rain forests, Brazilian Carnival, West African Villages and Bollywood.
All forms of dance are brilliantly represented including elegant ballerinas who float across the stage or the steady beat of tap dancing and the rhythmic steps of salsa or hip-hop.
Hinson explained it was a chance meeting with entertainer, motivational speaker and cancer care advocate Paul Anthony at a Moffitt Cancer Center event that was the catalyst for changing the "condition" of the journey while keeping the essence of the message. Anthony is a cancer survivor and serves on Moffitt Cancer Center's National Board of Advisors.
According to Hinson, who is also a cancer survivor, the two started talking about the production when Anthony asked to be a part of it to help promote the message of cancer awareness and much-needed support.
Anthony is a member of the Grammy award-winning musical group "Full Force," who has worked with Rihanna, James Brown, "Lisa Lisa & Cult Jam," the "Black Eyed Peas" and Patti Labelle. In 2006 he was diagnosed with mantle cell lymphoma and courageously battled his way back to good health.
He became a three-time survivor of the disease and started the Paul Anthony Foundation, which "empowers to uplift people from cancer survivors to cancer champions." The foundation also assists in promoting cancer awareness and acquiring funding to continue cancer research.
He is a motivational speaker who believes in positive affirmations. "The worse cancer is the cancer of the spirit," he stated.
Anthony said he wanted to be a part of the production because "the universal language is music. I can't wait to digest and inhale all of the energy of the play."
Some of the other performers include the Grupo Folklorico Mahetz, a dance group of Mexican-American students, the Blue Jay Native American Dancers and the dance troupe Tapped In from the Patricia Ann Dance Studio.
Also students from John Hopkins Middle School Arts program, Blake High School of the Arts, Pinellas County Center for the Arts at Gibbs and, of course, Hinson's Dundu Dole Urban Africa Ballet from ARTZ 4 Life Academy will perform. There will also be a special appearance by Senator Darryl Rouson and Rene Flowers.
Hinson is the founder and director of ARTZ 4 Life Academy. She began her career in her hometown of Newark, N.J., and was awarded a scholarship to the prestigious Dance Theater of Harlem at the age of 14 and has performed with major choreographers and dance troupes throughout the world.
What she is most proud of are her returning students that she can't stop raving about such as Marquis Floyd, a graduate of the Boston Conservatory of Music and Dance and the Dance Theater of Harlem and Briana Reed, a former dancer with Alvin Ailey Dancers who will be presented the key to the city on the night of the performance.
"I want kids to be inspired of the artistry and to find their own voice," shared Hinson. "They can see the success of other kids and they can use arts as a way to overcome depression or sadness. It is a place of solace that they can tap into."
"The Family Blessing" will be held Dec. 23 at 2:30 p.m. and 7:30 p.m. at the Mahaffey Theater. Ticket prices are $22, $32 and $42.
For more information, please contact Hinson at Jaihinson@artz4life.org or (727) 481-8091.