PETERSBURG — Certain items are often overlooked in the donation process, yet those items are essential for wellbeing. Pinellas County Urban League Young Professionals (PCULYP) is donating these types of items to homeless veterans and families in need.
In partnership with the Action Jackson Foundation, PCULYP presents the Operation Giving Thanks Donation Drive. Now through Nov. 14, they are collecting deodorants to contribute to Action Jackson Foundation's hygiene packets, which will be distributed during the Operation Giving Thanks Dinner on Sunday, Nov. 18.
The dinner will serve more than 500 homeless veterans and provide hygiene packets full of essential toiletries.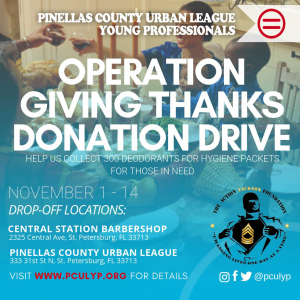 "We want to support our Veterans in need.  Deodorant isn't a glamorous item, but it is a way to help homeless individuals have a greater quality of life while dealing with their current circumstances.  We're proud to be a part of this initiative," said PCULYP Community Service Chairperson Reshawn Fields.
Donations can be dropped off during normal hours of operation at Central Station Barbershop & Grooming, 2325 Central Ave. and Pinellas County Urban League, 333 31st St. N.
For more information, and a listing of chapter PCULYP events, visit http://pculyp.org/.