By Allen A. Buchanan, Staff Writer
ST. PETERSBURG — When the Harlem Renaissance crumbled under the weight of the Great Depression in the mid-1930s, the Federal Theatre Project (FTP) cleared the way for talented African-American artists to gain access to more challenging acting roles other than maids and farmhands who spoke broken English.
The creative synergy that resurfaced in the Harlem of 1936 led to the birth of The Negro Theatre Unit of FTP under the leadership of John Houseman who turned to Orson Welles to direct the show that would become known as Voodoo Macbeth.
The opening night of Voodoo Macbeth was a theatrical spectacle with over 10,000 spectators filling the streets of Harlem as a brass band led the way to the theater.
Integrated audiences of more than 100,000 people saw the play in Harlem before its debut on Broadway and the national tour.
St. Petersburg's nationally acclaimed award-winning producer/director Bob Devin Jones teamed up with world-class local choreographer and producer Jai Hinson to bring the legendary Voodoo Macbeth to Studio@620.
The evening before its preview performance, Jones talked about the three-week engagement.
"It's one of the few plays in Shakespeare that has so many incantations in it that we decided to embrace it," Jones said of the all-black production.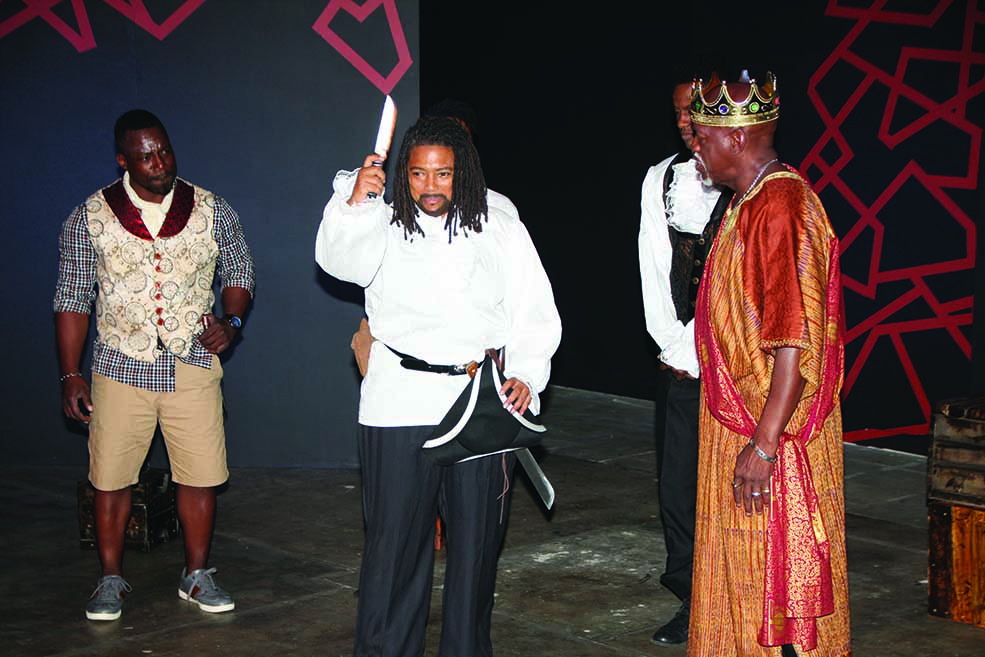 He was inspired to produce the play because of the opportunity it afforded him to work with several local performing arts icons, such as Hinson of Dundu Dole Urban African Ballet company and actress and assistant producer Erica Sutherlin.
Jones also welcomed the opportunity to work with costume designer Saidah Ben Judah who has worked with Sam Waterson, Vanessa Redgrave, Jimmy Smits and many other notable actors and actresses.
Set in 19-century Haiti instead of Scotland, General Macbeth, portrayed by Calvin M. Thompson, receives a prophecy from three witches that one day he will become king. Overtaken by ambition and incited by his wife, portrayed by Sutherlin, Macbeth murders King Duncan (James Lincoln) and takes the throne. His paranoia and guilt soon take over his life.
Despite the complexities of producing a Shakespearian play, especially one with Caribbean flair, Jones and the large ensemble rehearsed only four weeks before their preview performance last Friday.
Rounding out the cast is Satchel Dennis (Macduff), Nancy Mizzell (Lady Macduff/Lennox), Cranstan Cumberbatch (Malcolm), Nadine Smith (Ross), Phillip Rankin (Seyton), Sharon Scott (Hecate), Kylin Brady (witch), Jai Shanae (witch), Audrey Love (witch), Andre Ezeugwu (porter/ sergeant), Elijah Dixon  (Macduff's son), Chris Kelly (Fleance/young Siward) and Thomas Morgan (Banquo/Ghost of Banquo/Old Siward).
Jones stated that some features of the play will continue on with performances in Pinellas County Public Schools "and we're planning on having some aspects of Shakespeare here ongoing at the studio that we'll open up to the community."
Voodoo Macbeth runs through April 23. Tickets cost $25 for adults and $20 for students and seniors. Tickets can be reserved in advance by calling (727) 895-6602.