L-R, Gershom Faulkner, Deborah Lekenta and Sandra Narron
BY RAVEN JOY SHONEL, Staff Writer
ST. PETERSBURG – As Neighborly Care Network busses pulled up to Daystar Life Center on Monday, volunteers handed brightly decorated bags of vegetables, nonperishables and a traditional Easter ham to seniors who participate in the Senior Dining program housed at Enoch Davis Center, the Sunshine Center and Gulfport Multipurpose Center.
With Neighborly Care Network, a free government funded program located at several centers throughout Pinellas County, and Daystar Life Center, a non-profit that helps to alleviate hunger, homelessness and hopelessness in St. Pete, it was only a matter of time before the two partnered up to help supplement the nutritional needs of seniors.
Neighborly's Senior Dining program offers free pick up and drop off to centers around Pinellas County for seniors over the age of 60. At the centers, seniors receive a hot, nutritious meal along with informational programs, cooking demonstrations, entertainment and activities.
For three years now, their busses have swung by Daystar once a month to get bags of food for program participants.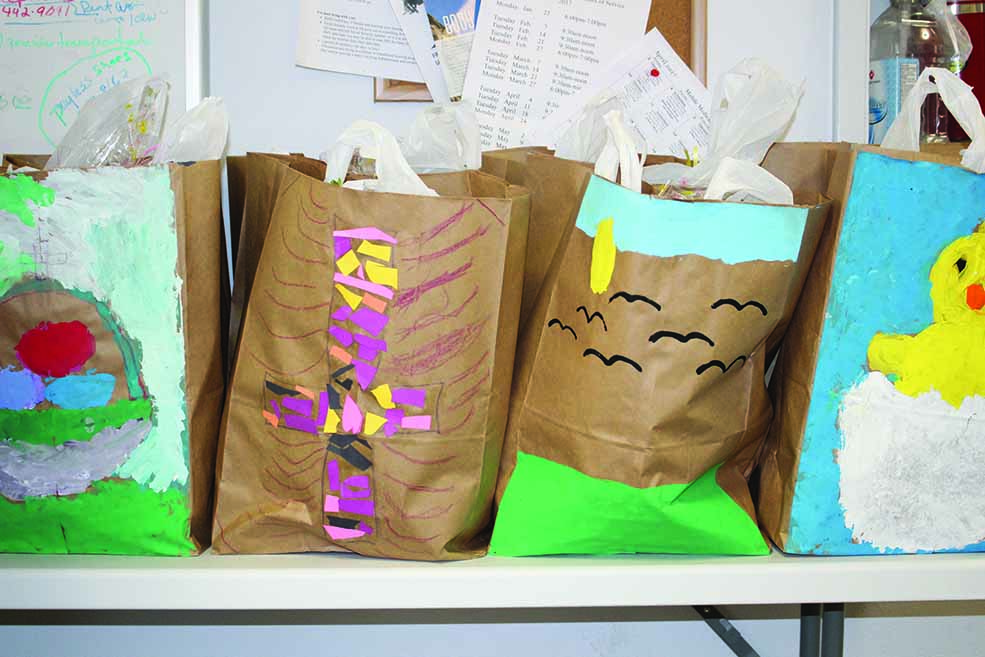 Neighborly Care Network's Director of Marketing Sandra Narron said participants in the program actually get a third of their daily recommended nutrition, and the once a month bag of food also helps out tremendously.
"This helps these folks supplement their limited budget for food," said Jane Walker, executive director of Daystar Life Center. "SNAP benefits only go so far, and the bags are something extra special to bring a little joy and color into their lives."
And color it brought. Each brown paper bag was exquisitely decorated by the students at St. Paul Catholic School, and a sweet treat was tucked in for good measure.
Neighborly also offers the Meals on Wheels program to nearly 1,000 homebound residents daily, and with federal funding to programs such as this on the chopping block in Trump's White House, some political intervention is in need.
"It's something that's on the radar of the congressman's office," said Gershom Faulkner, outreach director for Congressman Charlie Crist.
Faulkner, who sits on the board of directors at Neighborly Care Network, said Crist is currently fighting in Washington to alleviate any funds being cut and has met with Neighborly's chair to strategize on how to stop the cuts and increase funding.
Daystar is mainly run on donations, whether it be money or time. Aside from the partnership with Neighborly, they serve those who are in need living in Pinellas County. Most of their clients live below the federal poverty level, the working poor.
They help individuals and families who are food insecure, struggling to stay in their homes, in transitional housing or the homeless with services such as, help with utility bills, limited assistance on rent, baby food, clothing, hygiene products and transportation.
Daystar is a resource center where clients who are homeless, in transitional housing or fear mail theft can use their address to receive mail. They also have computers and phones where clients can apply online for a job, call their caseworker, etc.
In the near future, if all goes as plan, Daystar will be breaking ground on a new facility that will be located in the Wildwood area. The facility will be more than twice the size of their current location at 226 6th St. S.
To donate time or money to Daystar, call 727-894-5323 or email jane.walker@daystarlife.com. To find out more about Neighborly Care Network or volunteer to deliver meals to homebound seniors in the community, please call (727) 573-9444.