L-R, Ashley Poole, Carole Alexander, Annette Booze, Jenny Ricker and Regina Perry
BY ALLEN A. BUCHANAN, Staff Writer
CLEARWATER — More than 500 supporters came out to the Banquet Masters ballroom in Clearwater to the Next STEPP Center's 25th Celebration of Life benefit dinner and program late last month.
With Rev. Dr. Rickey L. Houston, senior pastor of Bethel Metropolitan Baptist Church and Next STEPP board member, being the master of ceremonies, the evening was anointed by God.
Not only were church groups and community partners present, but there were also families who have directly benefited from the organization's purpose of embracing and nurturing future young mothers to choose life for their newborn as opposed to aborting them.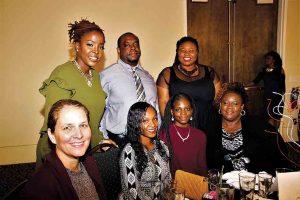 The Next STEPP Center is a non-profit Christian organization offering life-affirming solutions to women, men and families facing unintended pregnancy and resources to pregnant and parenting women and families.
Located at 1210 22nd St. S, in the heart of Midtown, the center aims to empower women and men to make life and lifestyle choices that promote their physical, emotional and spiritual well-being. The center helps families take the best next steps for life.
"There have been 60,000 abortions in St. Petersburg over the last 25 years since we've been operating," said Elder Peter Mishler, chairman of the board of directors, adding that half of those abortions were performed on young African-American women.
The disparity became crystal clear when Mishler said that African Americans only make up 11 percent of the city's entire population.
"The abortion industry has targeted African Americans since its inception," he said.
According to Chief Executive Officer Carole Alexander, Florida does not keep figures on abortions by race any more. However, she revealed that the national rate of abortions for African Americans was 50 percent at one point, but has dropped off to 40 percent.
"There is improvement, but still that's way too high," said Alexander.
The Next STEPP Center consists of organizations that provide resources such as pre-natal care, pre-parental counseling for the mother, father and grandparents, clothing and food and job referral services.
Next STEPP's determination to help young mothers and fathers chose life for their child is anchored in the belief that every human life has purpose, meaning and the potential to contribute to making the world a better place. The task of getting the young mother and father, as well as both sets of grandparents, to step up and accept responsibilities equally is a challenge, but it can be done.
For example, Alexander had a 16-year-old client who had been told she would never amount to anything. She stopped by the center to get a pregnancy test and broke down when she heard the results.
The young lady told her boyfriend, and he suggested getting an abortion.
Alexander said Next STEPP talked to the young woman about options other than abortion such as partnering and adoption.
Even though Alexander treated the situation with compassion, the client went through a rough period, especially when the center informed the girl's mother of the situation.
The client's mother was in shock. She wanted her daughter to have an abortion, saying she couldn't take care of any more children.
"The mom just needed to get over the shock," said Alexander, noting that her client's mother and boyfriend came around and turned a bad situation into a positive nurturing environment for the child.
The Next STEPP Center changed the client's focus on life and her outlook at school. She became more determined and focused since she became responsible for another life.
"The once teenaged mother who was unsure about her future has now evolved into a college graduate who teaches middle school in Pinellas County," said Alexander.
If you are concerned you might be pregnant, the center provides a quality, early detection pregnancy test free of charge for women of any age.
If you are pregnant and need help, they offer practical assistance (maternity and infant clothing, diapers, wipes, cribs, food, formula, etc.), pregnancy and parenting support & education, as well as referrals to other community resources.
Also, eligible women who are not pregnant can receive a referral for a free well woman's exam, including labs and vaccine.
For more information about the Next STEPP Center, call (727) 896-9119 or email the center at info@nextstepp.org. Walk-ins are welcomed.
Click here to donate to support this wonderful cause.
To reach Allen Buchanan, email abuchanan@theweeklychallenger.com