(Family Features) Moms pride themselves on serving their families wholesome, homemade meals. But here's the reality: 60 percent of moms think that coming up with dinner ideas is more difficult than getting their children to go to bed on time. Moreover, 61 percent of moms frequently order takeout or go out to eat because they don't have the ingredients on-hand to make dinner. It's time for a new strategy.
When it comes to mealtime, a well-stocked pantry can be the difference between culinary success and a dinner failure. With a pantry full of canned foods, a delicious and nutritious homemade meal is just minutes away.
It's no secret that canned foods are convenient, but did you know that cans are also one of the best ways to get food from the farm to your family's table? Canned fruits and vegetables are picked and packed when they're at their peak of ripeness and nutrition, sealing in their freshness and flavor. Just like home canning, the canning process locks in foods' natural goodness so it's at arm's reach whenever you're ready to get cooking.
A pantry stocked with canned ingredients is also a source of recipe inspiration. Staples such as canned chicken, corn, green chilies, olives, beans and tomatoes atop lettuce combine to create a wholesome Chicken Burrito Salad the whole family will enjoy. And in less than 30 minutes, a box of fettuccine and a can of spinach transform into a hearty Pasta with Spinach Pesto.
For more information, recipe inspiration and the benefits of canned foods, visit CansGetYouCooking.com.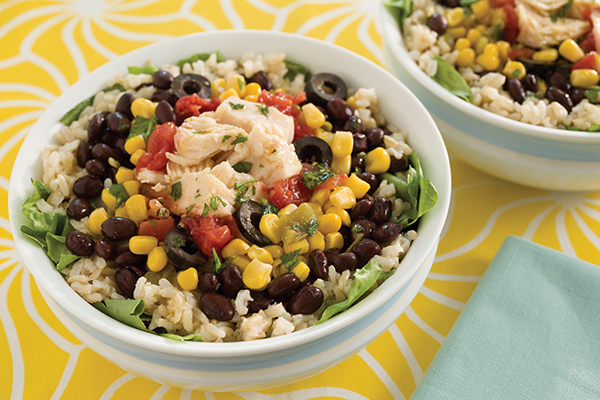 Chicken Burrito Salad
Salad:
1 small head romaine lettuce, torn into small pieces

1 cup cooked brown rice

1 can (15 ounces) black beans, drained and rinsed

1 can (14 ounces) diced tomatoes

1 can (10 ounces) chicken breast chunks, drained and flaked

1 can (10 ounces) corn kernels, drained

1 can (4.25 ounces) diced green chilies, drained

1 can (2.2 ounces) sliced ripe black olives, drained
Dressing:
2 tablespoons fresh-squeezed lime juice

1 tablespoon fresh chopped cilantro

3 tablespoons extra-virgin olive oil

salt and ground black pepper, to taste
To make salad: In large platter or individual bowls, place lettuce leaves. Top with brown rice, black beans, diced tomatoes, chicken, corn, green chilies and black olives.

To make dressing: In small bowl, combine lime juice and cilantro; whisk in olive oil. Add salt and pepper, to taste. Drizzle dressing over salad.
Serves
6

Pasta with Spinach Pesto
1 can (13.5 ounces) spinach, well drained

1 cup fresh parsley leaves

1/2 cup grated Parmesan cheese

1/2 cup walnuts or almonds

1 large garlic clove

1 teaspoon dried basil

1/4 teaspoon salt

1/8 teaspoon ground black pepper

1/2 cup extra-virgin olive oil

1 box (16 ounces) fettuccine noodles
In food processor, combine spinach, parsley, cheese, nuts, garlic, basil, salt and pepper; blend well. In slow, steady stream, add olive oil until mixture is blended and smooth.

Cook fettuccine as package directs. Drain. Toss spinach pesto with fettuccine.
Serves
4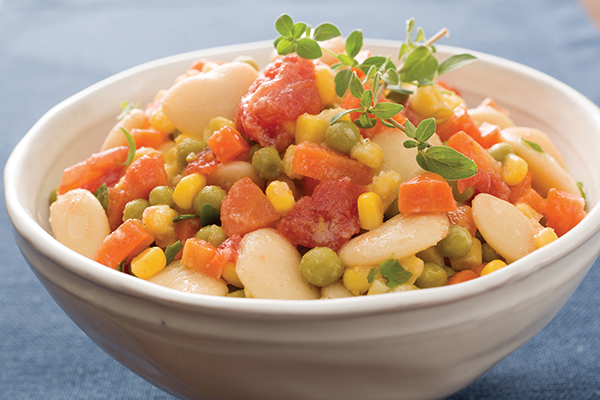 Southern Style Succotash with Sweet Corn Sauce
Succotash
4 ounces olive oil

1 can (14.5 ounces) sweet corn kernels, drained

1 can (15.5 ounces) butter beans

1 can (15 ounces) sweet peas

1/2 cup sliced canned carrots, drained and diced

1/4 cup canned diced tomatoes

8 sprigs fresh thyme

1 fresh bay leaf

salt and pepper, to taste
Sweet Sauce
6 ounces canned corn, excess liquid strained off

3 ounces champagne or dry white wine

4 tablespoons butter

salt

pepper

thyme sprigs
To make succotash: Add olive oil to large skillet and quickly saute all ingredients with salt and pepper until heated through, about 5 minutes. Serve on top of Sweet Corn Sauce.

To make sweet sauce: In blender, puree corn and champagne until very smooth. Strain through fine strainer and place strained corn juice in small saucepan. Heat until simmering and slowly add cold butter, salt, pepper and fresh thyme.
Serves
4

Curried Pumpkin Soup
2 tablespoons butter

1 medium onion, chopped

1 large carrot, peeled and chopped

2 cloves garlic, minced

2 teaspoons fresh ginger, minced

1 1/2 teaspoons curry powder

1 can (14 ounces) chicken or vegetable broth

2 cans (15 ounces) 100% pumpkin

1 can (14 ounces) coconut milk

1 teaspoon salt

pumpkin seeds
In large saucepan, melt butter over medium heat. Add onion, carrot, garlic, ginger and curry powder. Cook until carrots are almost soft, 5-8 minutes, stirring occasionally.

Add broth and bring to boil over high heat. Reduce heat to medium-low; cover and simmer until carrots are very soft, 10 minutes.

Transfer to blender or food processor and puree until very smooth. Return to pan and stir in pumpkin, coconut milk and salt. Cook over medium-low heat until heated through, 2-3 minutes.

Garnish with pumpkin seeds, if desired, and serve.
Serves
4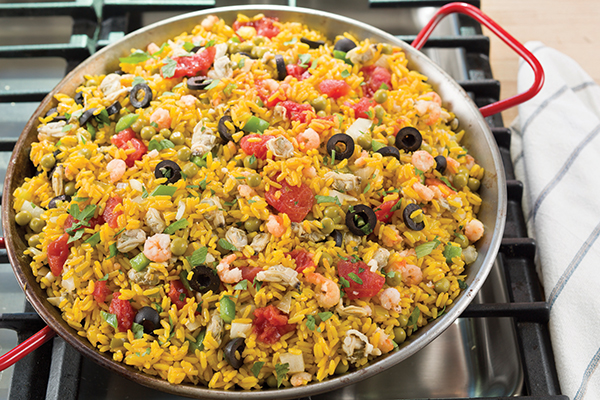 Easy Weeknight Seafood Paella
1 tablespoon olive oil
1 medium yellow onion, diced
1 small green bell pepper, cored, seeded and diced
2 large garlic cloves, minced
1 box (8 ounces) yellow rice
1 can (14 ounces) vegetable broth
1 can (14 ounces) diced tomatoes
1 can (10 ounces) whole baby clams, drained
1 cam (8.5 ounces) peas, drained
1 can (6 ounces) medium shrimp, drained
1 can (3.8 ounces) sliced ripe olives, drained
In 2-quart saucepan over medium heat, heat oil; add onion, green pepper and garlic. Cook 5 minutes, stirring occasionally.
Add rice and vegetable broth. Over high heat, bring to boil. Reduce heat to low; cover and simmer 20 minutes.
Stir in tomatoes, clams, peas, shrimp and olives; cook 5 minutes.
Serves
4
SOURCE:
CMI