Zora Neale Hurston (Jan. 7, 1891– Jan. 28, 1960) was an influential author of African-American literature, folklorist and anthropologist.
BY J.A. JONES, Staff Writer
ST. PETERSBURG – If you've read "Their Eyes Were Watching God" or watched the television movie starring Halle Berry, you'll have the opportunity to learn about its powerful author this Sunday, Oct. 14 when the award-winning documentary "Zora Neale Hurston: Jump at the Sun" screens at the Carter G. Woodson African American History Museum.
The 2008 documentary is an exciting and riveting overview of Hurston's life as a renowned writer and anthropologist.
Beginning with her earliest years as the daughter of the mayor of Eatonville, Fla., the first black incorporated municipality in the United States, and the early death of her mother, it follows a determined and resourceful Hurston to Howard University under intellectual Alain Locke, becoming the first African-American female to graduate from Barnard College and emerging into a celebrated author during the Harlem Renaissance.
It also delves into the outspoken and supremely self-reliant and individualistic personality traits that caused Hurston to fall out of favor among the worlds of art, literature and even folklorist anthropology, and landed her in a forgotten space for many years before her accomplishments were unearthed decades later.
On-hand for the screening will be the film's writer and producer, Kristy Andersen, to offer background and history of the documentary's 18-year journey from idea to an acclaimed PBS American Masters film presentation.
A St. Pete native, Andersen shared some insights into what first compelled her to begin the laborious and lengthy production involved in finding long-lost video footage, Hurston's correspondence and in-depth research that included unearthing facts unknown even to her living family members.
"I actually read a book about Zora before I read any of her work; a biography by Bob Hemenway. I saw in this book that Zora had shot film and had recorded with sound equipment, and she herself had been recorded," related Andersen.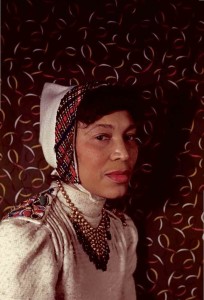 "And so, as a documentary filmmaker, while you're always looking for something poignant and compelling, you also really need those materials. And to actually have materials shot by somebody whose work embodied black folk culture – she's out there shooting and filming and photographing black folk and recording their dialect and language — it just said 'documentary film.'"
Andersen noted that the book left her with a question that inspired her to begin her exploration into Hurston's life.
"The book left me with the question of why she died in poverty when now she's so iconic," explained Andersen. "What was it about the time that she lived, her voice at that time that alienated her from the popular culture? It just didn't make any sense."
Through multiple research grants, Andersen searched to find primary sources, papers and letters, meet with family members and others who knew Hurston and record interviews.
During her almost two decades of research, Andersen went to every city and state that Hurston was documented to have lived including New York, Baltimore, Washington, D.C., Louisiana, Tennessee, Alabama and North and South Carolina.
As a white female filmmaker, Andersen says she was grateful when support from funders (including the National Endowment for the Humanities, the National Endowment for the Arts, and the Ford Foundation) enabled her to reach out to and include the various African-American scholars and filmmakers who ultimately worked on the film.
"Jump at the Sun" was directed by Emmy-award-winning director/producer Sam Pollard – whose documentary producing credits include "On the Prize II: America at the Racial Crosswords," "I'll Make Me A World: Stories of African-American Artists and Community," and Spike Lee's "Four Little Girls" and "Mike Tyson."
"Zora Neale Hurston: Jump at the Sun" will screen this Sunday, Oct. 14 starting at 3 p.m. at the Woodson Museum, 2240 9th Ave. S, St. Petersburg. The afternoon is being hosted by Pinellas County NOW Social Media Outreach. Admission is $3.
To reach J.A. Jones, email jjones@theweeklychallenger.com.