Desmond Clark and Terri Lipsey Scott
BY FRANK DROUZAS, Staff Writer
ST. PETERSBURG — To start Gay Pride month off right, the Dr. Carter G. Woodson African American History Museum held a "rent party" Saturday, June 10 to introduce the community their lasted exhibit "As Gay as they were Black: The Harlem Renaissance," and to honor five members of the LGBTQ community.
Honorees included actor/playwright Bob Devin Jones, author Sheree Greer, activist Nadine Smith, founder of the Side Door Jazz series Desmond Clark and Executive Director/Co-Founder of Your Real Stories, Inc. Dr. Lillian Dunlap.
"I can attest to the contributions that they've made in our community," said Terri Lipsey Scott, chair of the Woodson Museum, "to make this city a better place for all of us to enjoy."
As director of operations for the Morean Arts Center, Clark oversaw the construction and opening of the renowned Chihuly Collection.
Dunlap, a professor, television news reporter, anchor and producer, is the co-creator/director of "Decades of Day Work" and the "St. Pete Stories" series. Her organization Your Real Stories, which she co-founded with Jaye Sheldon, uses storytelling and theater to bring real experiences of everyday people to life.
"With Your Real Stories, we have been working very hard to tell the stories that don't get told and tell them well," Dunlap said, "and the Woodson has always been happy to help us do that."
Sheree Greer founded Oral Fixation in 2010, the longest running LGBTQ open mic series in Tampa Bay and founded the Kitchen Table Literary Arts Center in 2014 to showcase the works of women writers of color. She is the author of two novels, "Let the Lover Be" and "A Return to Arms." Greer teaches creative writing and African-American literature at St. Pete College.
Part of being honored, Greer said, comes down to just "being yourself."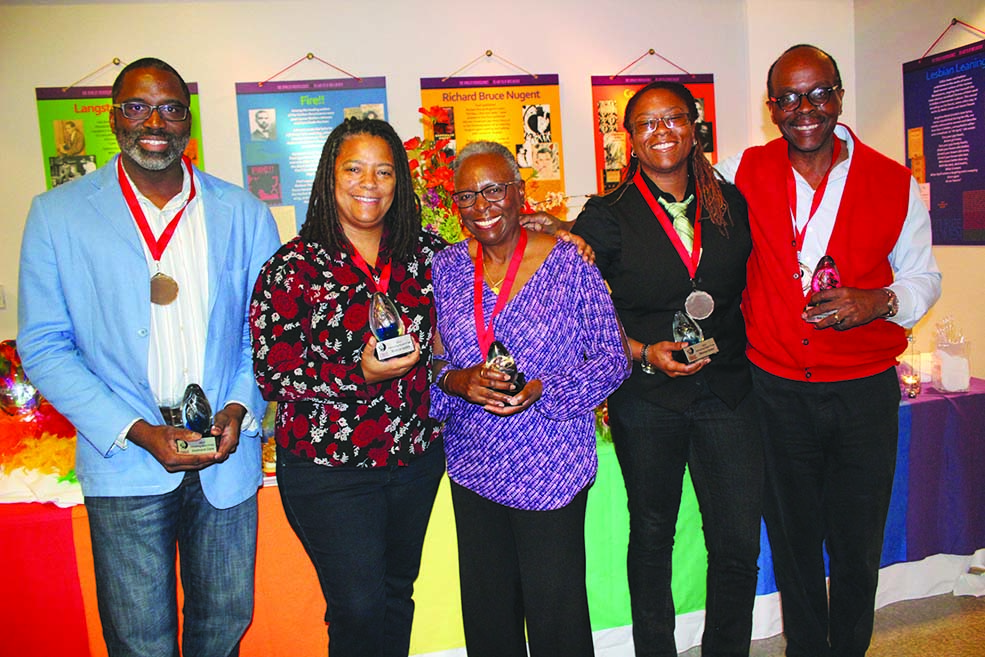 L-R, Desmond Clark, Nadine Smith, Dr. Lillian Dunlap, Sheree Greer and Bob Devin Jones
"It's not acting a certain way or being a certain way, it's just showing up as you every day and not apologizing for it," she said. "I just want to thank my family and my friends and my community for allowing me to be me every day."
A native of Los Angeles but a longtime resident of St. Pete, Jones is the artistic director and co-founder of Studio@620. The author of more than a dozen plays, he has served on the boards of the Morean Arts Center, American Stage Theater, Creative Clay, First Night and Creative Tampa Bay.
Smith is the co-founder and CEO of Equality Florida, the state's largest organization dedicated to ending discrimination based on sexual orientation and gender identity. A former journalist turned organizer, Smith was one of four national co-chairs of the 1993 March on Washington for Lesbian, Gay, and Bi Equal Rights and Liberation rally. She also served on President Barack Obama's National Finance Committee.
Referencing the museum's pride month exhibit, Smith said the beauty of the Harlem Renaissance was that there was no distinction between art and politics or between freedom and justice.
"I think really what the moment calls for is the next renaissance," she said, "and I mean this quite sincerely that there are people in this room that I think for the St. Petersburg area, for the Tampa Bay area, for the state of Florida, need to be part of that renaissance."
"Sometimes in our city, we make a lot of progress and sometimes in our city we make progress in some ways and don't make progress in other ways," stated City Council member Steve Kornell, the first openly gay person elected to office in St. Pete.
He said he is committed to anyone who has been "shut out" for any reason and that he's committed to giving him or her a voice at city hall.
The "As Gay as they were Black" exhibit spotlights gay life in Harlem during this period, surveys the artistic movement that defined black culture in the 1920s and 1930s and profiles its leading gay, lesbian and bisexual participants.
Very few of the artist and writers profiled in the exhibit can be considered "out" or "gay" in any modern sense of the terms. Nonetheless, the Harlem Renaissance was moved along, in great measure, by gay men and women who led double lives.
According to noted African-American historian Henry Louis Gates, the Harlem Renaissance was "surely as gay as it was black, not that it was exclusively either of these." With few exceptions, the writers, artists and performers of this seminal period in black history were closeted, but nonetheless imbued their work with coded references to their sexuality.
With gay men and women in legal and social limbo, the Harlem Renaissance celebrated sexuality with a level of tolerance remarkable for that era.
For the benefit of those who were asking what a rent party was, Lipsey Scott explained that these parties were thrown in Harlem to help those needing assistance paying the rent. Unscrupulous landlords took great pride in raising tenant's rent at the drop of a dime, so the community would come together and pitch in what money they could afford and party the night away.
"It was an impromptu kind of thing where they played jazz, they danced, they drank, they smoked…they did it all."
Even though the rent is paid, the museum will be saddled with enormous summer electric bills, so donations were collected to literally keep the lights on.
Next Black Pride event will be a movie screening this Friday at 7 p.m. and a panel discussion next Tuesday also at 7 p.m.