The 2019 Tampa Bay Collard Green Fest will highlight Gullah-Geechee cooking and culture along with urban agriculture this Saturday at the Woodson Museum.  Shown here is last year's event with (L-R) Rob Carter, Boyzell Hosey and Samantha Harris.
BY JOYCE NANETTE JOHNSON, Staff Writer
ST. PETERSBURG — Friendly boasting between friends as to who could cook the tastiest collard greens has grown into the second annual Tampa Bay Collard Green Festival (TBCGF) happening this Saturday from 9-4 p.m. at the Carter G. Woodson African American History Museum.
In partnership with the Woodson Museum, Johns Hopkins All Children's Hospital Healthy Start program and the University of Florida Family Nutrition Program, the festival will include entertainment, vendors, exhibitions and a salute to the almighty collard with a taste testing competition.
Collard greens are synonymous with southern cuisine; in fact, South Carolina named the leafy plant as its state vegetable, and festivals all over the South are held annually.
TBCGF founders Boyzell Hosey and Samantha Harris have strived to make the event family oriented, fun and informative. Several renowned professionals in the fields of agriculture, food and the arts will be on hand.
Howard Gunn, Jr., the founder and former president of the Florida Black Farmers and Agricultural Association, we will be there to discuss the importance of growing fresh produce, and the nutritional value received versus processed foods.
The Tuskegee University graduate is the owner of Ag-Grow Consultants and an advisor to the University of Florida Sustainable Agriculture Research Education board. For the festival, he's partnered with HG Farms to bring a pop-up farmer's market where people can purchase fresh fruits and vegetables.
Gunn, Jr. hopes the event will bring awareness as to where food comes from, and spark an interest in festivalgoers to start personal gardens.
TBCGF is not just a delicious way to pay homage to the soul food staple, but it also celebrates African-American culture through art and music.
International mix media artist Sonja Griffin Evans will be representing the arts community. Her artwork depicting Gullah life leaps from the canvas with bold, brilliant colors while incorporating wood, tin and other materials to bring thought-provoking subject matter to life.
Born and raised in a geographic and cultural region along South Carolina's coast called Lowcountry, Evans' artwork is heavily influenced by the area, which prides itself on the preservation of African culture that was brought over by slaves in the 1700s.
Known as Gullah Geechee, the people living in some regions of the Lowcountry—which also includes parts of Georgia, Florida and the Sea Islands–have retained much of their African heritage due in part to its geographic isolation. This distinctive group of tidewater communities has stuck together throughout the centuries, preserving their African cultural heritage and carving out a lifestyle that is uniquely its own.
"Our ancestors were not slaves in Africa, they were agricultural engineers and masterful craftsmen, people who were intelligent," said Evans, who owns Gumbo e-Gallery. "The importance of the Gullah artwork to our culture is to encourage and uplift. It shows our struggles, our history and the spirituality of our ancestors to overcome obstacles and to encourage the next generation."
Evans will give a visual and oral presentation of the rich Gullah history using flash cards and two of her paintings "First Decoration Day" and "American Gullah."
This year's festival is full of Gullah culture. Basket weavers Michael Smalls, a seventh generation basket-sewer, and his former apprentice, Dino Badger, will demonstrate the art of weaving sweetgrass baskets.
Sweetgrass basket sewing is a craft that originated in Sierra Leone, West Africa, and was brought to the Lowcountry of South Carolina by enslaved African people. Basketry was first used for the harvesting of rice, fruits and vegetables on the plantations, and later used for decorative purposes.
And last, but not least, on the Gullah tip, celebrity chef Sallie Ann Robinson, the Gullah Diva, will demonstrate Lowcountry cooking with two of her favorite Gullah dishes: potato salad with shrimp and fried ribs. She'll also show St. Pete how deviled crab, crab rice and collard greens are cooked Gullah style.
Author of "Gullah Home Cooking the Daufuskie Way" and "Cooking the Gullah Way, Morning, Noon, and Night," Robinson–a sixth-generation Gullah–was born on Daufuskie Island in South Carolina. She's made appearances on the Food Network, QVC and Travel Channel's Bizarre Foods, and has forged a career out of writing books on Gullah folklore, food and her family history.
To Robinson, what makes Gullah cooking so special is its use of all fresh and natural ingredients.
"I have to commend my ancestors, Gullah is a way of life,'" stated Robinson. "Everything is homegrown, yard raised.  We went to the ocean to fish, the woods to hunt, raised livestock and had a garden. Living off the land is Gullah."
Robinson feels that Gullah cooking is better for your health because everything is natural, "no imitation anything." She remembers the enticing smells that wafted through the neighborhoods.
"The aroma would slap you in the face and say, 'hello dinner is ready,'" she chuckled. "Get ready for Diva cooking!"
TBCGF has grown from bragging rights to an event that encompasses, fun, culture and education. Eventgoers will learn how to grow fresh vegetables and learn how to cook them too.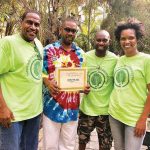 "We wanted to bring an educational element to the community; there is a huge agriculture movement," stated co-founder Hosey. "We wanted to enlighten and inspire their imagination on multiple levels. Food is our culture and defines who we are as a people."
With the inaugural festival being such a huge success last year, co-founder Harris said that in the future they would like to help other communities set up their own collard green festival.
"I'm just amazed at how God will bless your ideas if you trust Him," asserted Hosey.
The festival promises something exciting for the whole family. A KidZone will be set up with bounce houses, games, fun activities and kids will be introduced to gardening and the benefits of eating healthy. The Edible Peace Patch Project, Sustainable Urban Agricultural Coalition, Bartlett Community Garden and The Gathering of Women will provide arts and crafts and give away collard plants.
The Tampa Bay Collard Greens Festival is free and runs from 9-4 p.m. this Saturday at the Dr. Carter G. Woodson African American Museum, 2240 Ninth Ave. S. For more information, call 727-219-1781 or visit tampabaycollardgreenfestival.org.