ST. PETERSBURG – Last month, young aspiring entrepreneurs were eager and the first to participate in the inaugural cohort of a new self-employment training program for ages 17 to 24 called the 2020 CATCH Lite Program.
"Although poverty of the black community is an economic state, success is a state of mind and we are going to do everything we can to take you to the next level of your business," said Deborah Figgs-Sanders, the program's director.
The program will run from now until May 16, offering training sessions on business start-up concepts such as "pricing for profit" and effective social media marketing.
Each session will be facilitated by local business experts, culminating with a scaled-down interpretation of the popular television show "SHARK TANK®."  Upon successful completion of the nine-week training series, the SHARK TANK Lite competition and completion of a business action plan, each participant will be celebrated during a graduation ceremony and provided a $2,000 stipend to invest in their business.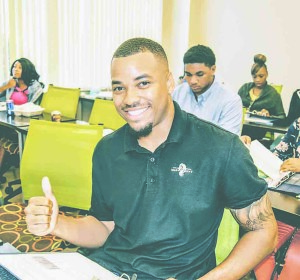 However, the relationship does not end there. Each entrepreneur will receive one-on-one counseling and access to several business resources to firmly position each business for self-employment and job creation.
Funded by Bon Secours Health Systems, 2020 CATCH Lite is one component of the 2020 Plan vision to reduce poverty by 30 percent in south St. Petersburg by the year 2020. Supporting "micro" and small business growth is part of the vision.
Modeled after the highly successful CATCH Program established in 2016 by the Tampa Bay Black Business Investment Corporation (TBBIC), Tahisia Scantling, an independent business consultant with TBBIC, has led three St. Petersburg CATCH cohorts, which has helped 58 south St. Petersburg entrepreneurs to accelerate business formation and growth.
Like the adult version, the CATCH Lite sessions are designed specifically for the young entrepreneurs. The program hopes to graduate 14 participants. Other program partners include Pinellas Opportunity Council, City of St. Petersburg Urban Affairs, St. Petersburg College, James B. Sanderlin Center, Personal Agenda LLC, Wolfpack Marketing, Monroe Consulting and Young & Sons Tax and Accounting. Kory Outlaw, president of Wolfpack Marketing is also doing an incredible job visually documenting and marketing the program.
For more information, please contact Deborah Figgs-Sanders at (727) 420-2819 or 2020catchlite@gmail.com.  The SHARK TANK Lite presentations will be open to the public and welcomes possible business investors.