BY MARLO SCOTT, Staff Writer
GULFPORT – A new salon has opened its doors, but the proprietor in charge is a familiar face around town. Bonnie Harvin used to occupy a space at Frogue's Hair Styling, but when her client list began to expand she decided to relocate.
Now she sets up shop at Beee Artistry, 921 49th St. S, Gulfport, with enough space to handle her larger customer base and her future haircare line.
In fact, Harvin hopes when her new oil debuts it will catch on around town. Once a shop owner selling haircare products, Harvin has tried various products and techniques with customers for years, all in an effort to help black women learn what they can do to improve the texture of their hair.
"We've actually had a lot of trial and error from the different products, that we used," she said.
Her passion for hair arose from her time selling hair care creams, oils, pomades and shampoos. Although the store didn't do well, through hard work and a lot of practice, Harvin perfected her techniques to help women not only improve the texture of their hair but to see new hair growth.
"I became passionate about products and how products work on different kinds of hair," said Harvin, who dove into studying different curl patterns and how certain oils make the hair behave.
Twenty of her closest clients became her guinea pigs while experiencing the highs when she found a product or technique that worked, as well as the lows of failed attempts.
As a licensed cosmetologist, Harvin specializes in educating people on how to take care of their natural hair. When she first started, extensions and weaves were the trends, so working with natural hair wasn't very popular. Fast forward five years to now and there's a natural hair craze that Harvin hopes will revolutionize the way women view their hair.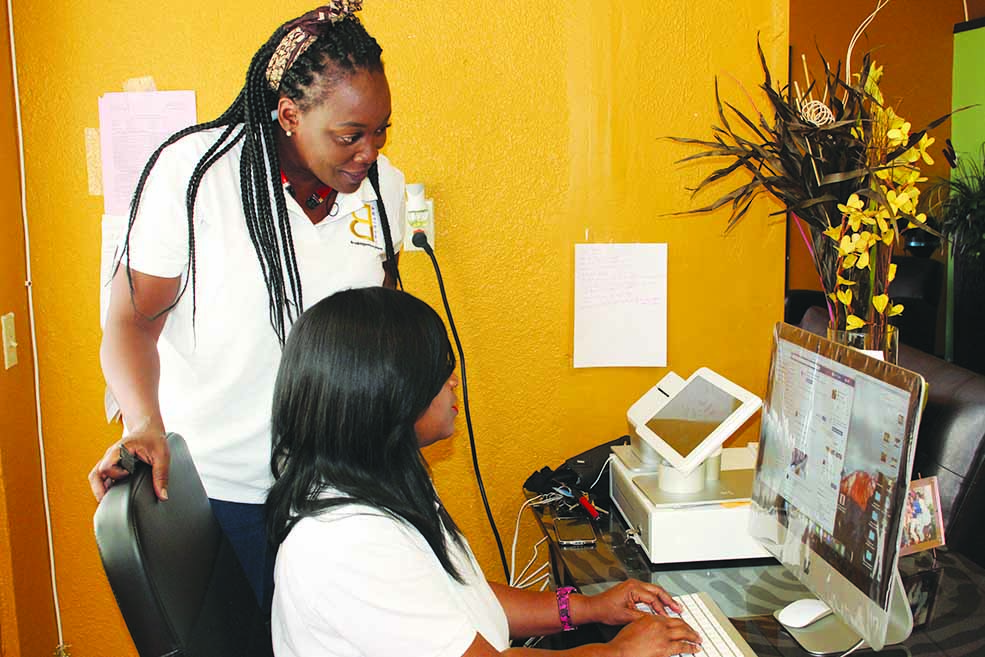 When Harvin discovered the right mixture of oils and rosemary, she used it as a detangler. Her curious nature and the willingness of her clientele to experiment led to her leaving the oil on for weeks at a time and using a cap to hold in the oils.
"When I took it off I noticed that the hair had grown a lot," she said.
She continued to use her oil on every customer who would let her and realized that the results weren't just a fluke. She experimented with technique and wants to share her knowledge with women so they can take care of their hair at home.
"I can't do it without you participating in the process," said Harvin. With limited access to a customer's hair on a daily basis, she believes it's better to educate the client on how to use products and get the most for their money.
So Harvin offers consultations where she talks with each customer about what products would work best for their hair ailments. Consultations are $20, but free with a purchase of any retail product such as the oil she's created, which incidentally retails for $20 on its own, or any of the shampoo and conditioner systems that she has available right now.
"Most people wind up going with a retail product once I tell them what type of system they need," said Harvin, who finds a lot of people willing to do their hair at home. "It's basically a partnership."
Her new place is bigger and with a new assistant, Harvin has her business in order. She did some upgrading too and added more steamers so she could take on more clients. She hopes her home care customers will come and sit under a steamer and invites anyone who isn't a current client to make an appointment and chit chat with her, sit under a steamer and learn about their hair.
For more information on how you can get your own personal consultation and access to hair care products and hair techniques that could change your life, contact Bonnie Harvin at (727) 248-2280.
You can also reach her on Facebook, Twitter, Snapchat, and Instagram. Just type in the name Beee Artistry and start learning about how you can take charge and eliminate your hair woes.