Bishop Marvin Sapp inspired a sold-out crowd on Monday, Jan. 15 at the NCNW's 32nd annual Leadership Awards Breakfast
BY CINDY CARTER, Staff Writer
ST. PETERSBURG — It has been 50 years since Dr. Martin Luther King, Jr. was assassinated for his civil rights work. His legacy is celebrated and honored every day in one form or another all across the country. But on the third Monday of January each year, the nation is encouraged to give a day on, not a day off when it comes to making a difference.
Also each year, the St. Petersburg Metropolitan Section of the National Council of Negro Women holds their Martin Luther King, Jr. Leadership Awards Breakfast in his honor. In fact, it has been a staple in the community for 32 years. Over a buffet-style breakfast, participants were inspired to not give up and push forward, even with a nation divided.
"We recognize that we're all a part of Dr. King's work and that for all the progress that we have made nationally, and here locally, there remains a dangerous divide," said Mayor Rick Kriseman. "There remains work to do, inequities to fix and wounds to heal."
ABC Action News anchor Deiah Riley acted as Mistress of Ceremony and in-between introducing speakers, she too gave tidbits of wisdom to inspire the sold-out crowd at the historic St. Petersburg Coliseum. She stressed leadership is a commitment and that good leaders keep others focused on the goal and motivated to do their best work.
"It has been said that great leaders don't set out to be a leader, they set out to make a difference," explained Riley. "It's never about the glory for them; it's all about the goal."
One local organization that makes a difference is the National Council of Negro Women. They are dedicated to being a change agent in the community and urge the new year to bring about not only institutions but also individuals to emulate Dr. King and tirelessly fight for equality. One way to give back is not just to acknowledge with words that change needs to happen, but to create change with deeds.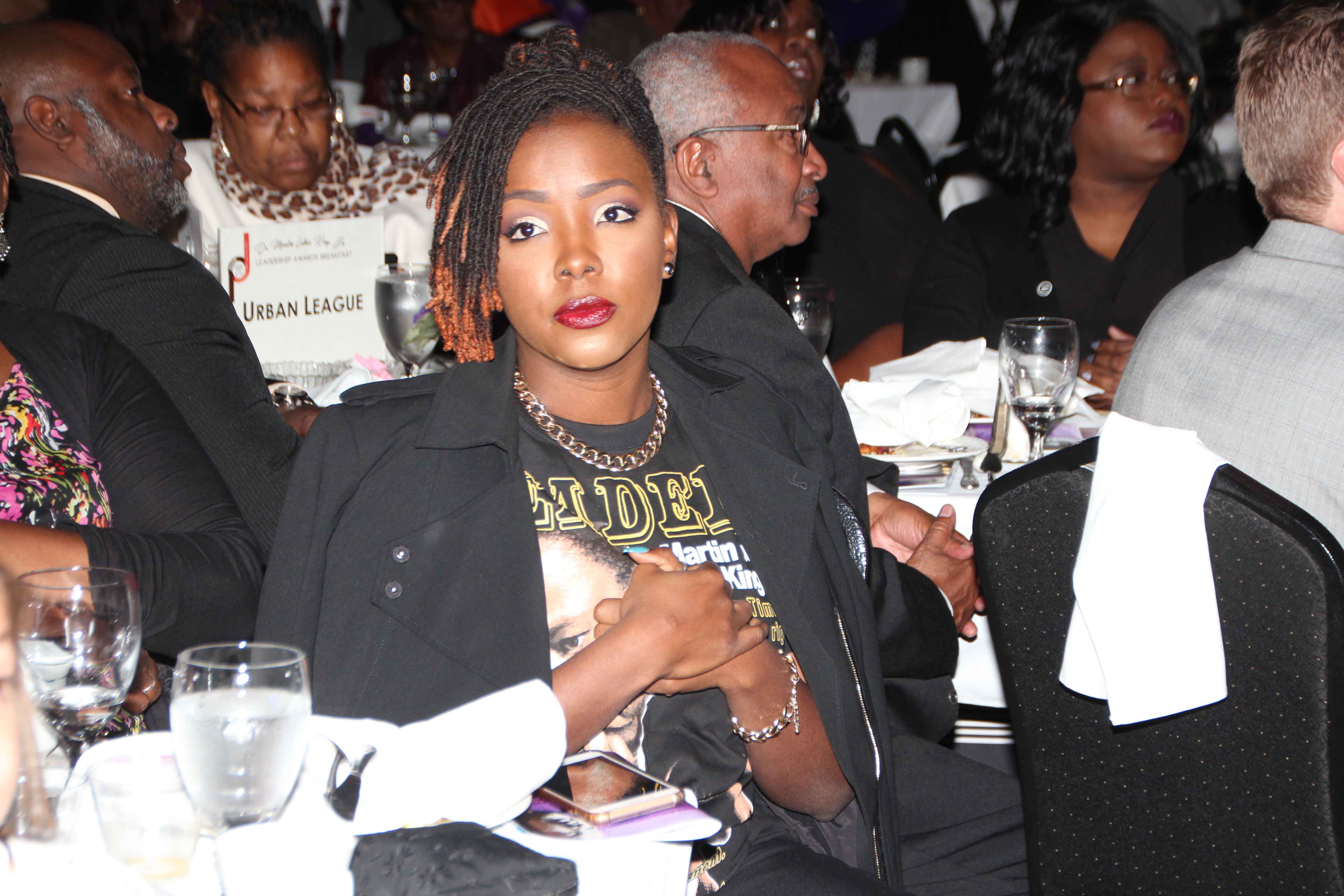 Such as keynote speaker Bishop Marvin L. Sapp. He is known for his philanthropic efforts in his home city of Grand Rapids, Mich., and his melodic tones in singing the gospel. Sapp serves as the senior pastor of Lighthouse Full Life Center Church as well as a Metropolitan Bishop, which oversees more than 100 churches in the Central Deanery of Global United Fellowship.
He has received 10 Grammy nominations, 22 Stellar Awards, two Soul Train Music Awards and various other recognitions. The breakfasters could barely hold their excitement as he gave words of wisdom to live by.
"Understand the reality is that we are living in a season, a moment in time, where it seems as if everything is coming at us rougher now than it has ever come at us before," said Sapp.
He spoke on the tyrants of the world, those who rule by fear and distraction and the evil at heart who attempt to frustrate those who try to pursue their goals and make a difference in their attempts to rid the world of racism and social inequalities.
"The goal is to get you so befuddled and so eroded that you make a conscious decision that it's not worth it anymore," said the bishop. "That you feel like quitting and giving up in the process."
He encouraged everyone to refrain from throwing in the towel, even though their efforts to make the world a better place seem as if they are not well received.
"It can be stressful when you sacrifice your life for things that mean something to you, but somehow mean nothing for others," said Bishop Sapp.
The enemy's goal is to make believers think beneath their privilege because once a seed of negativity takes root in one's mind, it will pick away at their confidence until they become downhearted and broken.
However, Sapp is a believer that never let the bad, the horrendous, moments of his life keep him down. Just seven years ago, he lost his wife to cancer when they were both just 43. His soul mate since elementary school, Sapp was devastated, left to raise three children on his own and to live a life void of the only person he ever trusted.
"The blessing is God specializes in using the things that are supposed to set you back to set you up," said the bishop, who admits it doesn't make sense all the time, especially when a loved one passes too soon. "He uses these circumstances to cause me to not be bitter, but better."
He thinks of himself as an instrument of God, traveling the world to spread the message that God is trying to create instances and circumstance in the lives of his followers in order for them to be in a better place and mindset, to strengthen their resolve. However, although Sapp believes the Lord intends to invoke an emotional response, believers must learn to channel their emotions appropriately.
"Don't be surprised if you find yourself in uncomfortable or bad positions because you were never promised an easy life," he said. Instead, he understands that the haters and instigators of the world are not worth the worry. "If they are talking about you, you are in good company, because Jesus [also] was persecuted for his beliefs."
Before breaking into song, Sapp explained his latest conversation with God in which he was instructed to spread the word that the situation that you are experiencing at this point in time, whatever it is, will not bring you down.
So jump into 2018, with a renewed sense of understanding and a mission to make a difference. Bishop Sapp wants his followers to continue showing fellowship, as they do every year, but to realize that 2018 is the season of jubilee, a year of new beginnings, so God can start in new areas of our lives.
The morning continued with the awards presentation to community leaders who have made an extraordinary personal commitment to serve humanity.
Dr. Martin Luther King, Jr. Leadership Award
Dr. Carrie W. Nero, Brigadier General, ANC, USAR (Ret)
Dr. Martin Luther King, Jr. Humanitarian Award
Arthurene Williams
Dr. Martin Luther King, Jr. Leadership Youth Achievement Awards
Rolando Sims, Alec'a Ash, Arianna Bell
Brittany Bria Gordon Excellence in Achievement Award
Avione Monroe