City Hall was packed last Thursday with some folks even taking off of work to go on record to voice their opposition to the south side police containment.
BY JABAAR EDMOND, Contributor
ST. PETERSBURG – "I just want to go home" were the words used on a Facebook video posted by community activist Bro. John Muhammad that helped fuel the backlash from the police tactics last Monday, MLK Day 2018.
As many people celebrated the holiday by enjoying the city-sanctioned parade, Day of Service projects and a fun day at Tropicana Field, Dr. Martin Luther King Street South from Fifth Avenue to 22nd Avenue, and almost the whole CRA area was under what resembled Marshall Law.  Many felt it was a crime scene, although there were no arrests made.
That fact leads many to ask, why? After photos and live video emerged, many community leaders were left in shock. These strong-armed tactics only highlighted a decades-old practice that reared its ugly head in the days of Jim Crow, where freedom of movement was restricted after the sun went down.
As the streets were cordoned off, residents were blocked from their homes, and people coming to do business in the area were sent elsewhere. These restrictive practices were all a part of a plan to shut down the "after parade" and prevent people from congregating at these locations.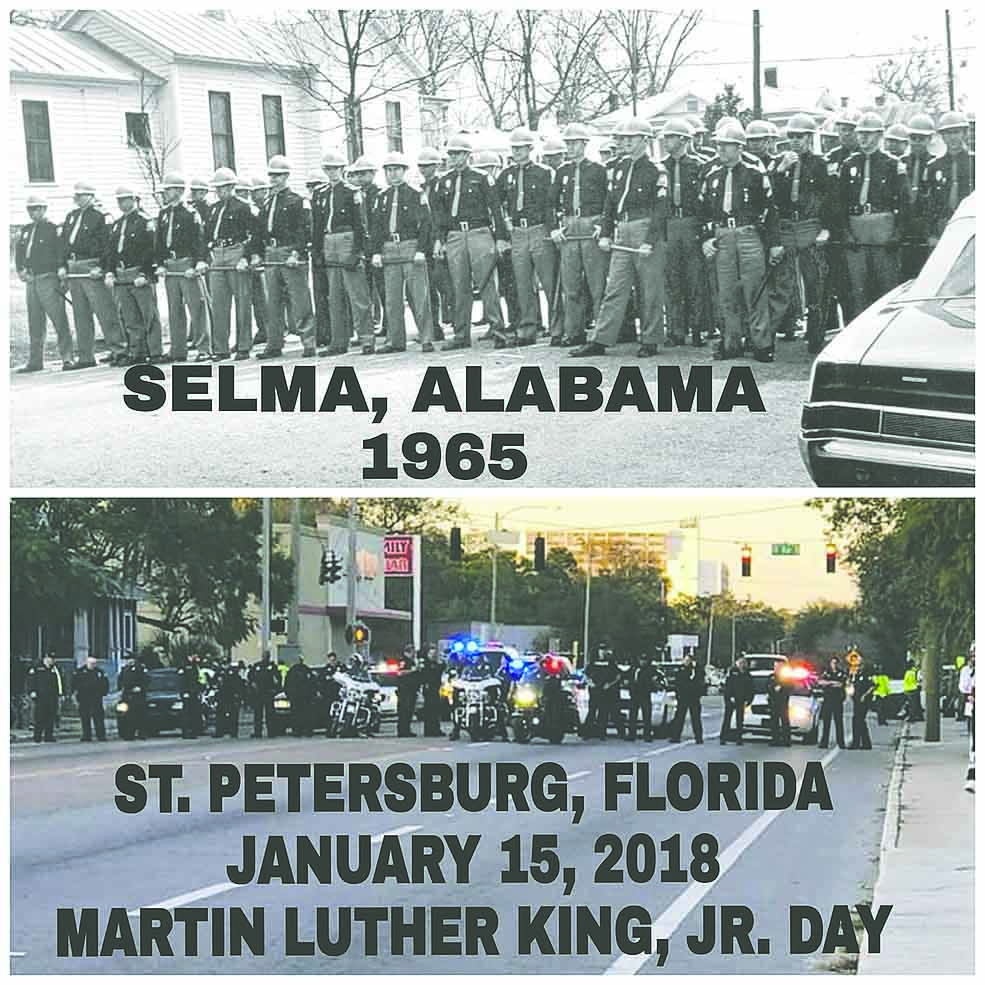 St. Petersburg Police Chief Anthony Holloway said officers were stationed across the south side of town to quail any problems that might have arisen, such as the two crimes committed in 2014 and 2015 that were proven unrelated to the festivities.
Holloway stands by his decision to block the roads but admitted it would have been better served if there were advance warnings of the closures.
There was a closed-door meeting held at a local church about the incident. The panel conversation consisted of Chief Holloway, City Council Chair Lisa Wheeler-Bowman, the Pinellas County Southern Christian Leadership Council's Jeff Copeland, and myself, community activist Jabaar Edmond.  There were three supporters of the events that took place, and then there was me, the lone voice citing our First Amendment rights.
I argued that it was calculated and heartless to send out letters in mid-December warning of vigorous enforcement of permitting laws by codes enforcement and then for the day of the event to systematically shut down every street, effectively causing anyone who paid those vending permit fees to consequently lose their investment because no traffic was allowed in that area.
City Hall was packed last Thursday with some folks even taking off of work to go on record to voice their opposition to the south side police containment.
Many people cited that they dislike the way people celebrate along Martin Luther King Jr. Street, which is a valid concern, but it does not warrant Martial Law tactics that were used to shut down what some call a fair-like event with food, music and people socializing on the street.
There seems to be a generational divide when it comes to the after-parade celebration. It has caused a rift between people who celebrate with the city parade and those who line up on along Dr. Martin Luther King Jr. Street.
It seems that law enforcement is using and exploiting this rift to circumvent the constitutional rights for those who do choose to celebrate on the street.
We are generations removed from the1960s protests, and the members of the community are not holding hands singing "We Shall Overcome." For those who chose to exercise their constitutional right and spend their day on Martin Luther King Jr Street, they should not be met with scores of policemen restricting their every movement.  Isn't it ironic that on MLK Day on MLK Street that the constitutional rights of the attendees were in jeopardy?
There have been proposed changes and commissions for the MLK Street Celebration, but the real change needs to happen at City Hall and in the police department. Changes in the practices, policies and enforcement need to happen at a grassroots level, and the old Jim Crow tactics of "parading without a permit," which Dr. King himself was arrested for, must cease.