Rev. Doral Pulley
BY HOLLY KESTENIS, Staff Writer
ST. PETERSBURG – Rev. Dr. Doral R. Pulley has ministered for 40 years, four as the pastor of

Unity Temple of Truth Church, Inc

. So, it is only fitting that his congregation honored him for his years of service and dedication as a spiritual healer.
Pulley, 47, has many outlets that exemplify his cool demeanor and willingness to help others. Certified as a mental health professional by the National Board of Professional Counselors, he spends his days offering assistance to those in need either in person or through his download series.
"I catch his download series in the morning," said Donald Beasley, a virtual member living in the Washington, D.C., area. "I've always enjoyed Doral's preaching, his teaching and his spiritual development. It's always helped me grow spiritually and personally."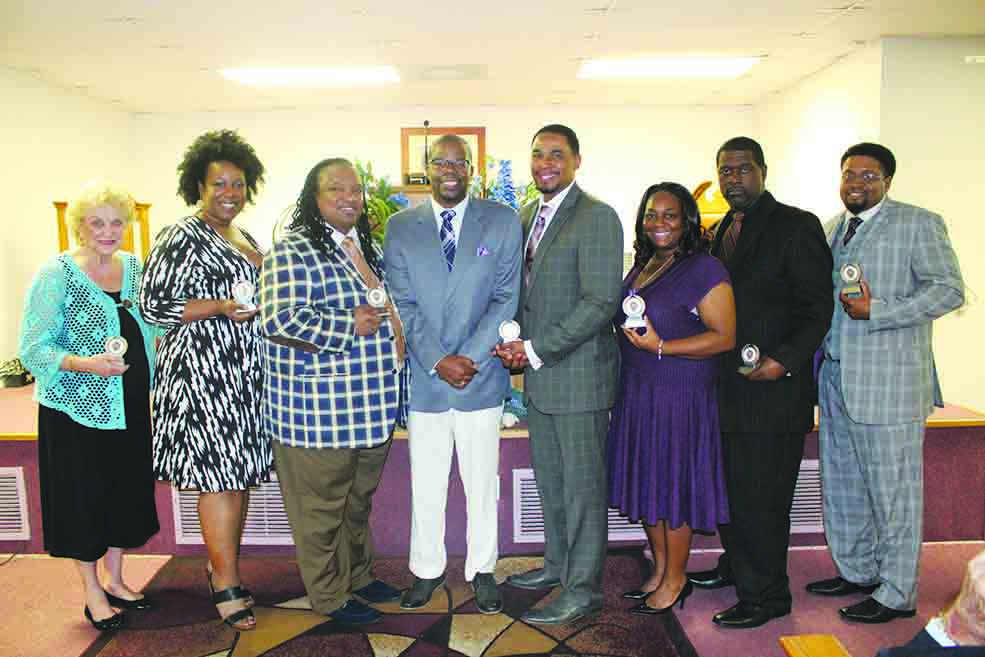 Pulley listened as person after person got up to speak about his kind heart and unwavering dedication to the church. In his time at Unity Temple of Truth Church, Pulley has tripled the attendance and membership at the little church on Prescott Street.
He's also used his background as a counselor to establish and maintain community partnerships with Campbell Park Elementary School, American Stage Theatre and the St. Petersburg Free Clinic.
"I find him very passionate about preaching, very loving," said Pastor Ellis Hodge, vice president of the Gathering of Pastors. "He has a real big heart and has room for everyone in there."
Pulley contributes his success to all those in his life that have taken the time to steer him in the right direction as a youth. He accepted his call to ministry at the early age of seven and by 12 was already a licensed minister.
He attended Morgan University and graduated magna cum laude with a bachelor's degree in religious studies and theology. He continued his studies at Loyola College of Maryland, obtaining a master's in pastoral counseling. But he didn't stop there. He went on to earn a doctorate in pastoral psychology from the Graduate Theological Foundation.
The congregation surprised Pulley with two special guests all the way from Nashville and Washington, D.C. Rev. Dr. Gary Henderson and Rev. Dr. Joseph Daniel both flew to St. Pete as soon as they heard he was to be honored.
The two men have gotten to know Pulley over the past few years, and agree that the pastor has always taken the time to grow and encourage those around him, even fellow pastors and bishops.
"He literally saved my life," said Dr. Daniel, who after 26 years found solace in the guidance of Pulley as he was reaching a breaking point. "The strings were popping."
Pulley gave out awards of distinction to people he feels embodies some of the same qualities of those he looked up to over the last 40 years.
"This 40 and 4 celebration is not so much about me, but it's about the shoulders of men and women that I stand on who have come before me," said Pulley.
Julius Ford received the Pastor Elizabeth Thompson Memorial Award. Pastor Thompson had a strong faith in God and wouldn't allow anyone to prevent her from her calling. She challenged Pulley to study the scriptures and commit to dedicating his life to service and the startup of churches.
The Angela Paine Memorial Mathematic Award was given to Joi B. Davies for being diligent and paying special attention to detail, which reminds him of his seventh-grade math teacher who laid the foundation for his academic career. Davies also challenges Pulley to be bigger, better and do greater things.
"There are some people that God sends into your life to challenge you to be your best self and to live your best life," said Pulley of Bishop Horace O. Ward, who forced him to prepare and preach the 8 a.m. service every week.
He presented the Bishop Horace O. Ward Memorial Expansion Award to Bishop A. Bernard Hector for always pushing him to do better and for having his best interest at heart.
Pulley has used the teachings of pastors and the Word of God to make an impact on others as well. He recognizes that life can be difficult and that at times everyone, even men of the cloth, can experience burnout, fatigue and at some point feel like calling it quits.
"I meet Bishop Robert M. Taylor Sr. at a point in my life when I felt like giving up," said Pulley.
He had just divorced, the congregation that he presided over dwindled from more than 400 people to a mere 150. But he remembers his bishop encouraging him to hold his head up high and to be what God had called him to be, regardless of what happened in his marriage.
"He gave me hope," recalled Pulley.
Therefore, he gave the Bishop Robert M. Taylor, Sr. Memorial Mentor Award to Teto T. Saunders for always having a word of encouragement for everyone.
Pulley said the Rev. Dr. Mary A. Tumpkin's teachings changed his life by helping him to embrace the Bible allegorically and metaphysically. He gave the Rev. Dr. Mary A. Tumpkin Memorial Metaphysical Award to Rev. Sheree Thompson for helping him get through seminary school.
"It's because of you I made it," he laughed.
The Minister Derrick Nixon Memorial Friendship Award went to Samuel W. Harrison. Nixon and Pulley were two of only a few young people growing up that accepted their call to preach at a very early age. At times it felt like it was just the two of them against the world.
More than 20 years ago when Pulley was the spiritual leader of a church in Washington, D.C., Elder Deborah Downing did whatever was necessary to support him. Following in her footsteps, he presented the Elder Deborah Downing Memorial Support Award to Nelah Parker for being with him every step of the way.
The celebration continued the next evening in Clearwater with a banquet and more awards.