Yolanda McCloud
BY CINDY CARTER, 

Staff Writer
ST. PETERSBURG – As part of the MLK Day of Service on Jan. 15, local organization 9-11 Angels will be involved in two days of good deeds that promise to have an impact on participants for a lifetime.
Partnering with Phoenix Uplift, 9-11 Angels plan to educate the public about fire safety and bring a little fun to the community.
It all starts Jan. 14 when 9-11 Angels will be hosting a fire themed afternoon from 2-4 p.m. at Stewart Isom Memorial, 1820 Walton St. S, in St. Petersburg.
Children in attendance will receive a kid's fun pack complete with a coloring book and crayons. A coloring contest is scheduled for children aged 5-12 and participants will take their favorite page from the coloring book and submit it to the competition for judging. Gifts of fire trucks and bubbles will be given to winners.
Fire disasters affect people all over the country and Yolanda McCloud, founder of 9-11 Angels, has worked since 2002 to show her appreciation to firefighters who put their lives on the line to protect others.
"After 9-11, I wanted to show my appreciation for their hard work," said McCloud. She's been serving up food ever since. Her goodwill began with Station 8 on Martin Luther King Jr. Street, but quickly grew. Now her organization consists of 12 volunteers.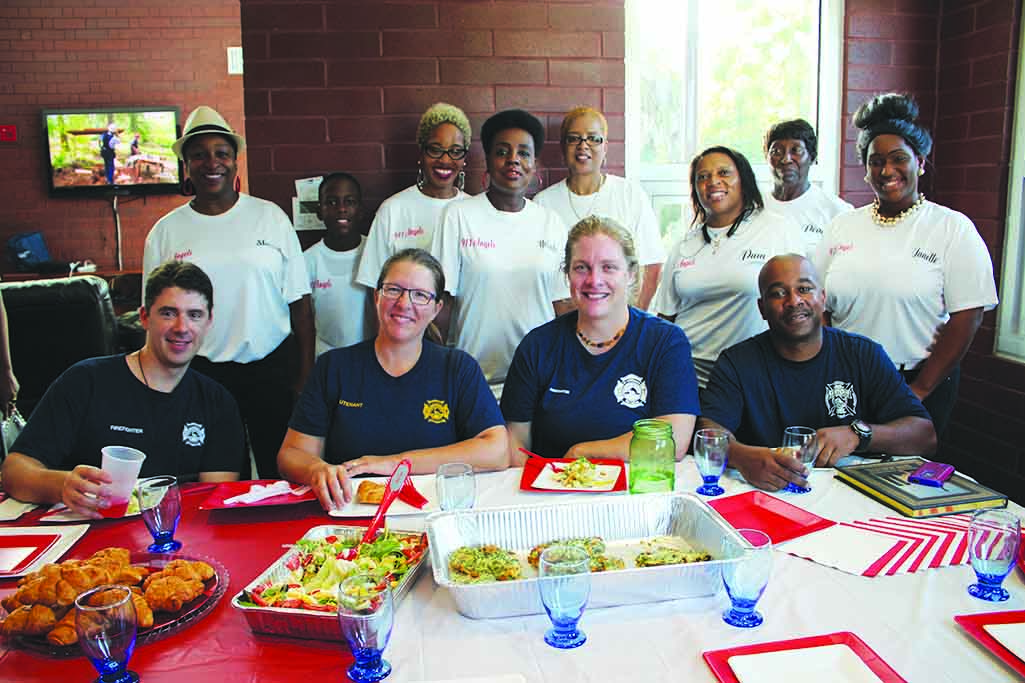 In the beginning, 9-11 Angels offered assistance to anyone in need, but after receiving an influx of requests for help, they decided to narrow down their support services to those affected by fires. They've provided assistance to three families, helping them to get back on their feet after losing it all.
"Our mission is to show appreciation and provide support to families affected by fires," said McCloud.
Firefighters, a fire truck and snacks will also be on hand to those that attend the pre-MLK Day of Service bash.
On the day of, the 9-11 Angels, who received their nonprofit designation two years ago, will be stationed at Tropicana Field from 2-4 p.m. (after the parade). ID badges, enough for 250 children, will be provided while supplies last. The badges will include the child's name, address and pertinent medical information.
Goodies will also be handed out. 9-11 Angels have over 200 fire-related tattoos and paper bracelets with the "Stop, Drop, and Roll" phrase for anyone who stops by their booth, along with fire hydrant cups with straws and snacks.
McCloud feels honored to give back to the community with her awareness campaign and excited that her organization obtained the Day of Service grant. As a first time applicant, she hopes to build on to this year's turnout.
"We got our application in at 11:59," said McCloud, thankful to be receiving any aid at all, getting her application in only one minute to spare before the deadline. They applied in November and although they were still working out some of the final details, they began ordering all the supplies in early December.
McCloud plans to continue providing her yearly Sept. 11 meals to local stations throughout St. Pete and is confident that 9-11 Angels' participation in the MLK Day of Service events will continue for years to come.
For more information about how to join 9-11 Angels, Inc., contact McCloud via email at nine_11angels@yahoo.com. Be sure to like them on Facebook at Facebook.com/nineeleven.angels.