Dr. Katurah Jenkins-Hall | Photo courtesy of Joey Clay Photography
By J.A. Jones, Staff Writer
ST. PETERSBURG – "We believe that we are not being taught systemically who we are as a people, and why it matters," stated Dr. Katurah Jenkins-Hall, president of Legacy-56, Inc.
"Our mission is to remember, reclaim and restore community–particularly remembering our cultural values and our spiritual principles as–we restore the greatness of our African-American community," she elaborated.
Legacy-56, Inc. is a 501(c)3 started by friends who were all born in 1956 and attended what was once 16th Street Junior High School, now John Hopkins Middle School. Once a school that boasted a strong roster of honors graduates and overall excellence, John Hopkins is now one of St. Pete's struggling schools.
Jenkins-Hall said many of those former friends and classmates, who graduated from high school in 1974, went on to become successful educators, spiritual and community leaders and cultural figures. They formed Legacy-56 to help address some of the issues impacting St. Pete today.
This year, Legacy-56 will take on the issue of the school-to-prison pipeline, which the American Civil Liberties Union has recognized as a significant issue in black and brown communities. Recent statistics show that "zero-tolerance" discipline has resulted in black children receiving much higher rates of suspensions and arrests than white students.
Jenkins-Hall pointed to the lack of educational and cultural literacy shared in schools and communities today versus in the past as a problematic factor.
As well as receiving foreign language classes, dance, theater or some form of cultural arts,  Jenkins-Hall recalled that Legacy-56 members "learned our own history and had a sense by the time we got out of high school what it meant to be an African American in the society."
Losing this kind of cultural literacy has harmed the sense of self-knowledge and self-esteem in today's youth, she reflected.
She also noted that as busing and a changing community led to close relations living in different parts of town, familial connections have been impacted. Additionally, Jenkins-Hall acknowledged that "some of us have also lost the ability to connect with that which is greater than us, which is spiritual connection."
The licensed clinical psychologist and pastor shared, "When I talk to young people, it's apparent that they don't know anything greater than the things that they're involved with on a day-to-day [basis]." When asking one teen what they wanted to do in the future, she said they responded, "I want to work at the mall."
"The dream can't be bigger than that unless they're exposed to greater," Jenkins-Hall stated.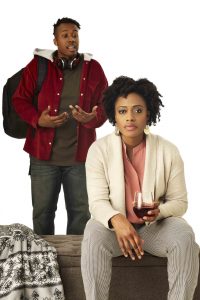 For this year's MLK Day of Service, Legacy-56 is collaborating with the American Stage Theater for a project called "Dismantling the School-to-Prison Pipeline Through Cultural Literacy."
"We know that the school-to-prison pipeline is real and that there are systemic things that happened through policies, discipline and racism that seems to steer our black and brown kids from the school to the prison," Jenkins-Hall explained. "We also know that the kids who are good at reading and taking tests are less likely to end up in prison."
Legacy-56's MLK Day of Service project will bring parents and students together to participate in a workshop exploring ways to dismantle the pipeline using reading and cultural literacy. The workshop will take aim at three topics: literacy, advocacy and conflict resolution.
Parents who attend the workshop will receive a free ticket to see the award-winning playwright Dominique Morisseau's play "PIPELINE," which is playing at American Stage Theater from Jan. 25 through Feb. 24.
The play confronts education, race and class and a mother's fight for her son's future. Students under the age of 20 are automatically free with American Stage's Under 20 Passport program.
Legacy-56 will work with community partners AMIkids, the Men of Yesterday, Today and the Future and Mt. Moriah Christian Fundamental Academy to bring the parents and children to the Jan. 19 workshops. The play's actors will also be there talk to parents and students.
There will be two sessions offered concurrently — one for parents and elementary school students, and one for parents and middle and high school students.
The educational workshops will be held Saturday, Jan. 19, from 9-1 p.m. at the American Stage Theater, 163 3rd St. N. Complimentary lunch is included along with a free ticket to the drama "PIPELINE," directed by award-winning director L. Peter Callender.
For more information on the event, contact Sara Ward at 727-331-1915. To learn more about Legacy-56, visit www.legacy56.org.
"PIPELINE" runs from Jan. 25 through Feb. 24. For more information or to purchase tickets, visit www.americanstage.org or call 727-823-PLAY (7529).