Pinellas County Job Corps held a virtual graduation ceremony Aug. 18, with 41 graduates, along with their friends, family, and PCJCC staff gathered around their electronic devices for the first graduation ceremony since 2019.
BY ANN SHERMAN-WHITE, M.ED., Pinellas County Job Corps, Business Community Liaison and Student Government Association Advisor
It was a great day to be a Pinellas County Job Corps Phoenix (PCJCC) on Aug. 18. At the stroke of noon, a virtual audience was called to assemble, as the start of the 2020-21 PCJCC Graduation Celebration was underway.
Forty-one graduates, along with their friends, family, and PCJCC staff, gathered around their electronic devices as the first graduation ceremony since 2019 was about to start. For the next hour, Advance Training Coordinator Cory Givens Jr., who served as the master of ceremony, guided his virtual audience through the day's "Pomp and Circumstance."
Remarks, pre-recorded greetings, and salutations were brought forth by Center Director Omoniyi Amoran, Lisa Odle, president and CEO of Odle Management, and prominent political figures.
All eight trades offered at the PCJCC were represented during the ceremony. Many students obtained their GED and high school diploma while completing their trades. This was made evident by the overt motivation that was observed by the staff when many of the graduates returned to campus or completed their virtual assignments in an expeditious fashion.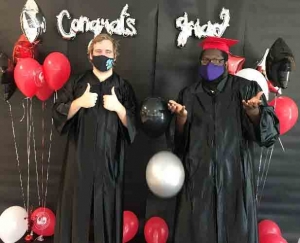 "Some students left their jobs to come back because they now realized just how much they needed their education," said Desiree Sherman, PCJCC Career Technical Training Manager. "They came back determined to acquire every certification in their trade that would help them afford the lifestyle and career they dreamed of."
One of the day's highlights was the numerous local, state and national dignitaries such as St. Petersburg Council Member Gina Driscoll, State of Florida Representative Charlie Crist, and Florida State Senator Marco Rubio. They each offered well wishes by submitting pre-recorded messages or joining the celebration virtually. They each echoed a common theme during their remarks: remain focused, continue to strive for success, and welcome to America's workforce!
Keynote speaker Kenneth T. Welch, former Pinellas County Commissioner and mayoral candidate, brought the day of inspirational messages home when he challenged the graduates to keep learning and to volunteer. "Stay determined and don't let others hold you back," he stated. He also challenged the grads to reach back and help someone else, just as someone had helped them.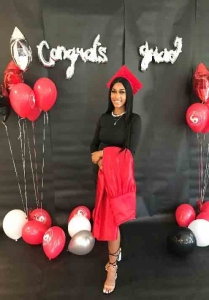 Although the celebration was virtual, the PCJCC team personalized each graduate's introduction by creating a slide specifically for them. Each slide included their name, picture, trade, any certifications earned while on center, and finally, their future goals.
Sherman read each name and their bio as Trish Jones-Modero, director of Outreach and Communications for Odle Management, not only guided each slide with rhythmic synchronicity but orchestrated the entire virtual platform from California.
While many will enter the workforce immediately, some have decided to further their education by seeking advanced training or going to college. Some graduates have selected to serve their country by joining the military. However, wherever their next steps in life take them, one thing is for sure, the graduates of the PCJCC are well-prepared to enter today's workforce and make a positive contribution to society. They, along with graduates from the other 123 job corps centers around the country, have weathered COVID-19.
Amoran reminded his students before engaging in the traditional turning of the Tassel that education was a lifelong endeavor and to continue to learn and grow.  This cohort of achievers navigated the heightened emergence of virtual learning and learned to adapt to an environment that constituted social distancing in every educational and training facet.
But like the Phoenix, they each continued to rise to the occasion and graduate.