BY RAVEN JOY SHONEL, Staff Writer
ST. PETERSBURG — Do you know where your tween or teenager was last Saturday night? Well, they should have been at the Abundant Life Ministries Black History program, where the Pastor Roger Stroman tends his flock.
Church announcer Christine Thomas and youth leader Yvonne Thomas worked tirelessly to bring this year's program to life. In its third year, the Thomas and Thomas duo worked together in tandem to make it all about learning black history.
"We came up with ideas together and worked as a team," said Yvonne. "We know it's in the church but we also want to teach the children about the history as well."
Not just wanting a program with children from Abundant Life participating, Thomas and Thomas sent out invites for kids all over the community to join them and calls and Facebook messages started pouring in.
"It's not all about our church," said Yvonne, adding that their goal was to get the community involved in learning about their history. "Each different church and each different community, they have history. We just want to all come together to teach them about the history."
The Thomas and Thomas team conducted a meet and greet where they gathered ideas. Instead of assigning history projects, the children chose what historical figure they wanted to spotlight.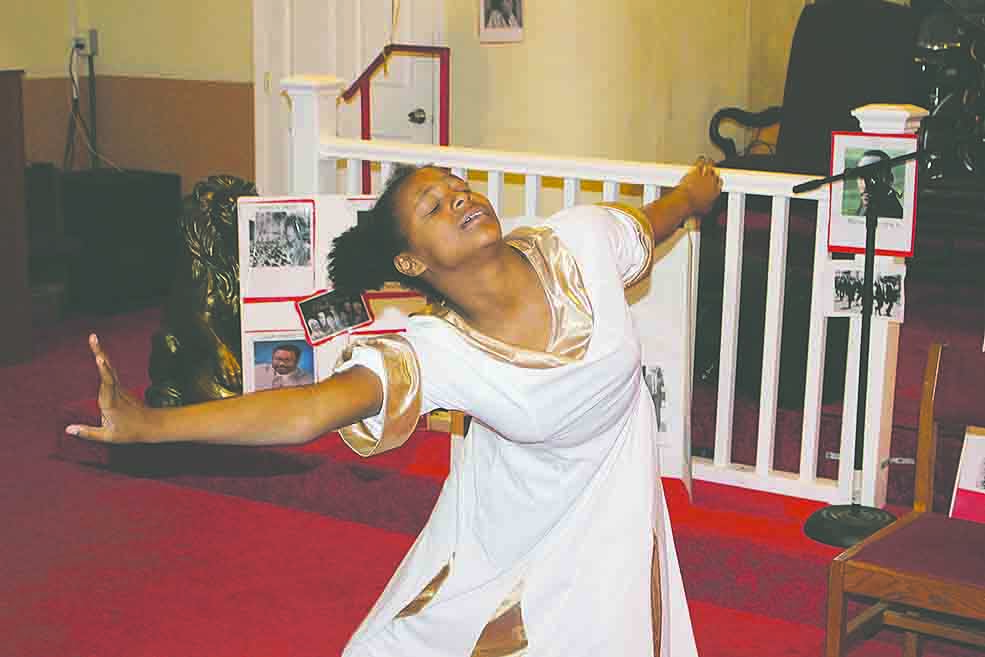 The evening saw historical figures come to life through the children, praise dancing and singing; however, the highlight of the program was a short skit performed by four young ladies with the help of church mothers. It was the recreation of the funeral of four black girls slain by white supremacists on Sunday, Sept. 15, 1963, at the 16th Street Baptist Church in Birmingham, Ala.
When four members of the Ku Klux Klan planted at least 15 sticks of dynamite attached to a timing device beneath the steps located on the east side of the church, Addie Mae Collins,  14, Cynthia Wesley,14, Carole Robertson, 14, and Carol Denise McNair, 11, lost their lives.
Although artistic liberties were taken since one of the young ladies was buried separately, the skit was meant to show how history repeats itself.
"We have so many shootings and killings in the church, so why not share this history with my own church," said Christine.
She previously saw a performance of the funeral at Gibbs High School and wanted to bring the message to her church. Having three girls herself, she does not want this tragic history to be forgotten.
The Thomas and Thomas twosome planned to organize a black history program every year to help the community learn about their history and to never forget the past.