This week's column continues the discussion about affordable housing opportunities provided by the City of St. Petersburg. The city has homes for sale and down payment assistance programs available for eligible participants. The Home Buyer Purchase Assistance Program assists low-to-moderate income households attain home-ownership by providing loans for down-payment and closing costs.
In cooperation and partnership with local first mortgage bankers, brokers and credit unions participating in the City's Coalition of Lenders, the city strives to assist as many first time homebuyers as possible who are eligible and qualified to purchase modest and affordable homes.
Homes offered for sale by the City of St. Petersburg are built to be safe, secure, energy efficient, protected, warranted and AFFORDABLE with monthly payments less than rent as demonstrated in example in the chart below for a household at 80% of the area median income: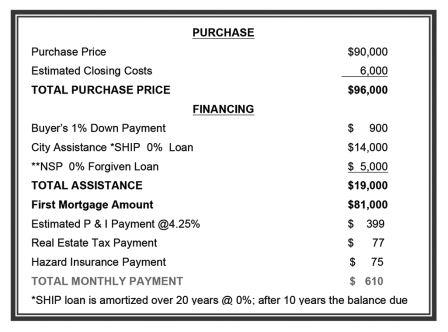 The mission of the Housing and Community Development Department for the city of St. Petersburg, of which the Working to Improve our Neighborhoods (W.I.N.) Division is a part, is to provide its citizens with a suitable living environment, to include public safety and sound infrastructure, and the retention and development of affordable, livable housing structures. Funding for the city's Home Buyer Programs includes the SHIP Program (Florida State Housing Initiatives Partnership).
The Neighborhood Stabilization Program (NSP) works to enhance neighborhoods, incorporate green-building features, and assist with loans to moderate income homebuyers to purchase previously foreclosed and abandoned homes.
This is an exciting time in the city and for potential homebuyers. With both new and newly renovated houses on the market and down payment assistance programs available, families and individuals seeking to become first-time homebuyers have numerous options. To learn more about the path to homeownership, contact Neighborhood Home Solutions at (727) 821-6897 or visit us at nhsfl.org.
NHS is a 501 (c) (3) HUD approved nonprofit housing counseling organization. Services are provided free of charge. Partners include the U.S. Department of Housing and Urban Development (HUD), HomeFree USA, Florida Hardest-Hit Fund, Pinellas County Community Development, and the City of St. Petersburg. The source for this article was the City of St. Petersburg Housing & Community Development.