BY ALLEN A. BUCHANAN, Staff Writer
ST. PETERSBURG — A rainbow of African attire lit up the walkway in front of Tangela Murph-Bailey's Reader's Choice Bookstore and Gift Expressions Feb. 5 at the Skyway Mall.
Professionals, young adults and children from the community strutted their stuff down a walkway turned runway, donning Yoruba blouses, wrap skirts and dashikis while saxophonist Henry Ashwood provided a jazzy soundtrack to the annual event.
The part of mistress of ceremony was played by Tori Thomas, fresh from a trip to Malawi.
"We fed more than 4,000 children and 500 adults," said Thomas, as she began to address the audience at the fashion show. "There wasn't any McDonald's, Burger King, KFC. Wasn't no beef, pork or chicken in it, just beans and rice, and they were happy with that!"
Thomas collected pennies from the audience to help build a school for Malawian children.
Local author Linda Mobley received applause as she graced the walkway in her regal red attire with gold and white trim. Former St. Petersburg Times journalist Roger Clendenning represented the strength and wisdom of local elder village men in his kingly white robe with silver and gray trim.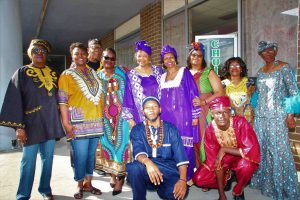 Marques Clark, motivational speaker and author, performed an original poem honoring the life and legacy of Dr. Martin Luther King Jr. Clark's new book entitled "Breaking Out: Escape The Fear of Failure," echoes the theme of hope passed down by Dr. King.
The highlight of the afternoon came in the form of young African kings and queens showcasing their heritage in the form of fashion. With royal strides, the young ones looked proud to be Africans living in America.
To reach Allen Buchanan, email abuchanan@theweeklychallenger.com