BY RAVEN JOY SHONEL, Staff Writer
ST. PETERSBURG — Crowds descended upon the Carter G. Woodson African American History Museum to enjoy the second annual Tampa Bay Collard Green Festival last Saturday, Feb. 16.
The street festival included cooking, hands-on urban agriculture demonstrations, collard green tutorials, bounce houses for the kids, and of course, a collard green cook-off to end all cook-offs.
This year's festival featured Gullah culture in the form of international mix media artist Sonja Griffin Evans, the Gullah Diva, Sallie Ann Robinson and eventgoers got a chance to watch basket weavers Michael Smalls, a seventh generation basket-sewer, and his former apprentice and cousin Dino Badger in action.
Gullah Diva Robinson had lines wrapped around the corner hoping to get a taste of her collard greens with rutabagas, shrimp and potatoes salad and everyone's favorite–fried ribs. Local Chef Julius Forte of Forte Fuels had the crowd chomping at the bit to taste his braised collard greens and salmon. Both chefs gave cooking demonstrations and fielded questions from the audience.
Howard Gunn, Jr., the founder and former president of the Florida Black Farmers and Agricultural Association spoke on the importance of growing your produce and knowing where your food comes from.
"Your health is your wealth," Gunn, Jr. said. "Know your farmer, know your food."
He spoke about the growth hormones and antibiotics that are in today's meats.
"How many have eaten chicken that was so big that you're afraid to eat pieces of it," he asked. "These young girls 13 years old look like they're 35. The hormones are in the chicken. If you eat it, you are what you eat."
Gunn, Jr. said we are in a food revolution. People are paying extraordinary amounts of money for food. He warned that even if it's labeled organic, the seed is genetically modified.
"When you start manipulating seeds, something is wrong," he asserted.
He said that most diseases are preventable and that's it all about what we eat.
"What makes you healthier is eating from the soil, knowing where your food comes from, knowing what's in your food and then not living to eat, but eating to live."
This year, 10 budding chefs entered into the collard green cook-off. Festivalgoers paid $10 a head to crown 2019's collard green royalty.  The competition was stiff this year, with last year's winner–Bernard Rembart from Munch's Sundries–among the contestants.
But, there could be only one, and this year it was Kimberly Brown-Williams' smoked neck bones infused greens. So what is her secret?
"A lot of love. I cook from the heart," she said. "It's ingredients that everybody probably uses, but I take my time. I don't skip; I don't rush."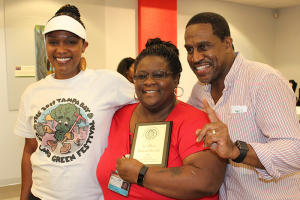 Brown-Williams was a judge in last year's taste-off, and although the entries were pretty good, she knew if she entered she would be the one taking home the $500 prize. She actually told the festival co-founder and organizer Boyzell Hosey that she would be the winner hours beforehand.
Well, the four hours that it took to prepare—two hours prep time and two hours to cook—paid off. Now the question is what will she do with her winnings?
"I don't know," she laughed.
The second place prize of $200 went to Kiva Williams of Wesley Chapel, and Randy Jackson from St. Pete took home $100 for coming in third.