BY RAVEN JOY SHONEL, Staff Writer
ST. PETERSBURG — Seniors that attend the Neighborly Senior Café at the Enoch Davis Center were given a Valentine's Day party to remember last Thursday, Feb. 14.
Seniors were treated to a home cook meal of turkey, ribs, squash casserole, baked chicken, dressing, black beans, rice and desserts galore, all while being serenaded by jazz great Henry Ashwood on the saxophone.
The afternoon's activities were provided by Linda Watson, whose father attends the senior group dining program. For a few years, she would fulfill her monthly Order of the Eastern Star community service duties by providing a luncheon for the seniors, but she eventually moved on to other projects.
When the director of the program asked her to come back, she felt honored to serve her elders. Since 2013, the Valentine's Day party has been on her and her volunteers' calendars every year.
"I like senior citizens; I love them," Watson said.
Watson and her mom, dad and aunt, cooked the meal and made sure each senior in attendance went home with a small present.  Since she does not fund raise, everything from the food, entertainment and gifts comes out of her pocket, but giving back is nothing new.
She has been serving her community for more than 30 years. Watson explained that her grandmother used to live in Graham Park apartments and when Webb's City was closed down, many of the seniors were left without a way to get food, so she started going to different food pantries and distributing food to the residents.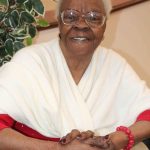 When the Order of the Eastern Star, a Masonic appendant body open to both men and women, saw her good works in the community, they invited her to join their organization.
Most of the seniors in attendance are members of Neighborly Senior Café, which is a free government funded program located at several centers throughout Pinellas County. This year, seniors and volunteers from area churches also joined in on the fun.
Along with a hot, nutritious meal, Neighborly offers participants informational programs, cooking demonstrations, entertainment and activities seven days a week. They experience social interaction that is beneficial for their overall health and wellbeing. To participate, you must be at least 60 years old.
Neighborly offers pick up and drop off to and from the Enoch Davis Center, or if you're homebound or would just rather stay home, they also offer Meals on Wheels.
Cheryl Holliday, a Neighborly site coordinator at the Enoch Davis Center said the seniors seem to enjoy the fellowship the program has to offer.
With the program nowhere near capacity, Holliday encourages seniors to come down and discuss their options. Although the café is open seven days a week, Tuesday through Thursdays are the best days to chat with her.
If you're not too busy between the hours of 10-1 p.m. Monday through Friday and would like to get out of the house and meet new people, please call Holliday at (727) 823-4442 to help get you signed up.