The ladies of Zeta Upsilon Omega Chapter of Alpha Kappa Alpha Sorority, Inc. are proud to announce the 2016 Little Miss Pink Petals Pageant. This affair will take place at 6 p.m. Saturday, Oct. 22 at Lakewood High School in St. Petersburg.
The pageant will target young girls 5-10 years of age. Over a period of 12 weeks, participants will make friends and participate in activities that will focus on skills in communication, public speaking, and talent. The girls will also be introduced to activities that promote self-confidence, self-esteem, poise, personality, and charm.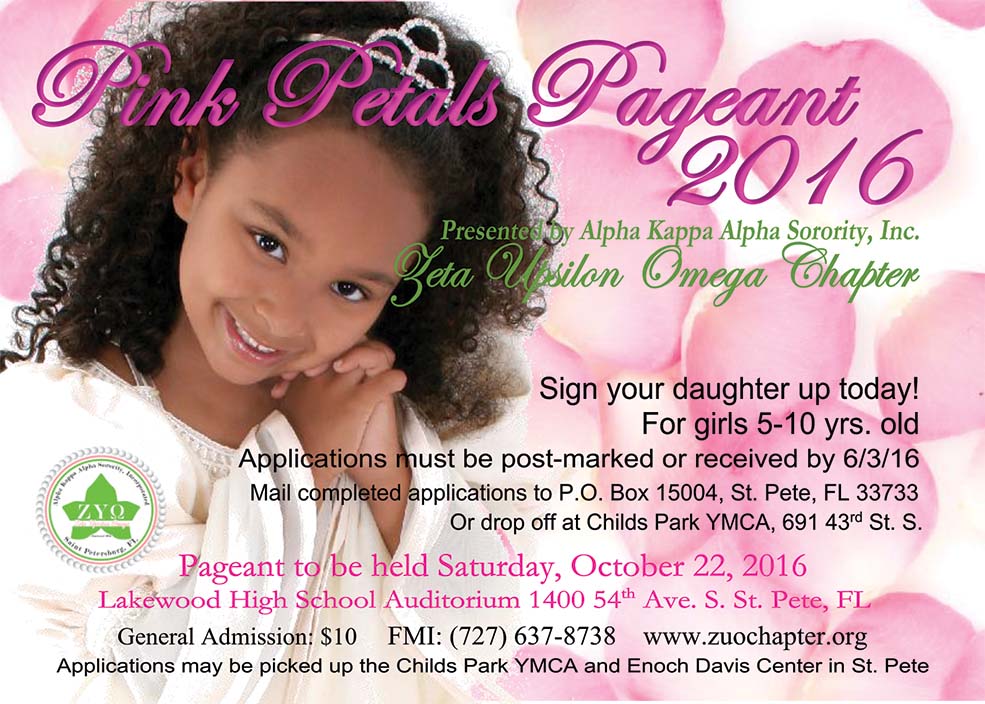 The program goal is to positively develop young girls in the community and give them confidence and skills to achieve academic excellence.
Parents can pick up an entry form at Child's Park YMCA, 691 43rd St. S or Enoch Davis Center, 1111 18th Ave. S. Completed forms must be returned by June 3 to:
P.O. Box 15004, St. Petersburg, FL 33733.
Admission to the event is $10. Proceeds will benefit the chapter's charitable and local community donations.
For more information, visit www.ZUOChapter.org or call 727-637-8738.