The Tampa Bay Estuary Program is now accepting project applications for the Bay Mini-Grants program.
TAMPA BAY — Are you an educator or part of a local community organization with an idea for a restoration or educational project in Tampa Bay? The Tampa Bay Estuary Program is now accepting project applications for the Bay Mini-Grants program! Bay Mini-Grants are competitive awards (up to $5,000) offered to community groups with projects that help improve Tampa Bay. Project proposals must address at least one of Tampa Bay Estuary Program's goals: water quality, habitat restoration, invasive species, public education, fish and wildlife enhancement.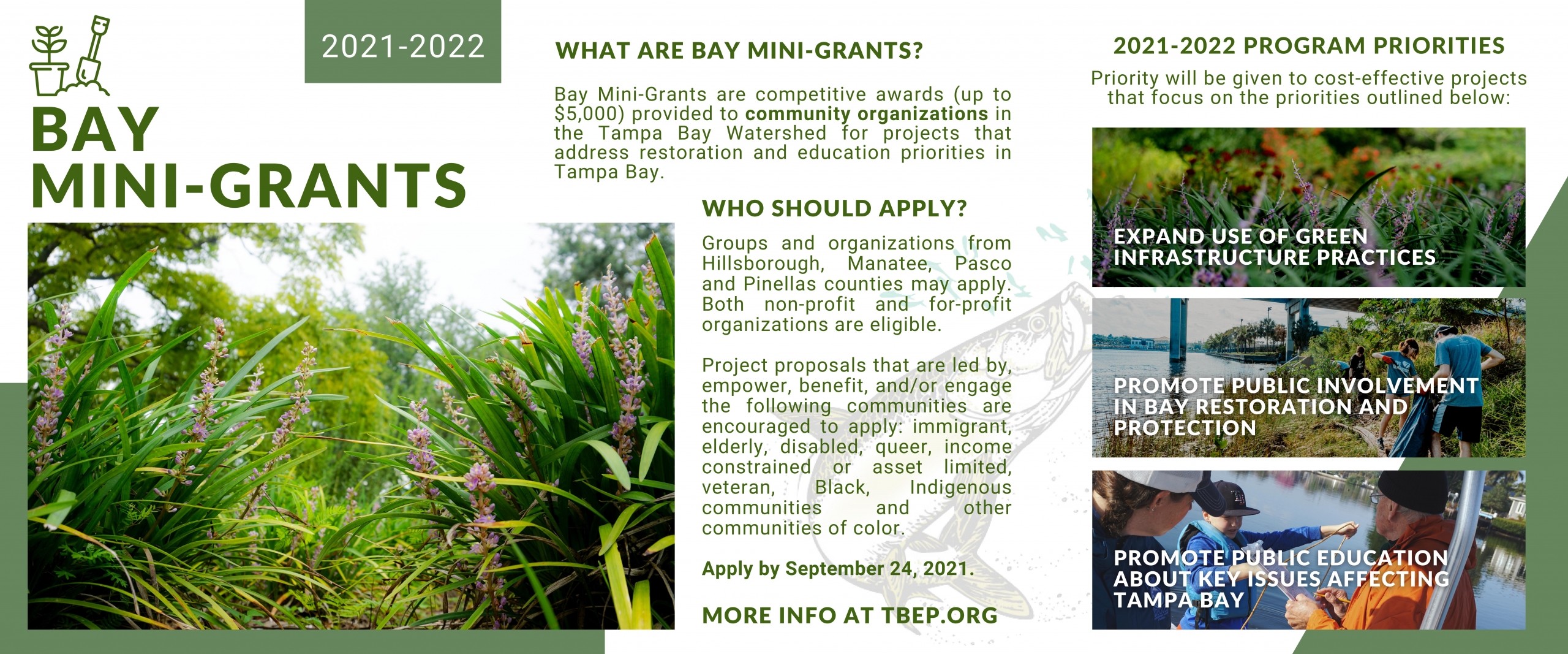 This year, priority will be given to proposals that expand the use of Green Infrastructure Practices Funded by the Tampa Bay Estuary Program Specialty License Plate. Over 200 bay restoration and education projects have been awarded a Tampa Bay Estuary Program (TBEP) Bay Mini-Grant, totaling nearly $1,000,000, just since 2010.
Past projects have included Florida native plantings at local parks, invasive species removal from mangrove islands, marine educational workshops for Tampa Bay teachers, rain garden installation, and citizen-science projects researching endocrine disruptors in seagrass meadows. Projects are scored on originality, so creativity in project proposals is highly encouraged.
The application deadline for Bay Mini-Grants is Sept. 24. Information about the Bay Mini-Grants program, including an information packet with links to application resources,  an instructional webinar, and summaries of previously awarded grant projects, can be obtained by visiting tbep.org. To discuss project ideas or any other questions, contact TBEP's Public Outreach Specialist, Sheila Scolaro at sscolaro@tbep.org.
All Bay Mini-Grants awarded to community organizations for education and restoration projects are funded by the Tampa Bay Estuary Specialty License Plate or the "Tarpon Tag." To obtain a Tarpon tag and directly support this grant program for years to come, visit your local DMV.