Dominique Cobb teaching her young charges the different genres in literature.
By J.A. Jones, Staff Writer
TAMPA – During July's

Black Girls Read

summer session, Dominique Cobb encouraged young attendees to scour the

Robert Saunders Library

as she coached them on how to identify genres. She asked the girls to call names of authors or books they might have heard of even if they hadn't read them.
"James Patterson!" suggested one of the older girls.
Cobb nodded. "OK. What about James Patterson, what genre are his books?" she responded.
"Mystery?" the girl answered.
Nodding, Cobb moved on. "I heard someone say they like 'Captain Underpants.' What kind of book is that? It starts with a 'C,'" she hinted after several moments of silence.
"Comics!" a tweener across the room crowed proudly proclaimed.
Cobb is a mother of four and a self-described "avid reader and foodie" who has always loved to explore new cultures and experiences. In 2012, she and co-worker Dr. Louise Vincent were both mothers with daughters struggling in school. Her daughter was being labeled as having ADHD because she wasn't reading aloud and was having trouble retaining information that she read.
The two mothers decided to take matters into their own hands, convinced the school systems weren't interested in helping find the solutions to the challenges their daughters were facing. Black Girls Read was born, starting with seven girls.
Now on any given month, Cobb sees between 15 and 25 young attendees.
"We met at the Children's Board because it was one of those places that welcomed us," recalled Cobb.
After about a year, they moved to the Robert Saunders Library where they were thrilled to find a room devoted solely to African-American authors and subject matters. Soon Cobb started putting together packages to assess the girls' reading levels, tailoring packets for their individual strengths and weaknesses.
Cobb's passion runs deep.
"I'm up at two or three in the morning pulling articles, researching statistics, checking on school board meetings to see what issues the children are facing in school or Common Core additions to their curriculum for the upcoming year."
At the library, Cobb has the girls pick out books and encourages them to share something about their selection.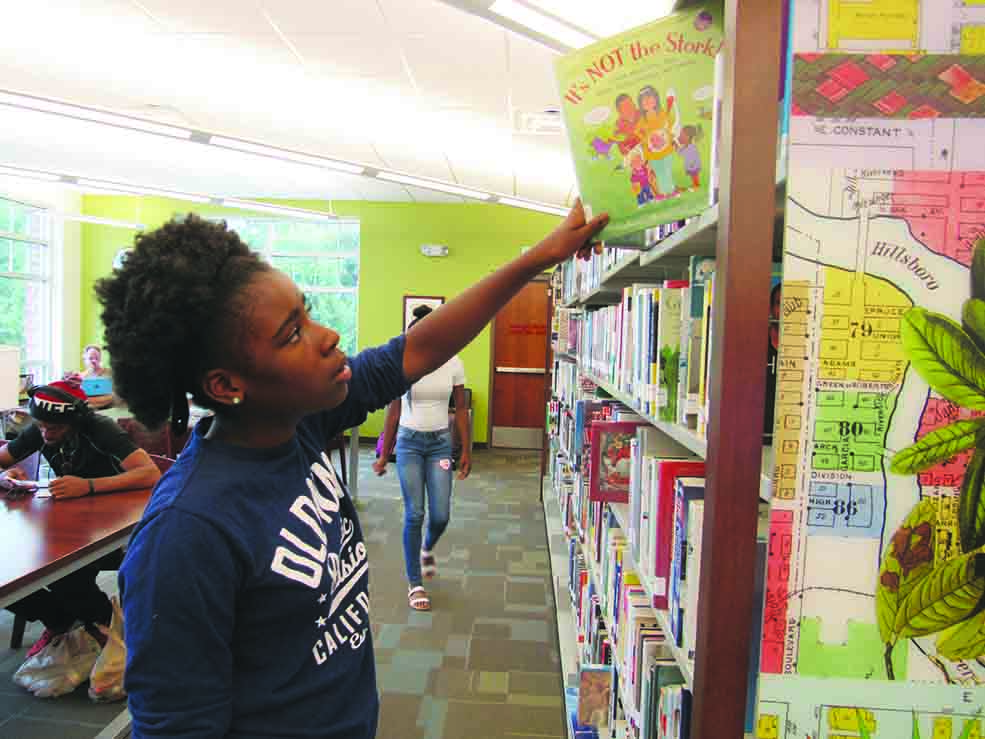 "A lot of kids don't actually touch books—if it's not their phone, they're working on the computer. My thing is the sensory thing—getting them to touch the book; touch the pages."
Cobb said that many of her readers are from public housing and even though the library is in close vicinity, for many, coming to a Black Girls Read session is their first visit to a library.
Getting the girls to practice public speaking is also part of Cobb's mission, so icebreakers and open sharing are incorporated in each session.
"Sometimes girls are shy. I had an issue with [reading aloud] in school. I was scared to read out loud, so I want the girls to be as comfortable as possible," Cobb stated.
Parental involvement is also vital, and Cobb was happy to report that at each session she's had nearly 100 percent parental attendance.
"I tell them at the beginning, 'I'm not a babysitter; we are in this together. It's a village and whatever I'm teaching them you need to learn too."
Cobb believes there's an issue in the African-American community in relation to parent-teacher communication. Often, she thinks, parents and teachers aren't on the same page.
She wants the parents to be there to watch what she's doing so whatever she's teaching them can be implemented at home. Cobb also supplies the girls with journals and offers the parents writing prompts to encourage them to write each day.
Cobb, who has returned to school for project management and business, is considering new paths for her mission because parents have repeatedly approached her about their sons. Realizing the boys need help too, she hasn't turned any away when they've shown up for the girl's group. She's contemplating starting an inclusive version this fall.
A recent graduate of the CRED program in Urban Development Certification through USF's Institute of Government, Cobb—who was a 2018 Athena Society Grant recipient for female leadership—wants to run her own program, and eventually go into politics on behalf of the community.
Mary Bird, a grandmother of an 11 and seven-year-old, was thrilled about the initiative.
"I knew Dominique from a child; she's a brilliant young lady, and she is bringing these little girls together so they can bond and have everlasting relationships," said Bird, who is happy that her grandchildren, who love to read, now see other girls who enjoy reading as well.
Monique Henry, a mother, nurse and nursing instructor, was there to volunteer. She liked the fact that the event taught the girls about the importance of reading and writing, "not just in school but during the summer, out of school, on the weekends."
Cobb credits her daughter's turnaround in school for inspiring her. After a year of being a part of Black Girls Read, her daughter jumped six reading levels and landed on the honor roll for the first time.
"I was like, 'we've got to be doing something right,'" laughed Cobb.
So far, she's been doing everything out of pocket, but for her, it's been worth it. Cobb is hoping to expand the organization and raise money for field trips while continuing to share the strategies that propelled her daughter to success with others.
To view more, visit Black Girls Read on Facebook.