Orrin Fredericks heads up the Black Lions Gun Club located in Ruskin. The Black Lions Gun Club trains members on an outdoor range, which heightens the gun enthusiast's level of firearm skill.
BY J.A. JONES, Staff Writer
TAMPA BAY — According to the National African American Gun Association (NAAGA), at least 19 percent of African Americans own firearms. The association, founded in 2015 by Philip Smith, was started to "expose, educate, and motivate African-American men and women to go out and purchase a firearm for self-defense and to take training on proper gun use."
NAAGA offers a history of gun ownership on its site, noting that "the history of gun ownership in the United States was dramatically different for African Americans." The site charts the Black codes that exempted African Americans from holding guns from the 1700s through 1800s while giving the nod to the Buffalo Soldiers, the first Black regiment of peacetime soldiers established by Congress in 1866.
Once guns were legalized for Blacks, NAAGA notes that from the 1900s forward, firearms were often the sole item that saved Black lives during the following decades — with at least one Black person was lynched every three days in the South as the years passed.
As the decades that followed saw violence against Black Americans continue, NAAGA hailed the Civil Rights and Black Power eras' Deacons for Defense and Black Panther Party as illustrating advocacy and the need to protect 2nd Amendment Rights for Black Americans living under fear of white violence.
The site also offers several books for further education on this history of Black gun ownership, including "Negroes and the Gun: The Black Tradition of Arms" by Nicholas Johnson, "Negroes with Guns" by Robert F. Williams, and "This Nonviolent Stuff'll Get You Killed:  How Guns Made the Civil Rights Movement Possible" by Charles E. Cobb, Jr.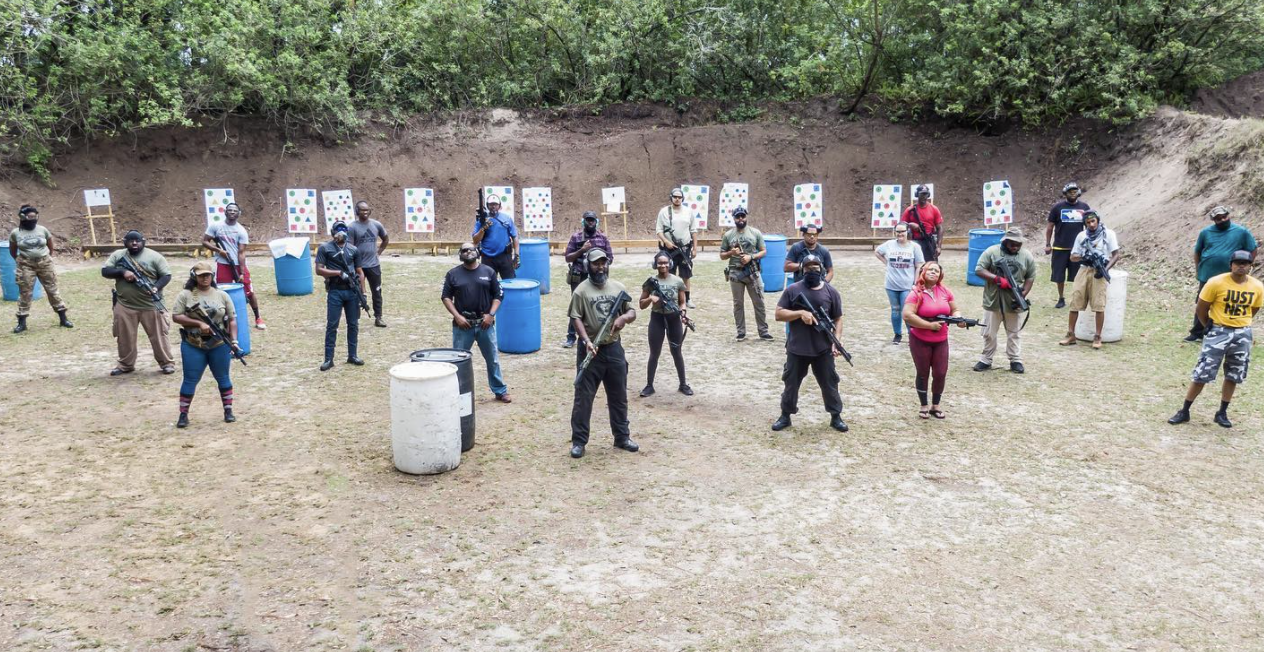 The organization has regional chapters, including the Tampa Bay region Black Lions Gun Club, headed by Orrin Fredericks. Started initially as Family Ties Firearms by Stephanie Marie, the local club was focused on self-defense for women when it opened in St. Petersburg four years ago.
When Fredericks took over, the name and logo were changed to Black Lions, and he said that today the club is geared to those who "really love to embrace our Second Amendment rights," whether for self-defense or sports shooting. But, he noted, gun safety and education are still the primary purposes of the club.
Fredericks said that Black gun enthusiasts join because they desire a certain level of comfort in going to a gun range or shooting event.
"When we go to a gun range, or we go to a shooting event, it's very hard to find people that look like us. In an environment where you have a firearm, most of the members will tell you they're looking to shoot with people who look like them."
While he acknowledged that "a majority of the people last year that decided to buy firearms was because of the atmosphere and the culture; obviously, a lot of folks from bought firearms because of things that they saw in their communities as our society and made those decisions," Fredericks said, declining to peg it specifically as to a reaction to the rising tide of openly racist behavior by whites against non-whites.
Instead, he focused on the necessity for gun owners to handle their firearms safely. "My focus really is on safety education and training because when you're in a self-defense situation, it doesn't matter whether the assailant is white, Black, Brown. Whatever the case maybe — you're looking to defend yourself and your family."
Fredericks stressed that it's important for gun owners to understand their responsibility to keep the community safe, demanding ongoing weapons training.
"Using a firearm is a diminishing skill," he shared, noting that if people took a concealed weapons permit class several months in the past, their skills would drop without regular training in gun handling and safety. Additionally, according to Fredericks, Florida's concealed permit test is not as stringent as a state like Texas, where he learned to use firearms.
"It takes a lot of work to be accurate with a firearm; it's everything from your stance, to your grip, to your ability to put sights on target within a certain amount of time — and then the way that you pull the trigger, whether you're jerking the firearm or pulling it to the right of the left, up or down."
Fredericks asserted that training teaches one to be proficient with their weapon – and once training stops, "all these little intricate things start to come apart, become unraveled. So, you're at home; you bought a firearm in January. It's now November; someone's coming through your window or your door, you have to reach for that firearm. You're going to grab that firearm — and if you haven't been trained, you're not comfortable using it…and when you're not comfortable using it to defend yourself, you could potentially make a mistake."
The Black Lions Gun Club trains members on an outdoor range, which, according to Fredericks, heightens the gun enthusiast's level of firearm skill. "The training isn't easy. It's very different because you're now exposed to the elements, which will cause fatigue a little quicker. But we really stress the fundamentals, and we have a platform that would take anyone from a complete novice to a point where you can make a decision on whether you want to compete in competitions. That process does take time, but we think we can get you there."
While Fredericks doesn't think the issue is that there are too many guns on the streets, he does note that people fail to secure their weapons, which leads to firearms ending up in the wrong hands. He shared that Black Lions' gun safety courses deal with these basics and offer a free child safety course.
Many of the instructors also offer their own courses for a more personal feeling; through his own business, Fredericks' Security Solutions, Fredericks provides one-on-one instruction and offers gun-owners a chance to learn at their own pace, without the stress of group training.
Black Lions Gun Club will hold its next range day on August 21 at 2102 24th St. SE in Ruskin. For a full schedule of Black Lions Gun Club events, visit them on Facebook.