Black voters are prepared to support "anyone but Trump," but show no real zeal for any of the Democratic candidates
By Gypsy C. Gallardo for Power Broker Media Group
So far, media coverage of the early February polls by Quinnipiac and Economist/YouGov has highlighted only two facets of African Americans' preferences in the 2020 presidential primaries: 1. Michael Bloomberg surged to second place among black voters nationwide, and 2. Joe Biden is fading fast in black voters' affections.
Both may be true, but the most recent polls (February 9-11th) served up a much richer trove of findings about the collective leanings of America's 30 million eligible or registered black voters.
For one, black voters are on track for higher turnout in the 2020 primaries than any other race group reported by Economist/YouGov. In its most current release, 84% of African Americans plan to vote in the 2020 primary, versus 81% of white voters, 80% of Hispanics and 60% of Other voters. This means that black voters could cast more Democratic primary votes that all other racial/ethnic minorities combined.
Even more glaring, an overwhelming majority of African Americans will vote for anyone but Donald Trump. More than any race/gender/age group reported by Quinnipiac and YouGov, black voters want Trump out!
Though a much higher share of African Americans say they would prefer a candidate who shares their views "if all else were equal" (62% of black voters versus only 37% of white voters), black voters clearly recognize that "all else is not equal."
Quinnipiac shows that an average 82% of African Americans would vote for any of the six leading Democrats over Trump, compared to 44% of white voters who would. And in last week's Economist/YouGov release, 74% of black voters said they would vote for the Democratic candidate (no matter who it is) against Trump.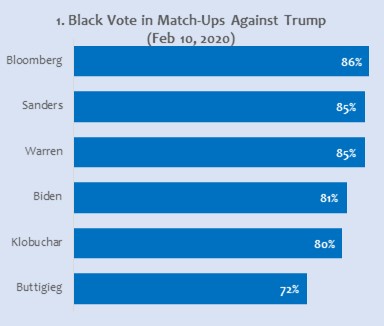 But don't mistake black voters' distaste for the 45th president as passion for the Democratic contenders. So far, there are no signs of actual zeal for any single candidate on the part of African Americans.
Black registered voters are less satisfied with the Democratic choices, compared to other race/ethnic groups. According to Economist/YouGov, 78% of whites and 74% of Hispanics say they are generally satisfied with the Democratic slate, versus only 67% of African Americans who are.
And take note of how quickly Joe Biden could be thrown under the electoral bus among black voters. Though he ranks number one in polls of black voters (and has held that position for months)…
Biden rates a close second to Buttigieg in the number of African Americans who have an unfavorable view of him.

Biden registers the second highest rate of disappointment among black voters in the hypothetical "if he became the nominee" (see Graph 4).

And take a close look at Graph 1, three other candidates would nab a higher black vote share than Biden, in head-to-head match-ups against Trump (Bloomberg, Sanders and Warren), while Klobuchar (one of the least well known candidates among black voters) would win about as much black support as Biden.
Takeaways about the Leading Democratic Contenders
Pete Buttigieg 

is getting practically zero bump with black voters for his first place showing in Iowa. Polls conducted one week after the botched Iowa caucus show Buttigieg as the least well-known and least liked among African Americans (of the top six candidates). Only 42% of black voters had a favorable view of him in the latest Q-Poll, and in the newest release by Economist/YouGov, Buttigieg had the highest share of African Americans who say they'd be disappointed if he became the nominee. One recent bright spot – Buttigieg scores a B+ on the 

2020 Racial Justice Scorecard

.

Bernie Sanders 

is better known and better liked by black voters than some speculate. He ranked in the top three primary picks for black voters in the recent Q-Poll, and turns out to be the best-known of all the Democratic candidates among African Americans, and the second-best liked (80% of African Americans have a favorable opinion of him). He, like Buttigieg, snags a B+ on the 2020 Racial Justice Scorecard.

Amy Klobuchar 

is still struggling to gain traction with black voters. Not surprising, given her near-total "black out" of all things "black." As was pointed out on a Feb 13th call with 

Black Economic Alliance

 stakeholders, a scan of her website found only one mention of African Americans (in a news story posted there). But she's doing better with black voters than one might think. The Minnesota Senator took 80% of black voters in a hypothetical head-to-head against Trump, which was neck-and-neck with Biden's 81% of black voters when pit against Trump. She also scores a C on the 2020 Racial Justice Scorecard.

Joe Biden 

may be losing his head-and-shoulders edge with black voters, but he still rates as African Americans' number one primary pick in the latest polls. He also hails as the best known and most liked candidate for African Americans, and they still say Biden has the best chance of beating Trump. Biden has suffered less recent backlash for race-related issues (compared to Bloomberg and Sanders), which isn't to say he's out of the woods for his many past missteps on important race-related issues. The 2020 Racial Justice Scorecard gives Biden a grade of D.

Elizabeth Warren 

is hanging in there but has seen her star fade with black voters. Warren won 24% of black voters in a November 25th Q-Poll, but only 8% in the February 10th Q-Poll. Still, 85% of African Americans say they would back her over Trump and fewer African Americans would be disappointed in her becoming the Democratic nominee, compared to Biden. She also scores the only A grade on the most recent 2020 Racial Justice Scorecard.

Michael Bloomberg 

is riding high in recent surveys. The newest Q-Poll shows him in second place among black voters nationwide (and with the biggest two-month bounce, from less than 1% of the black vote in late November to 22% as of February 10th). But the former three-term Mayor of New York has since taken a media bruising following back-to-back reveals of his racial perspectives. He was 

caught on tape in 2015

 making racist statements about his support for "stop and frisk" policies in New York. A 

February 15th HuffPost article

 resurfaced a slew of allegations about racist and sexist acts by Bloomberg over the decades. He is the only leading Democrat with an F grade on the 2020 Racial Justice Scorecard (FYI – Tulsi Gabbard and Donald Trump also earned F grades).
Who Black Voters Know Best
Among top ranked Democrats, Sanders is best known among African Americans; 95% of black voters know of the third-term Senator from Vermont, which – surprisingly – slightly edged out the 93% who knew of former two-term Vice President Joe Biden (93%). Warren held a not-too-distant third (83%).
Buttigieg was the least well known among black Democrats; 42% of them hadn't heard of Buttigieg in the February 10th Q-Poll. Despite his first-place win in Iowa, Buttigieg had less name recognition among African Americans than any of the top six contenders.
Possibly a testament to his marketing prowess (or the deluge of recent negative media), Bloomberg was known to 70% of African Americans, despite his late start in the race.
Who Black Voters Like Best
Candidates with the highest favorability among black Democrats were Biden (82%), Sanders (80%), and Warren (73%). Close to two-thirds had a favorable view of Bloomberg (63%) while fewer than half had a favorable view of Buttigieg (42%) and just over half had a favorable view of Klobuchar (56%).
Buttigieg has the biggest race gap in favorability ratings (71% of white Democratic voters held a favorable view of him, a 29-point gap with the 42% of African Americans who view him favorably). Three candidates are viewed more favorably among black versus white voters – Sanders, Biden and Bloomberg. Sanders had the highest black edge in favorability (80% of blacks polled held a favorable view of Sanders, a 9-point gap over the 71% of whites who did).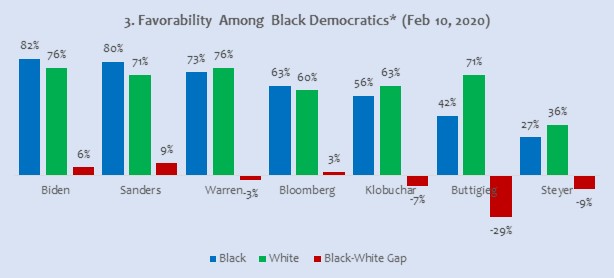 Who Black Voters Like Least
Among black Democrats*, Buttigieg was the least liked candidate in the latest Q-Poll (13% had an unfavorable view of him). That isn't so bad, considering that Sanders and Biden are nipping his heels in this category (12% of black voters see Sanders unfavorably and 11% say the same of Biden). But Buttigieg has another problem in likeability metrics. The most recent Economist/YouGov poll found that 27% of black voters would be disappointed if Buttigieg won the Democratic nomination (a bigger share of disappointed black voters than any other candidate drew).
Who Black Voters Favor in the Democratic Primary
Black voters have notably different preferences than whites when asked who they would vote for if the Democratic primary were held today. In both the Quinnipiac and Economist/YouGov polls conducted Feb 9-11th, Biden is the top pick for black voters, while Sanders is the top pick for whites.
Black voters were consistent across the two polls. Biden was their first-place choice in both early February polls, with either Bloomberg or Sanders in second or third. Plus, black voters appear to have gelled more around their preferences (68% of black voters favor their top three candidates, versus 52% of white voters who favor their top three).
That doesn't imply that black voters are circling their wagons any more tightly than white voters; the overwhelming majority of African Americans say they will support "anyone but Trump."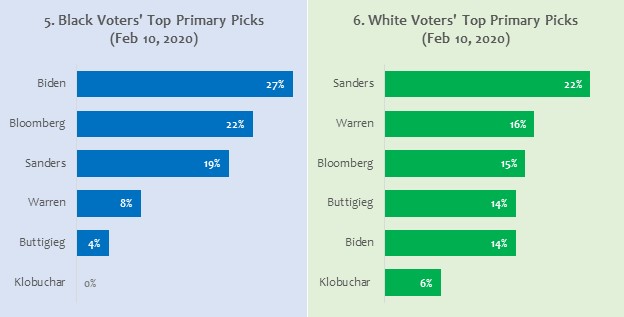 Who's Gaining & Losing Ground With Black Voters
Hands down, Bloomberg saw the biggest bump among black voters in the two+ months between Quinnipiac polls in late November and early February 2020 (a meteoric rise from 0% of the black vote to 22% in the latest Q-Poll ). Sanders had the second biggest bump (up a net 8 points to 19%).
Biden and Warren saw the biggest drops, both falling 16 points to their current standing – Biden at 27% of the black vote and Warren at 8%.
Over the same timeframe, Buttigieg had a net zero gain and Klobuchar fell one point.