Vernon Bryant
BY LASHANTE KEYS, Empath Health Community Partnership Specialist
LARGO — Longtime Largo resident Vernon Bryant pours his heart and soul into helping his Ridgecrest community.
From his Florida Botanical Gardens Foundation executive work to ministry support to volunteering with Empath Health and other organizations, he acts as a bridge to services.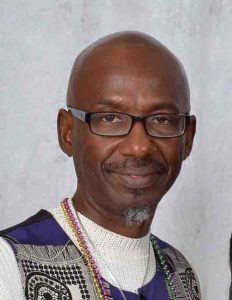 "That has been my whole life trying to connect people to resources, education and information," he shared. "As a Christian, that's an important part of what I am. I come from a family of people helping people," he shared.
Bryant was born and raised outside of Chicago. He earned a horticulture degree and worked at the University of Illinois in the Cooperative Extension Service and urban gardening.
He and his wife uprooted their lives and moved to Florida where Bryant took a job with the Pinellas County Extension and helped build the Florida Botanical Gardens in Largo. His wife started a ministry in Seminole.
His 20 years of life in the Ridgecrest area is anchored in creating an informed and healthy community.
"It's a great community," he Bryant averred. "Many generations have lived here. There is a lot of talent and success. I want to help people know what's going on and what's available. It's about helping them find the resources that can help them have a better life."
His community involvement has expanded over time. He plays piano in churches and supports the Multicultural Young Life ministry, the Friends of Ridgecrest, the Empath Health African-American Care Council and more. He connected to Empath Health through his previous work at the Greater Ridgecrest YMCA.
"The Y's focus is health. I was trying to do health fairs." He shared. "That's how I got hooked up with Empath Health and Suncoast Hospice, and the relationship grew out of that."
Bryant now spreads the word to others about Empath Health's wide scope of programs.
"I've known lots of people who have been cared for by Suncoast Hospice. I've learned so much about what Empath Health does, and I've continued to be impressed and amazed. I learned that Empath is a huge resource that is not tapped by some people who can really use it. It's an opportunity for me to be an ambassador," he noted.
Bryant feels working with Empath Health is rewarding. He enjoys being a part of the care council because he likes meeting new people; finding what's out there and helping people become aware and take advantage of services.
"I love being able to do a lot of collaboration," he said. "None of us have the answers for every situation. We've got to work together."
Empath Health will join the community at the 2019 Juneteenth Celebration/Fish Fry on Saturday, June 22 at 9 a.m. at the Greater Ridgecrest YMCA, 1801 119th St. N, Largo. Come out and enjoy this special event presented by the Friends of Ridgecrest and the Greater Ridgecrest Crime Watch.
***
The three Empath Health Care Councils are dedicated to working with African-American, Hispanic and Jewish communities throughout Pinellas County. Our members include local faith, law enforcement, nonprofit and other community leaders and advocates who help inform and connect people to Empath Health and other community care, services and resources.
New members are welcome. For more information or to join our care councils, call (727) 523-3427.