Rev. Ken Irby and Carlos Daniels
BY J.A. JONES, Staff Writer
ST. PETERSBURG – Two teams of middle and high schoolers battled it out during the 2018 R.A.P. (Recreation and Police) League championship at St. Petersburg College's Gibb campus gymnasium on Saturday, July 7.
"This year I had almost 135 young men participate in the league," shared R.A.P. leader Carlos Daniels.
Daniels, who works for the City of St. Petersburg's Urban Affairs, is also the youth coordinator for the

Cohort of Champions

initiative. He restarted R.A.P. – a program that had been offered previously but was no longer operational — four years ago.
"I played in R.A.P when I was in high school, at 13, 14 years old, so I brought this program back because we have lots of young men and ladies who want to continue playing basketball during the summer," he explained. "It allows the police to come out to the recreation centers, build a bond and to have that police-community relationship."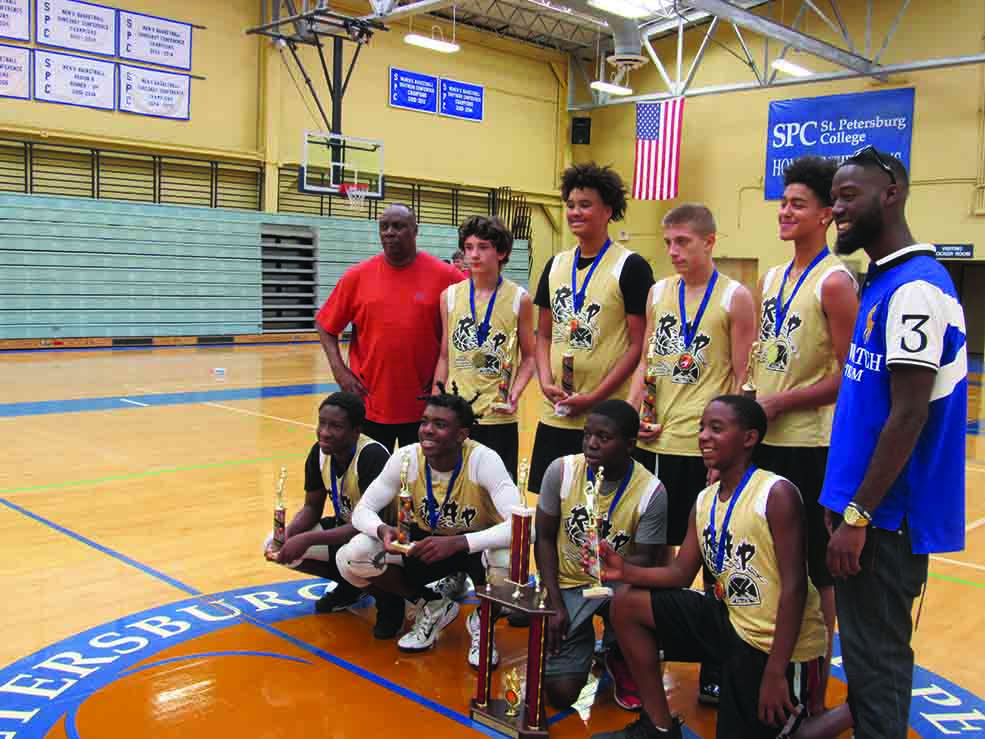 Daniels said officers come out to the rec centers to practice with the kids, keep score during the games and help build a community spirit.
The R.A.P. league is active in all 11 St. Petersburg recreation centers. Funds received from the

Police Forfeiture/Seizure Grant

helped Daniels run the league for eight weeks leading up to the championship game. Daniels said R.A.P., which also targets girls, will develop a separate girls league in the fall.
 "We're also trying to expand out to community organizations as well," acknowledged Daniels, "because the more organizations we get in, the more kids that will get involved." He mentioned CO-OP – Community of Our People – as an organization that volunteers.
Parental support is also a big part of the league's mission.
On hand was Rev. Kenny Irby, director of Community Intervention for the St. Petersburg Police Department. Irby, who chairs the city's

My Brother's & Sister's Keeper

initiative and teaches the foundational Cultural Competency program for the police department, also coordinates all the strategic outreach for the police department with the Pinellas County School district.
"This is an important outreach opportunity that gives young people the chance to interact with law enforcement," Irby shared.
Currently, Daniels is looking for more resources to enable the league to grow. He wants to provide activities for a more extended period of time, as well as providing evening activities to offer youth a safe and productive environment — off the streets.
As a city-run program, he said outside entities can act as financial sponsors for the team. "Sponsors can say, 'what do these kids need? Do they need basketballs, or do the coaches need coaching shirts?'"
Sponsorships could also go towards supplying players with trophies and holding team banquets to recognize players and coaches for their efforts.
Daniels is also looking for more volunteers to help run the program and its day-to-day operations, as well being scorekeepers and helping with day-of-event cleanup.
For more information on how you can become a part of R.A.P., contact Carlos Daniels at the Enoch Davis Center, or call (727) 893-7894.