Author Alvin Shirley (left), Nikki Capehart (top right), director of Urban Affairs and Program Supervisor Carlos Daniels (bottom right)
BY RAVEN JOY SHONEL, Staff Writer
ST. PETERSBURG – The first meeting of the Cohort of Champions program got underway Saturday, March 25 at the Enoch Davis Center. Twenty-five young men got a preview into what this yearlong initiative has to offer.
Cohort of Champions involves a comprehensive, multi-faceted one-year training initiative for 100 of St. Pete's African-American boys and young men between ages of 12 and 24.
Supervisor Carlos Daniels said the number one reason why this program exists is to get young men back on track or to stop them from going down the wrong path so that they can succeed in life.
In addition to monthly meetings, participants can take advantage of many programs the city has to offer such as the Arts Conservatory for Teens (ACT), the Persistent Incorporated Into College Hire program (PITCH) and for the youth who have offended the Pinellas Ex-Offender Re-Entry Coalition (PERC) will assist with job readiness training and prepare them for skilled trades.
The program consists of seven programs within three areas of training and enrichment:
Educational Training includes a combination of After School Employment Training and/or Second Chances programs with Post-Secondary Education opportunities
Entrepreneurial Training involves Career Readiness Training and Entrepreneurship Training
Enrichment Initiatives / Second Chances programs will offer wrap around services and workshops for the families of all members in the program.
Once the initial application was turned in it was forwarded to the Pinellas County Urban League where a team either called on the phone or made house calls to assess the needs of the whole family.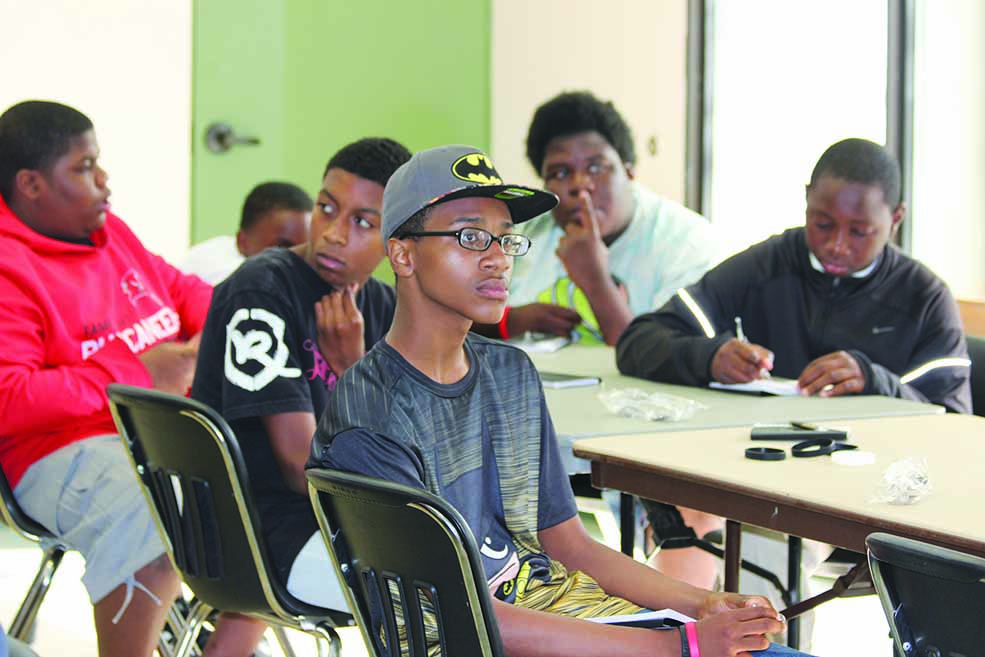 "If the kid is getting services and the family is not, you're defeating the purpose," said Daniels, adding that if they cannot help the family then they will refer them to someone who can.  "The wrap around part is to take care of the whole family."
Also included in the Enrichment Initiatives will be Sports Team Building, a focus on healthy eating and cooking, Role Modeling and Mentoring Round-up activities.
Saturday's meeting was to touch base with the Cohorts and get them acclimated to the program. Daniels invited author and Pinellas County School paraprofessional Alvin Shirley to speak to the youth on cultivating their brand.
Using his book as a guide, "Personal Branding: Building Your Self-esteem for a Virtual World," he pointed out the pitfalls of social media.
"Now in society when people come to check you out, they're not just listening to the words that you tell them… When I look into what's really happening, it's what you put on social media," he said.
He warned the young men that their social media presence plays a large role in their college applications.
"You have great grades, you're a great athlete and then you have social media," he said.
He gave an example of a young man who attends the school he works at. This misguided youth could not get recruited because he had photos of himself smoking marijuana all over the internet.
"Your personal brand doesn't start after you make it," Shirley said. "Your personal brand starts right now. If you're not managing all aspects of your life, then you're taking a chance on missing out on something."
Program volunteer Ernest Eubanks chimed in saying that even if your page is set to private, college recruiters will have a popular athlete friend you and then obtain access to your page.
Shirley read an actual post from a recruiter at Penn State that said a prospect was dropped because of his social media presence.
He encouraged the young men to take into account the way they dress. Whether it's right or wrong, he said, people would make assumptions about you as soon as they see you walk in the door.
"People see minorities dressed a certain way and the first thing they want to say is that we are thugs," he said.
Dressing for success, he said, is dressing in the correct way for the situation.
"The way you dress dictates the way people think about you. That's why it's important to know the occasion and to know you are representing."
Stressing to the young men that they are representing their parents, themselves, their community and the Cohorts of Champions program, he let them know that anything they do from now on will reflect on the program.
Director of Urban Affairs Nikki Capehart also stopped by to encourage the young men.
"I want you all to think of me as an extension as your moms, your wrap around, your family," she said.
Capehart also touched on personal branding. She warned them that what they post on social media will follow them, and to learn from others mistakes.
Using herself as an example, she said she's glad there was no social media around when she went to Black Beach Weekend.
"We want you to learn from the mistakes we made and be better because you're going to be a reflection of everything we're trying to do with the program."
After the boys ate their fill of Domino's Pizza, they headed outside and worked off the calories with touch football.
The program is still looking for young men ages 18-24. If you're interested, please stop by the Enoch Davis Center at 111 18th Ave. S and fill out an application.
Also, if you'd like to be a guest speaker, please call Carlos Daniels at (727) 893-7894.