BY ALLEN A. BUCHANAN, Staff Writer
ST. PETERSBURG – The Pinellas County Democratic Black Caucus of Florida has re-emerged as a vital and necessary force to galvanize and oversee future socio-economic growth of its constituents.
"You can't create accountability by yelling at President Donald Trump on the TV," said Second Vice President of Matthias Byrd as he talked about the rebirth of his organization. "You've got to get up and get out there."
The caucus helped the "get up, get out and do something" philosophy displayed on Tuesday, June 20 at the Midtown campus of St. Petersburg College during an introduction of the organization's new executive board to the community.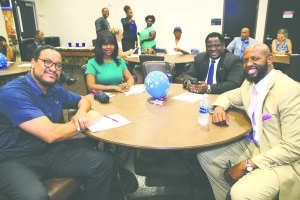 President Trevor Mallory had each executive officer stand and greet citizens. The new board members also include Carla Bristol as first vice president, Carol Motley as secretary and Jer Juan Green as treasurer.
"District 70 is actually a big piece of the puzzle of about five or six different (community) districts," said Mallory, who explained that the district played a key role in pivotal elections that impacted the south side community.
The resurgence theme of "vigilance and participation in the political process" was reinforced by the guest speaker Russell Drake, who is the former vice president of the Democratic Black Caucus of Florida. Drake focused on his six-point plan of action to create a 21st-century version of Juneteenth; re-energize, re-educate, re-engage, re-invest, rebuild and relate.
"There is no place for complacency in this body of the caucus," said Drake as he began his talk to south St. Pete residents in the room.
"This is a place for action. These are the words of the late Morris Milton, our founder of the Democratic Black Caucus of Florida (1983)," said Drake prior to launching into his six-point plan of action.
Mallory put Drake's plan into action by offering everyone who attended the meeting a free membership. The registration fees were paid by the organization.
Citizens had individual opportunities to talk with Mallory, Bristol, Byrd, Motley, Green, and Drake after the formal meeting.