By J.A. Jones, Staff Writer
ST. PETERSBURG – Fantastic theater is happening in St. Pete, as freeFall Theatre presents two-time Pulitzer-winning playwright Lynn Nottage's "Crumbs from the Table of Joy" through April 14.
A memory play that focuses on the relocation of a widowed African-American father and his two teenaged daughters from Pensacola to Brooklyn, N.Y., it's a funny, poignant and fast-moving coming-of-age tale that's well-deserving of the ticket price.
Set in 1950, Nottage's period piece soars, not only due to her subtly masterful writing but equally because of Jacqueline Thompson's visually inspired and action-driven directing, as well as pitch-perfect performances by the stellar cast.
The play's title is taken from a line in Langston Hughes' poem "Luck:"
Sometimes a crumb falls 

From the tables of joy 

Sometimes a bone is flung

To some people

 Love is given 

To others 

Only heaven.
Playing off Hughes' spare and beautiful, if cynical, view of life for blacks in America, Nottage's play on heaven is sometimes illustrated by its oft-discussed historical figure, Father Divine, the real life founder,  or depending who you ask, charlatan — of Brooklyn's International Peace Mission Movement in the 1920s (still active on Facebook today, oddly enough).
The play's heroine, 17-year-old Ernestine Crump, is marvelously portrayed by the shining Alicia Thomas. Narrating the piece, she guides the audience through the evening via daydreams and flashbacks. Thomas more than succeeds in the play's challenging lead role – she moves through the theater space with confidence as the often bemused and ever-curious Ernestine, who is desirous of explanations for the strange experiences befalling herself and her family.
Younger sister Ermina, less sharp but ultimately more street savvy, is played boisterously by Rae Davis and father Godfrey, a decent but frightened man, who turns to the mysterious and murky Father Divine, is delivered tenderly and heartbreakingly by Michael Kinsey.
The ensemble is rounded out by Trenell Mooring, who does well as the rebellious, intelligent and always "in search of" Aunt Lily – an activist and Communist sympathizer who shows up, ostensibly to help care for the girls, but who is more clearly in need of her own mooring.
Finally, Emilee Dupre is likable and passionate as Gerte Crump, the white German interloper who marries into the family. Although the actress seemed to struggle pulling off Gerte's German accent (it sounded French at times), her portrayal overall was effective.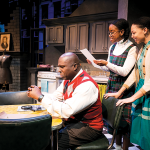 The production runs two more weekends through April 14, and you won't be disappointed by this evening of quirky characters who find themselves wading through cultural clashes, social changes and questions of faith and identity.
"Crumbs from the Table of Joy" is at freeFall Theatre, 6099 Central Ave., until Sunday, April 14. Call (727) 498-5205 or visit freefalltheatre.com.
To reach J.A. Jones, email jjones@theweeklychallenger.com