By LaShante Keys, Empath Health Community Partnership Specialist
ST. PETERSBURG — Kierra Mitchell's children are her world. As a loving wife and mom of six, she enjoys spending a lot of time with her family, keeping a tidy household and opening her home for more family visitors. Her goal is to stay active and healthy.
"I am just your average person. I love being a mom. I love to work out. I try to walk at least three to four times a week. I am going to join a YWCA, and I am going to look into a kickboxing class. I care about my health."
Taking care of herself also means managing her arthritis, epilepsy and HIV. She tested positive for HIV in 2006.
"I received it from my last two children's father, who is now deceased. The health department information came, and he went and got tested and told me he was positive. I went and got tested and was positive," Mitchell shared.
She handled the news with strength, "I put on my 'big girl' panties and sucked it up because I had made that decision not to be careful. It was tough. I had two children with him, and it was toxic. I got out [of the relationship], and I started doing good ever since. I am taking it like a champ. This is not the end of the world."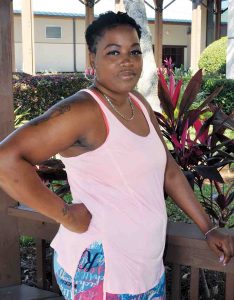 Pressing forward, Mitchell got into HIV care, treatment and support. Her doctors connected her with Pinellas Care Clinic, which then connected her to EPIC (Empath Partners in Care), a member of Empath Health. She and her husband continue to remain healthy.
"I married my husband in 2010 and dated him for two years before that. I have not infected him. I am so proud to be his wife and that he took me even knowing what's going on with me. I do my labs, and my CD4 count is going up. I don't base my life on that [HIV]. I don't see it as a disease. I do what I am supposed to do to stay healthy."
The groups and staff at EPIC uplift her mentally and emotionally. Mitchell started with the women's group because she needed fellowship with other women and they shared stories and information.
Now she attends a class that is open for both women and men who are HIV-positive. She said they are like a second family to her.
"We learn from each other. It's like therapy to me. We get motivated and comfort each other. I look forward to it," Mitchell shared.
EPIC's Lunch and Learn classes bring another layer of education and support.
She expressed, "I have learned so much about what it means to be this [HIV]. People come to teach and let us know the newest things [treatment] out. It's awesome. It has been an amazing journey how far I've come."
Now she's training to become a volunteer in appreciation of all the support.
"I have received so much. I want to give back. I'm open to whatever's needed," Mitchell noted.
She hopes telling her story will help others impacted by HIV.
"I am taking a step to hopefully help someone and to free myself a little more from within. HIV doesn't have a name or face. The stigma is so bad. There are so many people who are scared to find out. It's better to know than not know. I say get tested and strap up. With HIV, you can take medicines and live a healthy and normal life. I am here living and thriving in this community," she the mother of six.
HIV continues to take a heavy and disproportionate toll on our African-American community, particularly black women, youth and gay and bisexual men.
Recent statistics from the Henry J. Kaiser Family Foundation state that although African Americans represent only 12 percent of the U.S. population, blacks account for a much larger share of HIV diagnoses (43 percent), people estimated to be living with HIV disease (42 percent) and deaths among people with HIV (43 percent) than any other racial/ethnic group in the U.S.
The foundation further reported that among all women, black women account for the largest share of new HIV diagnoses, 59 percent, or 4,397 in 2017.
It's important for everyone to get tested for HIV and other sexually transmitted infections. Stop in for free HIV testing at EPIC's mobile unit or offices in St. Petersburg, Clearwater or Tampa. No appointments are required, and results usually take about 15 minutes.
All are invited to join Dining Out for Life Tampa Bay on Thursday, April 11. Participating restaurants will donate part of their proceeds to support EPIC. Learn more at DineTB.org.