Daystar Life Center is (L-R), Matthew Korol, operations director; Maria Ortiz, resource advocate and awesome person; Jane Walker, executive director and Linda Heilscher, associated director
BY RAVEN JOY SHONEL, Staff Writer
ST. PETERSBURG – Daystar Life Center was determined to make the holidays less stressful for their clients, most of them living below the federal poverty level. Bags filled with fresh vegetables, meat and pantry staples helped provide food for hundreds of food-insecure residents.
Only about 30 percent of Daystar's clients are actually homeless. The rest live in our community struggling to make ends meet, to put food on their table, to have personal hygiene products and to keep their utilities on or maintain transportation. Some of them are low-wage earners, and some of them have lost their income.
The working poor and the working homeless are stark realities in St. Pete. Executive Director Jane Walker said she's never seen these many homeless people in the 40 years she's worked with the underserved community.
"There are more homeless now than I've ever seen, and more people on the streets with a small income," she said.
The working homeless are those with such low paying jobs that they cannot afford a permanent place to live. They may move around to friends and relatives or live out of motels.
Situated in downtown St. Pete, Walker can remember a time when Daystar was surrounded by affordable housing. Now, low-wage earners, the elderly and those with disabilities have been pushed out to make room for expensive condominiums.
"The housing crisis wasn't the same," she noted. "We had poverty, and we still had people struggling, but we didn't have the kind of crisis we're having with people really not having any place to live, period."
Without a place to live, necessities such as food, clothing and hygienic products fall by the wayside. Maintaining employment is next to impossible, and children fail in school.
"They might not be the most pleasant child. They might be falling asleep in class. Those are folks in our community," she asserted.
Daystar's mission is to provide the necessities of life to their neighbors in need, and with more than 200 volunteers and donations from the community, they are able to provide individuals and families with emergency food, clothing, personal care products, internet and phone access, income tax return preparation, bus passes and gas vouchers, help with obtaining identification and a safe place for their mail to be delivered.
"If we can get people in a stable place where they know where they're going to sleep that night, where they know they're going to have a meal and where they know they are going to be safe and free of fear, they are going to succeed."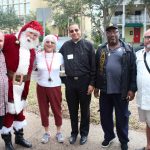 The Dec. 22 food giveaway was executed perfectly. Although hundreds of people were served, there were no lines because recipients were given appointment times. More than 60 volunteers worked in concert to stuff the bags with food according to household size, and pint-sized volunteers carried the food to the client's cars.
Daystar will soon move into a new 10,000 square foot building across the street from the Thomas "Jet" Jackson Recreation Center in the Wildwood neighborhood.  With all of the expensive new construction going up in the downtown area, their current location at 226 6th St. S, no longer serves the neighborhood.