BY JOYCE NANETTE JOHNSON, Staff Writer
ST. PETERSBURG — Pretty Young Bosses, Inc. (PYB) is a non-profit organization that was created for the empowerment and uplifting of young girls in the community. It began as a loose-knit gathering of friends where they could address their mutual concerns and receive the much-needed support and advice from other women.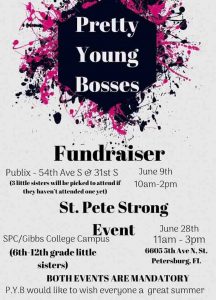 It soon became evident that most of the conversation revolved around their young female relatives and associates that entered their lives.
Most of the information shared showed that many of the young girls had experienced bullying, lack of permanent housing, peer pressure, drug use in the family or a family member incarcerated. Group member Latasha Grant was galvanized into action by the harrowing accounts of despair and a chance meeting with a teen prostitute at a care facility.
Grant felt that she could create an organization where teens could have someone to listen to their concerns, elevate their spirits and encourage them on their life's journey. She founded PYB in 2016 and serves as its executive director. There are now 25 girls from 7-17 years old in the program.
PYB offers two programs they feel are beneficial to the development of the preteens: Big Sister-Little Sister and their mentorship initiative. Their vision is to help adolescences achieve success an inspire them to reach back and do the same for upcoming participants.
Through the Big Sister-Little Sister program, PYB's goal is to instill bonds of trust and friendships that will endure through the years for both the volunteer and the girls. They meet three times a month, where they are offered emotional support and valuable life skills.
The program also includes tutoring, interactive entrepreneurial workshops and has guest speakers on a wide range of relevant and exciting topics. There are also community development opportunities where the girls feed the homeless, participate in community clean-ups, and attend prayer rallies throughout the city.
"We're not only a mentorship program but also a sisterhood, which puts us in our very own bracket," explained Grant. "We are not only by our girls' side until they graduate high school, but we're also by their side for a lifetime."
Grant said PYB comforts and encourages one another in times of difficulties and triumphs, while striving to cultivate young entrepreneurs, hence the name Pretty Young Bosses.
"Our mentors supply emotional support and are also available for any school-related issues.  Mentees pick their mentors, and the placement is based on the urgency of the teen."
Grant graduated from Northeast High and earned an associate's degree in paralegal studies from Everett University and an associate's degree in the medical assistant program at St. Petersburg College. She is a single mother of three, who had her first child at 15 and can relate with many of the program's participants.
She also has a terminally ill 11-year-old son with chronic granulomatous disease.  She continues, however, to push forward unselfishly with her time because she feels PYB can help many youths who do not have someone to confide and trust in.
Grant learned the ins and outs of running a nonprofit from choosing a board and securing funding to keep it running. Her board includes Caprice Smith, vice president; outreach coordinator Ambee Stephens; advisor Natalie Watts; secretary Shaneeka Hearns and Latesha Jackson, financial manager and treasurer.
Concerned about the lack of support that the nonprofit receives from the community, she feels that if she has time to give back to the community with her life's stressful circumstances that others should feel compelled to help also.
In the near future, PYB is planning an upcoming empowerment gala, where they hope to partner with other community leaders and organizations. They are also looking to begin college and business tours to demonstrate local success to the young ladies.
"We want to inspire them to become entrepreneurs. Girls are pushed into college, which is good, but they don't know they can be both employee and/or business owners."
Click here for more information on PYB. To volunteer, please call Shaneeka Hearns at (813)516-5425.