Deborah Figgs-Sanders will spend the next two weeks catching up on some needed sleep and then start planning for The Weekly Challenger's 50th-anniversary celebration.
BY RAVEN JOY SHONEL, Staff Writer
ST. PETERSBURG – Executive Director of Childs Park YMCA Deborah Figgs-Sanders thought she was retiring after seven years, but the community has other ideas.
"This is not goodbye because we know where you live," said President & CEO of YMCA of Greater St. Petersburg David Jezek.
The multipurpose room at Childs Park Y was filled with friends and family reluctantly saying goodbye to a fixture in the Childs Park community.
"When I met with Deborah I said, 'I'm not here to change your mind. I'm not here to talk you out of it because I know the way you make decisions and the way you give prayerful consideration, and out of respect for you I honor that,'" said Jezek.
Childs Park YMCA opened up in 2008 and Figgs-Sanders came aboard in 2010. Jezek said he made the best decision in hiring her and has never regretted it.
"You're only as good as the people you surround yourself with, and no doubt having Deborah in your company elevates you as an individual, and I mean that wholeheartedly," Jezek said. "The relationship that I've had and the opportunity to be a better person because of this relationship, I will be forever indebted to you."
President of Childs Park Neighborhood Association Bro. John Muhammad held back his tears as he said goodbye to his mentor.
"When I started, not knowing anything about neighborhood organizing or not knowing how to navigate and find my way, you mentored me and helped me. You told me where to go and where to stay away from."
He thanked her for bringing an academic component to the area. He said the basketball court and the football field was always full, but Figgs-Sanders was the driving force behind getting students to learn.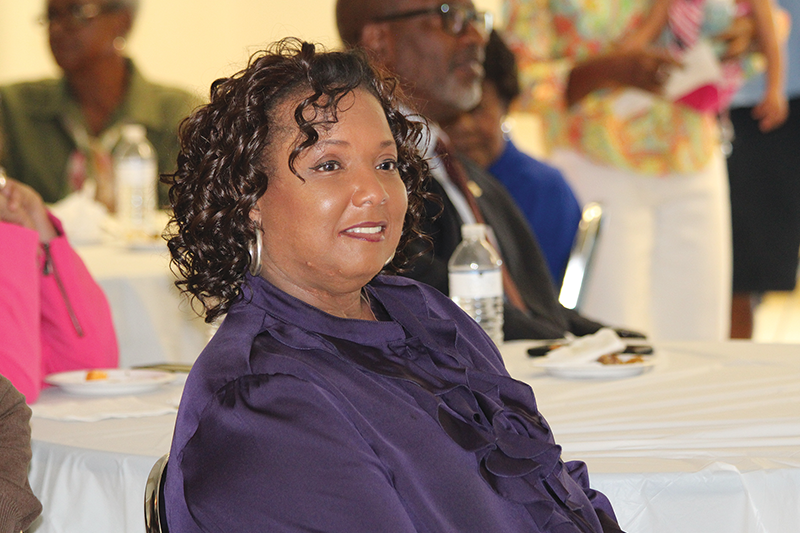 "When you come to this space we get the spelling bees, the backpack giveaways and the Y-Achievers, and it brought a much-needed balance to the community," he said.
Urban Affairs Director Nikki Capehart also thanked her for worry free summers where she knew her daughter would not experience summer learning loss.
"As Y parents, we had nothing to worry about. We had everything we needed. We thank you for bringing that academic piece to our children and for being a mentor to so many," said Capehart.
Figgs-Sanders took charge of the Y-Achievers Afterschool and Summer Academic Programs that provided quality mentoring and academic assistance for elementary-aged students. Her routine was structured, disciplined but fun and filled with sincere appreciation for the students and their parents.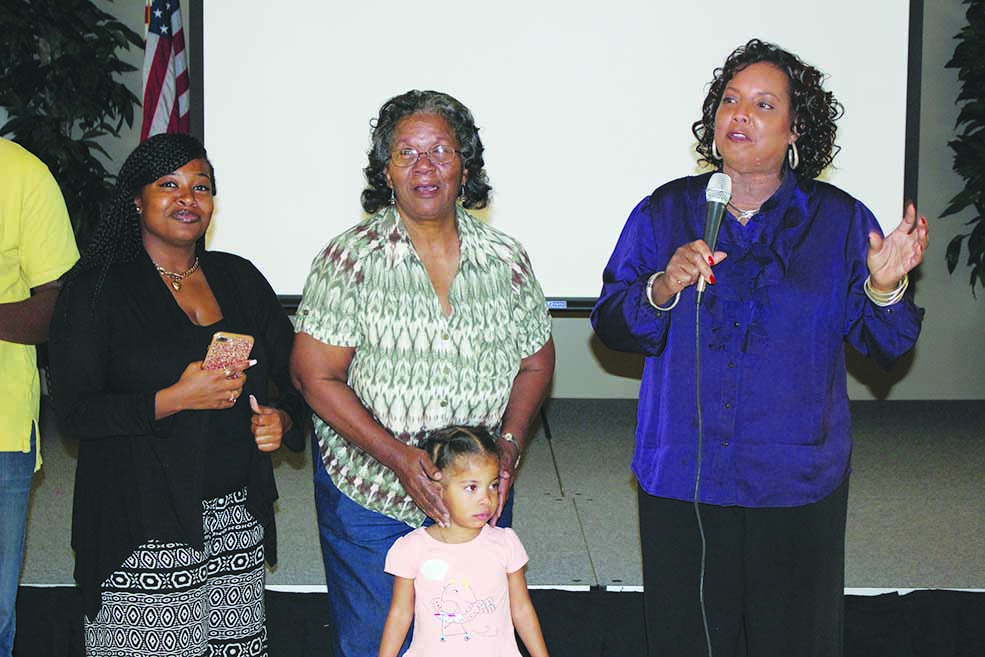 She also made the Childs Park Y a much-needed resource for the community. You could learn to cook, work off all the food you ate in Zumba® or line dance classes, learn to sew, go the library, get your taxes done and get free legal advice all under one roof. That was just a few of the programs she implemented.
If you've had the pleasure of dealing with Figgs-Sanders, you know she ruled the Y with an iron fist.
"I've seen her correct and adult and I'm like wow, I wish I could do that. It's one thing to a child, but an adult!" said Jezek, adding that she did it with a caring heart and with respect.
Alpha Kappa Alpha sorority sister Patrice Moore said Figgs-Sanders opened her eyes to serving in a community outside of her own.
"To you, I say thank you," Moore said and then turning her attention to Jezek. "And to you I say good luck filling her shoes."
In her spare time, Figgs-Sanders is the vice chair of the CRA Citizens Advisory Committee and a member of the 2020 Taskforce, which is a collective working on reducing poverty in south St. Petersburg.  On the task force she works closely with creator Gypsy Gallardo.
"Your loss is my gain," Gallardo said to Jezek. Figgs-Sanders will climb back on board with the Power Broker magazine and work with Gallardo who is the publisher & editor-in-chief.
"It hasn't been right since the day Deborah left," said Gallardo.
Well-wisher after well-wisher stepped up to the microphone to tell Figgs-Sanders how much she'll be missed. Even the mayor stopped by to wish her a happy nonretirement.
"She can't leave this community because this is where her heart is," said Mayor Rick Kriseman. "We talk a lot about St. Pete being a city of opportunity where the sun shines on all, well here's the sunshine."
"On your shoulders, you lifted me to this spot. I could not, did not, would not ever want to do it without you," said a teary-eyed Figgs-Sander. "I'm not going far, I'm not going anywhere. My heart is still going to beat for the children and for the community."