LaTonya and Jerome Buggs' mobile restaurant — Just 1 Taste of STL – has partnered with the newly opened Posh Funeral Home to begin feeding those in need once a month for free starting Sept. 21.
BY KARIN DAVIS-THOMPSON, Staff Writer
ST. PETERSBURG — Jerome Buggs said it's simple. He and his wife LaTonya believe that they are blessed to be a blessing.
So, when the couple decided to move to the Tampa Bay area and relocate their food truck business, they immediately began looking for ways they could be a blessing to others.
In partnership with newly opened Posh Funeral Home, the mobile restaurant — Just 1 Taste of STL — not only brings a taste of St. Louis to St. Petersburg, but they are using their resources to begin feeding those in need every month. '
Jerome Buggs said his love for cooking started when he was very young.
"I've been cooking since I was six," he said. "It has always been my passion."
They started their catering business in 1998, then in 2012, they opened their mobile business with a concession truck, and then taking a chance, they went full time with a fully outfitted food truck.
"I just stepped out on faith," Buggs said. "God showed me that our growth would be in the mobile restaurant business."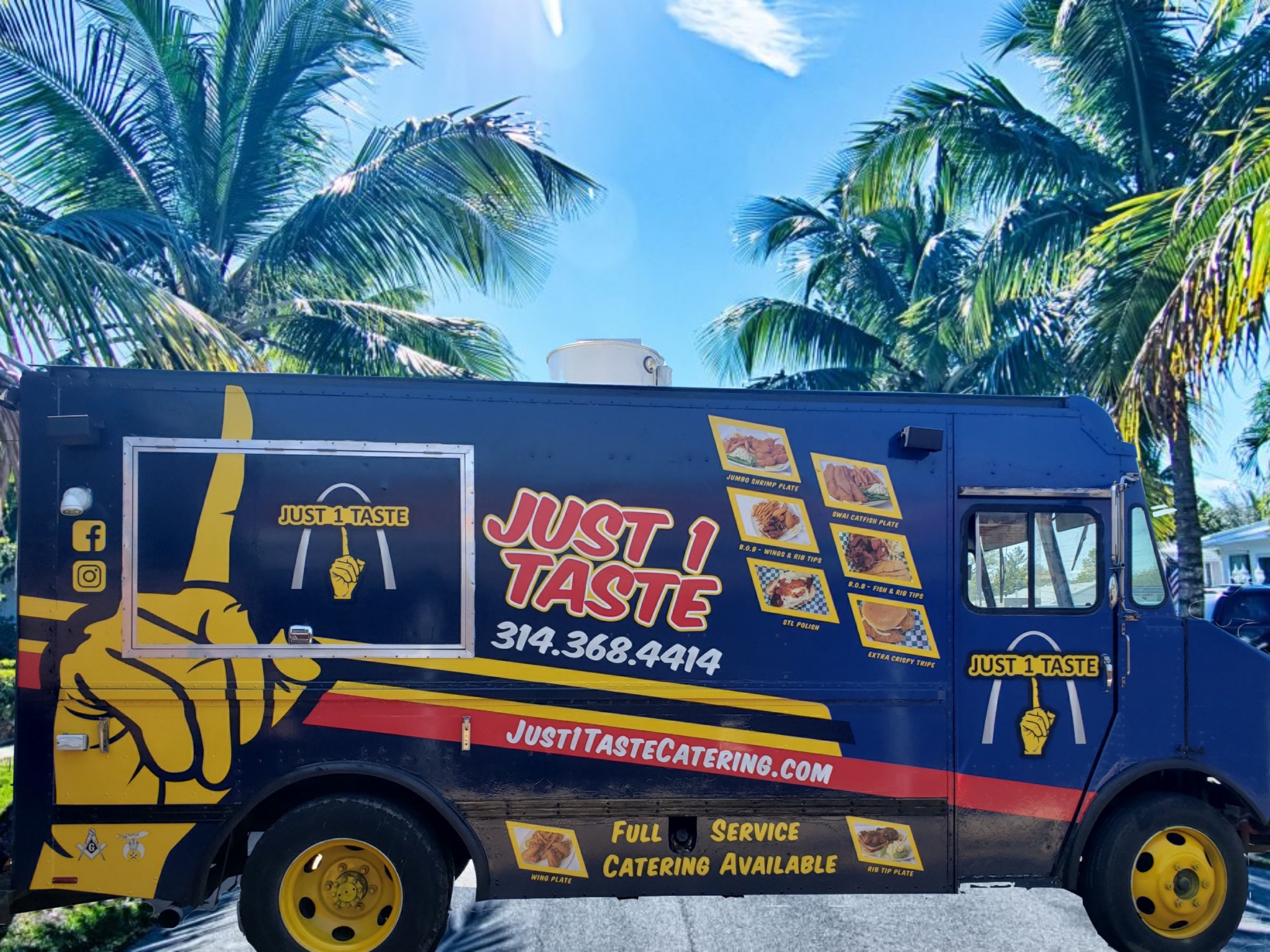 While their food truck specializes in St. Louis-style barbeque and their signature fish and chicken dish, the duo plans to serve a menu of fried chicken, green beans and potato salad for the free community feedings.
The couple said they will feed up to 100 people on the third Wednesday of every month at noon, weather permitting. They had planned to begin in August, but the rain delayed the community effort, and they are now planning for the first feeding in front of Posh Funeral Home, located at 1700 49th St. S, on Sept. 21.
While rain is sometimes a nuisance in Florida, Buggs, 51, said the weather is much better than in St. Louis.
"We had to shut down our business four months out of the year because of snow and bad weather," he explained.
Moving to St. Petersburg just a few short months ago meant more sunshine, new networks and a new commitment to feeding those in need, just as they did in St. Louis.
The couple said while they initially thought they would settle in Tampa, they met the owners of Chief's Creole Cafe (Elihu and Carolyn Brayboy) while down for a business trip.
"They were so generous," Buggs said. "They helped us with our relocation, and we rent kitchen space from them. It just all fell into place, and we are so glad we moved here. We wouldn't have it any other way."
Now, after making the 1,000-mile trip to the area and getting their youngest son settled in as a senior at Northeast High School, they are ready to begin serving their new community.
Anyone in need can come for assistance. The entrepreneurs will serve lunch until they reach capacity.
"We won't turn anyone away," Buggs said. "And you don't have to show any proof of need."
While the couple knows they are a for-profit business, they believe it's important to give back. They said the more you give, the more you have to offer.
"We know that we are blessed, and we are a part of the community," he asserted. "We are here to serve. We know it is a tough time, but they are not alone. We all have to look out for one another."
When the husband-and-wife team begins feeding this month, Buggs said he can't wait to see the looks on their faces. A satisfied customer is a big part of why he loves what he does.
"I love the feeling when someone's stomach is satisfied," he said. "Everyone has to eat, and everyone enjoys good food. Seeing the satisfaction of my customers — it's a feeling I can't describe."