Tanisha Clarke graduated from Northeast High School earlier this month and is headed to St. Petersburg College in the fall.
BY DEXTER MCCREE, Feature Writer
ST. PETERSBURG — Born in Barbados, Tanisha Clarke recalls having an idyllic childhood on a picturesque Caribbean Island. When she arrived in America, she noticed that Barbadian and American schools were totally different.
"When I was in Barbados, I started primary school at four years old," said the recent graduate of Northeast High School. "It was different because we started sports, Spanish class, sewing, dancing, and other things at a young age."
In Barbados, students played netball, road tennis, track and biking at the stadium. Tanisha participated in a variety of activities because students had to get outside and play. She excelled in different sports and won trophies.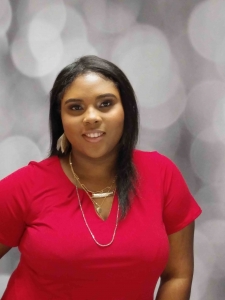 The transition to American schooling was challenging. Instead of getting out of the classroom and enjoying nature, she found herself trapped within four drab walls.
Tanisha first attended Lakewood Elementary and was not a fan. She said the students would often fight and were rude to the teachers. She did, however, enjoy art, music, and STEM (Science, Technology, Engineering and Math) classes.
"So eventually, my mom moved me to Pinellas Park Elementary, and I learned a lot.  It was fun because the teachers were nice, and I liked the art class. Even P.E. was fun," said Tanisha.
Tanisha's shift to middle school was much smoother. She attended Meadowlawn and enjoyed the program. With an emphasis on STEM, she loved the projects. It was an amazing time for her there.
High school was an unbelievable blur. She still can't believe that it has come to an end.
To Tanisha, the past three years had been planning for her high school exit. She knew she wanted to go to college and needed to devise a plan, and there is where Mychal and Nina Wynn Nina stepped in.
The Wynns head up the College Cohort program, where Tanisha had been involved with for three years. In her cohort, she discovered that her best option and college plan was to attend St Petersburg College (SPC).
The College Cohort program directs students to attend the school that best fits them to graduate with the least amount of debt. And for Tanisha, SPC was perfect, for it has one of the best dental hygienist programs in the country.
While getting her degree in health science, Tanisha won't have to leave her sister, Makayla, behind.
"I love my family, and Makayla is pretty funny. It just worked out that St. Petersburg College is the best fit for me at this time," said the Bajan beauty. "Barbados was nice, and I've learned to adjust to America. I'm still trying to wrap my mind around the fact that high school is over."
To reach Dexter McCree, email dmccree@theweeklychallenger.com