(Family Features) Summertime meals are all about the grill. This year, give your grill and your family a break from hamburgers and hot dogs, and heat things up with the flavor and versatility of fresh pork.
From tender Sweet Sriracha Pork Skewers to Memphis-Style Dry Baby Back Ribs, the possibilities are endless. Make your cookout the best on the block with these tips and recipes from world champion pitmasters Tuffy Stone and Darren Warth:
Start with a fresh and high-quality meat like Smithfield Fresh Pork, which is available in a variety of cuts and seasonings perfect for any cookout occasion.

Don't lift the lid of your grill unless you are checking for doneness or turning the food to avoid letting the heat escape or interrupt the cooking process.

Check for proper doneness with a meat thermometer and use tongs to turn the meat instead of a fork. Cutting into the meat can cause flavorful juices to escape.

If you're short on time, try a pre-seasoned option like Smithfield Marinated Fresh Pork, so that the prep work is already done for you.
Find more great grilling tips, videos and recipes at SmithfieldGetGrilling.com.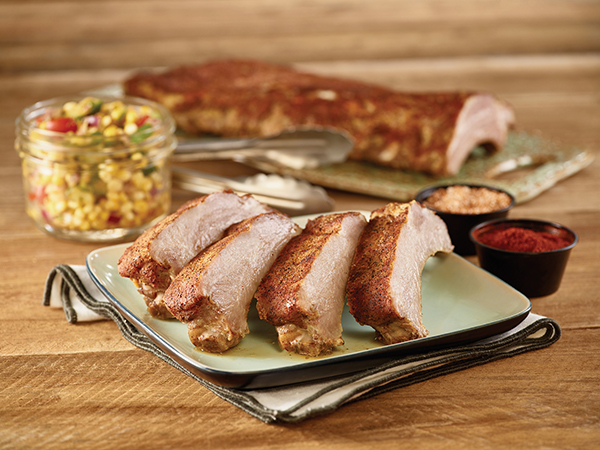 Memphis-Style Dry Baby Back Ribs
Recipe courtesy of Pitmaster Tuffy Stone
Prep time: 10 minutes, plus 30 minutes stand time
Cook time: 4-6 hours
Servings: 2-4
Dry Rub:
1/4       cup brown sugar

1/4       cup kosher salt

2          teaspoons chili powder

1 1/2    teaspoons dry mustard

1          teaspoon black pepper

1          teaspoon celery salt
2          slabs Smithfield Fresh Pork Back Ribs, membrane removed

1/4       cup prepared yellow mustard

apple juice or water, in spray bottle

barbecue sauce (optional)
To make dry rub: In small bowl about 30 minutes before grilling, combine brown sugar, kosher salt, chili powder, dry mustard, black pepper and celery salt; mix well.

Spread both sides of ribs with yellow mustard and sprinkle dry rub on top. Let stand at room temperature 30 minutes. Heat charcoal or gas grill to 250° F for indirect cooking.

Place ribs, meaty side up, over drip pan and cook 4-6 hours until tender. Spritz ribs occasionally with water or apple juice using spray bottle.

If using charcoal grill, add about 12 coals approximately every 45 minutes to maintain heat. Let ribs stand 10-15 minutes before serving. If desired, serve with barbecue sauce.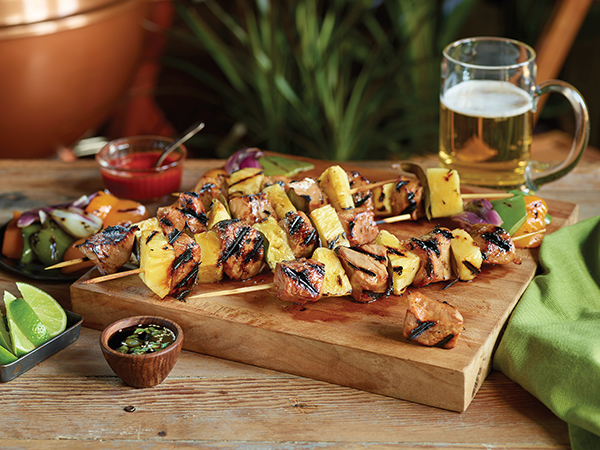 Sweet Sriracha Pork Skewers
Recipe courtesy of Pitmaster Darren Warth
Prep time: 15 minutes, plus marinade time
Cook time: 15-20 minutes
Servings: 4
1          Smithfield Fresh Pork Tenderloin

1/2       cup agave nectar

2          tablespoons Sriracha sauce

1          teaspoon minced garlic

1          tablespoon soy sauce

1          tablespoon rice vinegar

pint fresh pineapple chunks

wood skewers, soaked in water
Trim skin off pork tenderloin and cut into 1-inch cubes.

To make marinade: In bowl, combine agave, Sriracha sauce, garlic, soy sauce and rice vinegar, and whisk thoroughly.

Pour marinade into re-sealable bag and add cubed pork tenderloin. Marinate for up to 24 hours in refrigerator. Place tenderloin and pineapple chunks on skewers, alternating so pineapple is tight against tenderloin.

Heat charcoal or gas grill to medium heat. Grill skewers, turning every 5 minutes, until all sides are grilled. Cook until tenderloin chunks have reached internal temperature of 145° F.
SOURCE:
Smithfield