BY GALE JENKINS, Contributor
ST. PETERSBURG – Each year the Gibbs High School Class of 1968, Incorporated hosts their annual Scholarship Awards Program, presenting scholarships to deserving high school graduates. Awardees are young men and women who are seeking higher education by attending an accredited college or vocational school throughout the country.
Enoch Davis Center's doors were opened to more than 85 family members and friends all there to honor this year's recipients.
Each awardee was required to complete an application and submit a short essay outlining their goals and aspirations. Other requirements included maintaining a 2.5 grade point average or higher, volunteering in the community and must have received an acceptance letter from an accredited college or vocational school.
This year's recipients exceeded all expectations.  The Class of 1968 was pleased to present scholarships to nine very deserving high school seniors who will be seeking various undergraduate degrees, including medicine, technology, education and the performing arts:
Gibbs High School: Anya Nicole Campbell, Malachi Davis, Timothy Garner, Emilee Holliday, Desurae Pittman and Rikaya Leona Williams
Boca Ciega High School:— Alise Mone' Bryant and Je'neice Talber
Lakewood High School:— Gabriel Jackson, Jr.
This year's honorees received acceptance letters from such learning institution as  Theil College, Valdosta State University, Florida A & M University, University of South Florida, Florida State University, Pinellas Technical College and Bethune-Cookman University.
Each recipient was presented with a certificate and a check totaling anywhere from $500 to $1000. They were encouraged to strive always to do their very best, to complete their education, give back and become contributing members of their communities and society as a whole.
Three scholarship award recipients pulled double duty by also being the entertainment for the evening. Rikaya captivated the audience with an interpretive praise dance; Je'neice performed a soul-stirring piano solo and Timothy had everyone on their feet with his rendition of "Grace of God."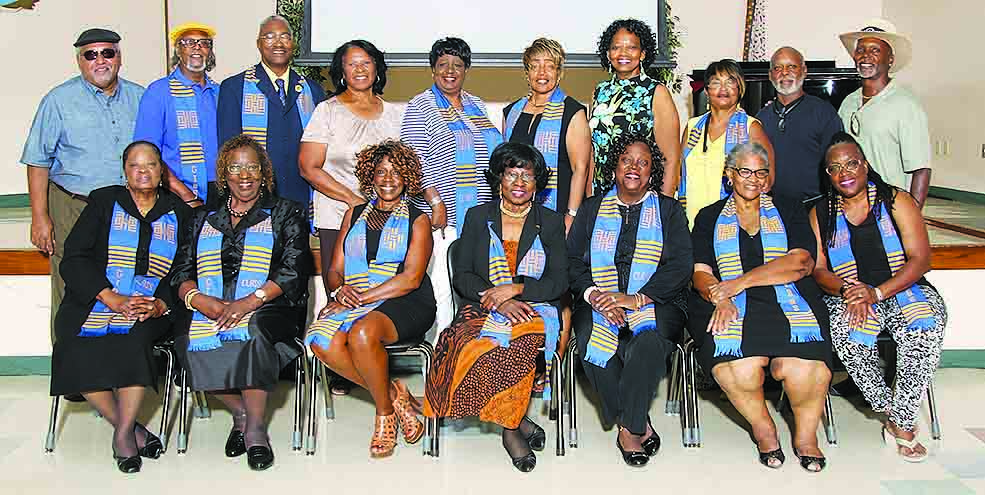 Class Chaplin Alvin Frazier gave spiritual advice to the graduates followed by board member Babara Stockton's dramatic recitation of the poem "Myself" by Edgar Allen Guest, which challenged the students never to compromise themselves or their beliefs, but to live productive lives, lives that would make them proud of themselves.
A PowerPoint presentation by Valerie B. Williams entitled "Bridging the Gap" highlighted the Class of 1968's journey from graduation until the present day.  Her presentation emphasized class unity and the importance of community involvement throughout their lives.
Mistress of Ceremony and class president Sylvia Wells-Moore also encouraged recipients to stay the course and remain focused on the tasks ahead, after which photos were taken, and refreshments served.
Scholarship awards are funded by the Gibbs Class of 1968 Holiday Extravaganza, being held this year on Dec. 23. Applications are available and accepted in the spring of each year for consideration.
Over the past 40 years, scholarships awards have been presented to high school graduates attending local schools.  Scholarships are awarded based on grade point average, personal references and recommendation from the Class of 1968 board of directors.
The Gibbs High Class of 1968, Incorporated is a non-profit organization whose motto is "To Whom Much is Given, Much is Required."