The community came out for the ribbon cutting ceremony of the new Callaloo restaurant April 6.
BY J.A. Jones, Staff Writer
ST. PETERSBURG — The historic Manhattan Casino reopened on the Deuces with a three-day celebration showcasing the iconic venue's event space and two restaurant concepts.  Although the event space has been open for business since Jan. and the restaurant for a few weeks, Friday, April 6 saw the official ribbon cutting ceremony.
Attended by members of the business and political communities, as well as those who couldn't wait to taste the establishment's Floribbean fare, this occasion officially marked the opening of the long-awaited – and debated – eatery on 22nd Street South.
The ceremony was kicked off with an invocation by Rev. Louis Murphy Sr. of Mt. Zion Progressive Missionary Baptist Church. He set the tone in a prayer that gave thanks, acknowledging the community's vision and commitment to entrepreneurship, job creation and economic opportunity, while welcoming the Callaloo group to the Deuces.
Chris Steinocher, president and CEO of the St. Petersburg Area Chamber of Commerce, functioned as Master of Ceremonies.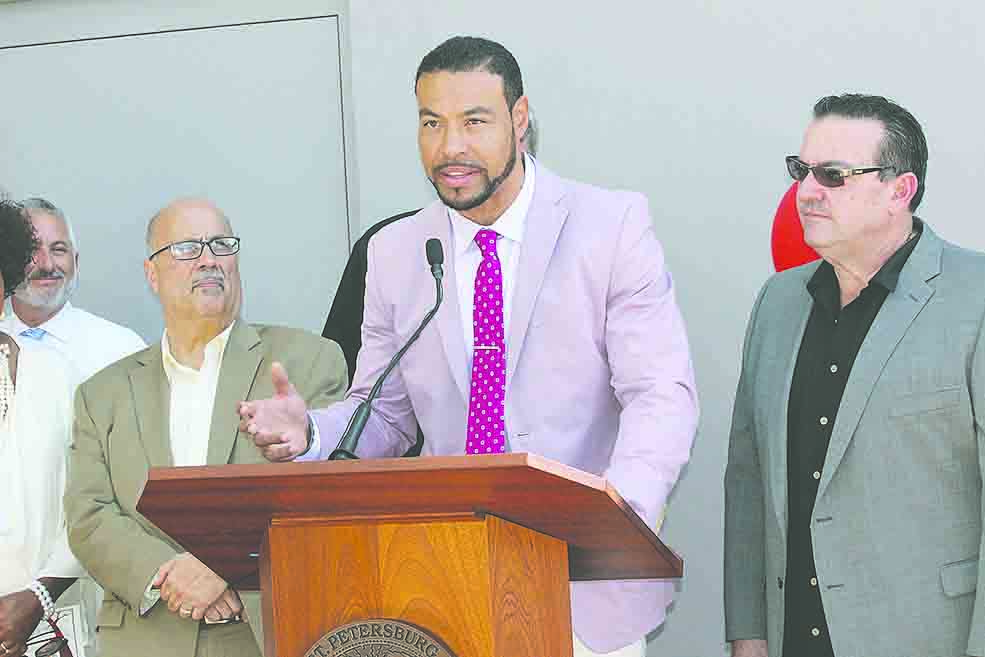 "We cannot beat our chest when we just do one thing on Central Avenue and Beach Drive — we gotta beat our chest when we start doing things in this entire community… and that's what this day represents to me, and everybody who's here."
Mayor Rick Kriseman stated that the ribbon-cutting ceremony was a testimony to the dreams of entrepreneurs and community members. He asserted that such ceremonies "celebrate the fact that they're investing in our community; with not only their resources but their heart and soul."
The mayor also noted that everyone who responded to the city's request for proposal all wanted the same thing: "to see St. Pete come back alive again." That, said the mayor, included job creation and reinvigorating the community.
"I think that was across the board, and what we already see is that this Callaloo Group has delivered," offered Kriseman.
City Council Chair Lisa Wheeler-Bowman said she had reservations when approached by Mario Farias, the Callaloo Group's director of development because her concerns were for the community first and foremost.
"When Mario first brought this to me, I said, 'What is it going to do for my community? What is it going to bring here because we need a benefit; people need jobs,'" remarked Bowman.
Farias' answer was, according to Wheeler-Bowman: "Lisa, you just will be amazed."
As laid out in the lease agreement, the Callaloo Group will have six streams of revenue coming in. The first floor will have four components: a full-service restaurant, a To Go restaurant that will work off the Pipo's Cuban Café menu, a full-service commissary and a bar and lounge.
The Callaloo Group is promising at least 25 jobs will come out of this first operation phase with 25 percent of these employees coming for the CRA.
There is also a strong provision in the contract that provides for a future ownership stake and future restaurant expansions. The goal is to have four employees from the CRA offered an ownership stake over the course of the lease.
Callaloo Group's Vice President Vincent Jackson spoke for the entire Callaloo team – which also consists of President Ramon Hernandez and Executive Chef Gary Moran.
"Rich history truly was woven into the fabric of our revival mission," asserted Jackson.  "When Elder Jordan initiated this construction in 1925, we all believe that he created more than just a dancehall. He created a haven for love, for joy and for breaking down cultural barriers between people from all races."
Acknowledging the Manhattan's past, Jackson named some of the many talented African-American greats who could only perform there during Jim Crow era St. Pete such as Ella Fitzgerald, Duke Ellington, Cab Calloway and Sarah Vaughan.
"That rich history still beats in this building — and we are so honored to be able to bring some of that back and integrate that history and heritage into the modern day," affirmed Jackson.
He also hailed Event Coordinator Deborah Figgs-Sanders and Entertainment Director Shawn Brown, while encouraging the community to take advantage of the second-floor performance space, which he added, has already hosted more than a dozen events since Jan. 1.
Callaloo is open seven days a week: Monday through Thursday from 11-9 p.m.; Friday and Saturday from 11-10 p.m. with the lounge open until midnight and Sunday brunch from 11-4 p.m. Pipo's Café is open Monday through Saturday from 9-4 p.m.
The Manhattan Casino is available for private rental seven days a week. Call (727) 420-2819 for reservations.
Log on to callaloostpete.com or historicmanhattancasino.com for more information.