St. Petersburg College held their investiture ceremony April 6 at the Palladium Theater for Dr. Tonjua Williams, the seventh president of the college.
BY FRANK DROUZAS, Staff Writer
ST. PETERSBURG – Last Friday, April 6, the Palladium Theater hosted St. Petersburg College's (SPC) presidential investiture ceremony of Dr. Tonjua Williams, who was unanimously selected on May 31, 2017.
An investiture is a traditional ceremony that marks the transference of authority in a high office. This ceremony held a historical purpose as it ushers in a new era at SPC by welcoming the first black and the first woman president of the 91-year-old college.
"We are here today for a very important celebration," said Terry Brett, chair of the Presidential Search Committee. "We celebrate today the selection of our seventh president, Dr. Tonjua Williams."
Williams lauded how far SPC has come since its days as a junior college, founded in 1927.
"We strive on being number one," she remarked. "The most innovative, the most creative, the quickest, the fastest and we do that because we have the best faculty in the land."
Williams holds a Ph.D. from Barry University in Higher Education Administration and has participated in several leadership programs, including State of Florida Chancellor's Leadership Program, Leadership St. Petersburg, University of Florida's Executive Leadership Program and the American Association of Community College's Thomas Lakin Leadership Program.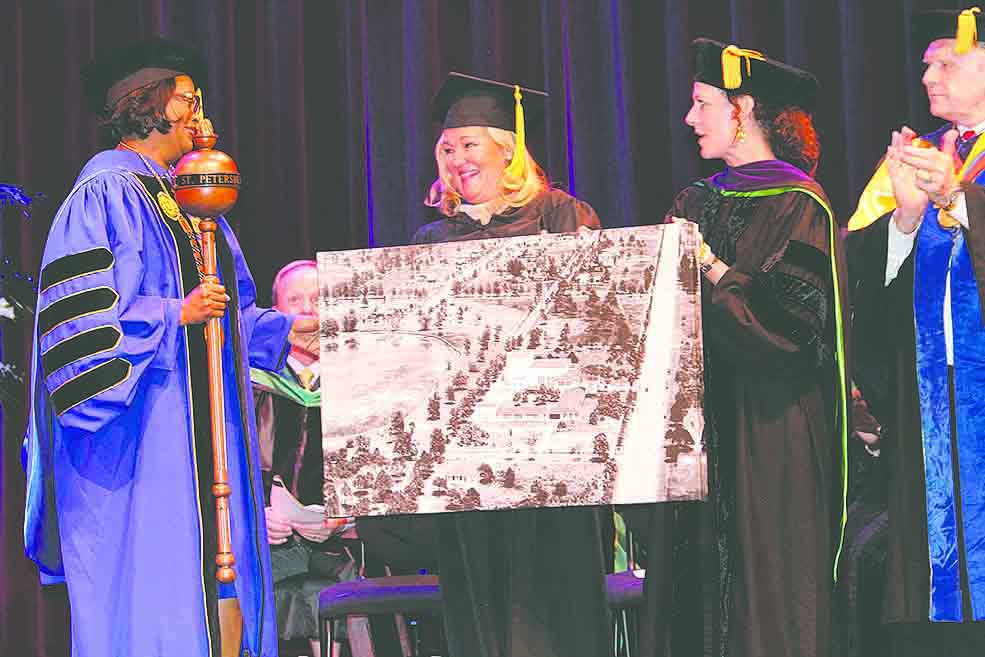 Williams said the work done at SPC transforms lives, fulfills dreams and improves families, and the school doesn't wait for students to be "college ready."
"Our mission is to bring you in where you are and take you where you want to go!" she said.
SPC understands the needs of all its students, she said, from all over the county, including the areas of poverty.
"To provide academic excellence we, have to know that we have single parents out there who have worked two jobs," she said. "They may be sleeping in class but it's because they're hungry. They haven't eaten; they haven't rested. There are reasons why our students struggle, but you know what? St. Pete College students, they thrive. They rise and grind. They put in the work so they can succeed. They too have a dream!"
Williams extolled the benefits of partnering with the community and various businesses in the area so students can get jobs and achieve economic mobility. SPC is already involved in community programs and under her leadership, Williams doesn't want SPC to be thought of as a "college on the corner" but "members of the family."
She plans to continue to encourage SPC students to get involved in their own communities, such as volunteering at the soup kitchens and the Ronald McDonald House.
"We're all over the place!" she said. "Habitat for Humanity, we've helped build houses. You know why? Because some of our students live in them! We're investing in our community!"
Well-wishers on hand included faculty members, present and former SPC students, Florida College System Chancellor Madeline Pumariega and Faculty Governance Organization Senate President Dr. Shannon Ulrich.
"We're not only here to celebrate Dr. Williams as the charismatic and authentic individual that we all know her as," Ulrich said, "but also to celebrate the story of Dr. Williams."
A St. Pete native, Dr. Williams started her SPC tenure in 1986. She spent the next 31 years continuing her education and working her way through the ranks at SPC.
"The road on her journey was not paved for her, it was earned through work, integrity and commitment."
Council of Presidents Chair, President Ava L. Parker of Palm Beach State College, lauded the selection committee for making the "best possible selection" for their seventh president.
"The reason I can say that with such affirmation is that I've seen Tonjua work already," Parker said, noting her involvement in advocating for SPC during the last legislative session. "She had a great time representing the system and representing the college."
Members of the state and city government were on hand, including Senator Darryl Rouson and Mayor Rick Kriseman. The senator noted that we've come a long way from over 50 years ago when St. Petersburg Junior College became integrated.
"It's not about the first female, the first African American," Rouson pointed out. "It's about a professional educator who dedicated a determined lifestyle so that the dreams of others could be manifested in a college setting."
Kriseman congratulated Williams and noted that she was recently named one of the top 25 women in higher education in the nation. Brian Lamb, Board of Trustees Chair at the University of South Florida, called the investiture of Williams a "milestone" and a "fantastic opportunity" for the SPC community to go to the next level.
"I will tell you, you've got a leader that will take you there," Lamb said. "You have an inspirational and transformational leader that has a track record of greatness."
Florida A & M University President Larry Robinson brought greetings on the behalf of the state university system and put things into perspective by asking those on hand to visualize the world when SPC was founded in 1927.
"Isn't it wonderful what we can do when we put our 'isms' aside and really look into the hearts and souls of people, the talent and skills they bring to the table and think about how many people like Dr. Williams we probably missed somewhere along the way," he said.
Pinellas County Schools Superintendent Michael Grego called Williams' journey to the presidency a story of hope—one in which she started as a senior accounting clerk at SPC.
"She's a keen example of what happens when a family in a community values education," he said of Williams, a Boca Ciega High graduate. "In fact, it was her mother's desire and determination that Dr. Williams and her siblings get a good education."
Williams' sister, Lyn Harris, called her a strong leader in the family, even when it came down to delegating family chores. When it came time for Harris to leave for the University of Florida, she said that she left with 14 credit hours acquired from a dual enrollment program at SPC.
"I left with confidence, I left believing that I could accomplish what I set out to because I already had college credit," Harris said. "So my charge to you, big sister: continue giving others the confidence to succeed!"
Former SPC president Dr. William Law, Jr. presented Williams with the traditional college mace while Dr. Carl Kuttler, Jr., another former SPC president, placed the presidential medallion around Williams' neck.