ST. PETERSBURG – "Joy is the Assignment!" during the 2023 Healing While Black summit, a four-day experience bringing clinicians, wellness providers, educators, organizers, artists, community members, and public officials together to discuss mental, emotional, and spiritual health in the Black community.
Organized by The Well for Life, participants engage with inspiring presenters throughout the event-full weekend, hear leading-edge research and practice, and engage in wellness activities and celebrations.
"Our stories matter. Our strategies work. We are worthy of investment," noted Dr. LaDonna Butler, founder of the Well for Life.
This year's events begin Thursday, July 6, with an opening reception at 5 p.m. at The Studio@620 for speakers and facilitators, followed by Poetic Joy, an evening of poetry and spoken word starting at 8 p.m.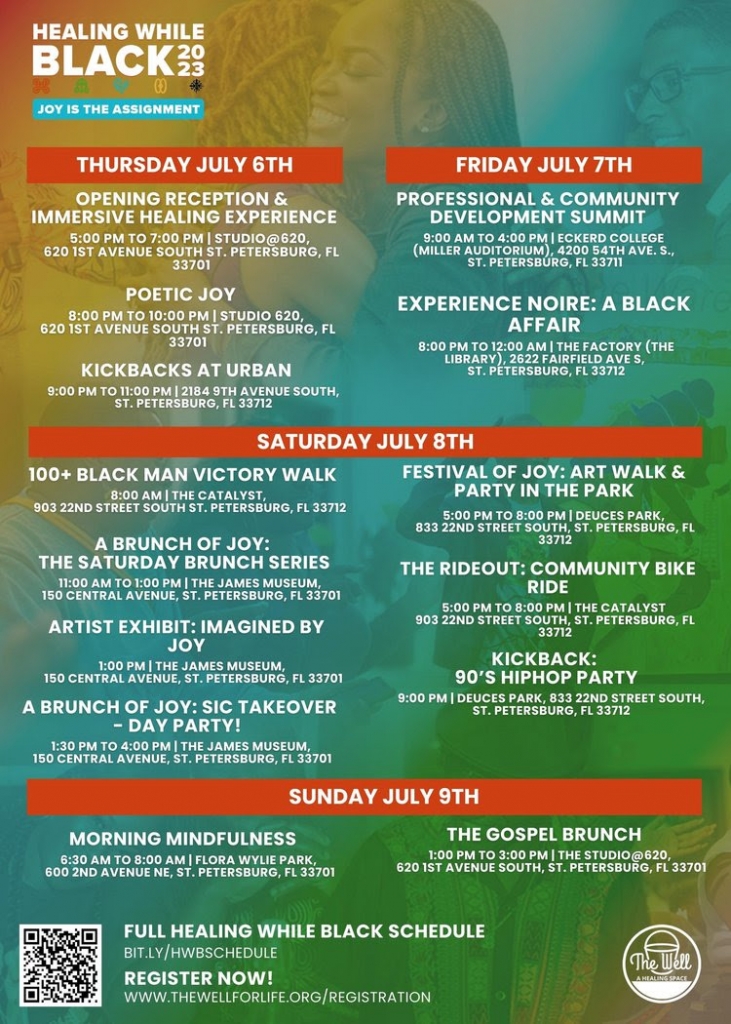 Presented in collaboration with Love Your Voice 101 and As She Speaks, "Poetic Joy" features poets, including Poet SheIS, Rebel Poet, Wally B, 13th Disciple, Keemba on da Drums, Black Jack, Whit the Poet, King Soul Carl Jr., Philip Scott, C-Maine, Gemini Fox, Melanie Lavender, Sista Tria Finesse, Beautiful Disaster and Modern Medusa — vibes by Charlie G, DJ Donnie Luv.
The Studio@620 is located at 620 First Ave. S, St. Petersburg.
Also on Thursday's menu is a relaxed "kickback" after-party at Urban Drinkery from 9-11 p.m., 2184 9th Ave. S, hosted by DJ Donnie LUV & Julian Riley.
Healing While Black continues on Friday with the Professional & Community Development Summit, Leadership Luncheon and Experience Joy Noire.
"This is an affirming summit! During the day, we will elevate the ways in which we find, experience and celebrate liberation and wellness during our Professional & Community Development Summit. Whether in-person or online, we inspire transformative connections, critical dialogues and communal celebrations that center our collective joy, healing and well-being," shared Butler.
The hybrid summit can be experienced online or in person, from 9-4 p.m., and will take place at Eckerd College, Miller Auditorium, 4200 54th Ave. S. Click here for the lineup of speakers.
Friday concludes with "Experience Noire: The All Black" party, a night of art, conversation, dancing, and community. Experience Noire is from 8 to midnight at The Factory, 2622 Fairfield Ave. S, and will be hosted by MTY Jai with vibes by DJ Donnie Luv. Featured artists include Dennis Amadeus, Joewun Bee, Modern Medusa, Sierra Amora, Siobhan Monique, and Tone I.E.
Saturday continues with the Deconstructed Series, which is the practical application of Friday's learning. Saturday's activities and celebrations offer a variety of opportunities for us to engage in joyful connection, dialogue, movement and celebration that centers Black healing," stated Butler.
Beginning 8-9 a.m. is the 100+Black Men Walk, from Shell Gas Station to The Catalyst. The celebration then continues with brunching from 11-1 p.m. with Brown Girl Brunch and Brunch of Brothers, and an art exhibition artist conversation featuring Joy Haugabook at the James Museum, 150 Central Ave. An evening party and market on the Deuces follows at 5 p.m.
Sunday's events include a 6:30 a.m. mindfulness session at Flora Wylie Park, 600 Second Ave. N.E., facilitated by Regina Fields of Brave Baby Bird, LLC, and a gospel brunch will be held from 1-3 p.m. at The Studio@620, 620 First Ave. S.
Registration is necessary for all events. Visit thewellforlife.org/hwb to register, and click here for the full schedule of events.