James and Johnnie Williams at their retirement celebration in 2015
BY RAVEN JOY SHONEL, Staff Writer
ST. PETERSBURG – A final goodbye was said to the patriarch and the matriarch of All Nations Church of God by Faith EPC last Saturday, Feb. 25 at Friendship Missionary Baptist Church where the Rev. Dr. John A. Evans tends his flock.
This homegoing celebration brought the faithful from all over the United States to rejoice in the life of the Williamses, who transitioned to their heavenly homes just five days apart from each other.
Married in 1948, Overseers James and Johnnie Williams kept God at the center of their union, which allowed them to enjoy 68 years of togetherness and a beautiful family of six children: Rufus, Alvin, Janice, Rhunette and two sons who preceded them in death, Daniel and Joseph.
Officiating over the service, Chief Apostle Dr. S D James said he made an apostolic visitation to administer the sacrament of the high priest where Overseer Johnnie told him that she wanted her children to understand that she fought the good fight, finished her course and that she had "set her house in order."
Born Johnnie Lee Brown on Nov. 4, 1931, in St. Petersburg, she sat under the teachings of her late grandmother Mother Idella Jones, who imparted virtue and wisdom into her life.
The Church of God by Faith began in 1947 by Mother Jones, and in 1979 Johnnie was called to pastor. Following in her grandmother's footsteps of serving the community and spreading the gospel of Jesus Christ, she helped organized The All Nations Gospel Singers, became a missionary and later served as state secretary of the first independent All Nations Gospel Holy Church of God.
Overseer James was born on June 12, 1928, in Asbury Park, N.J., and relocated to St. Pete in his late teens. He accepted Jesus Christ as his savior in 1975.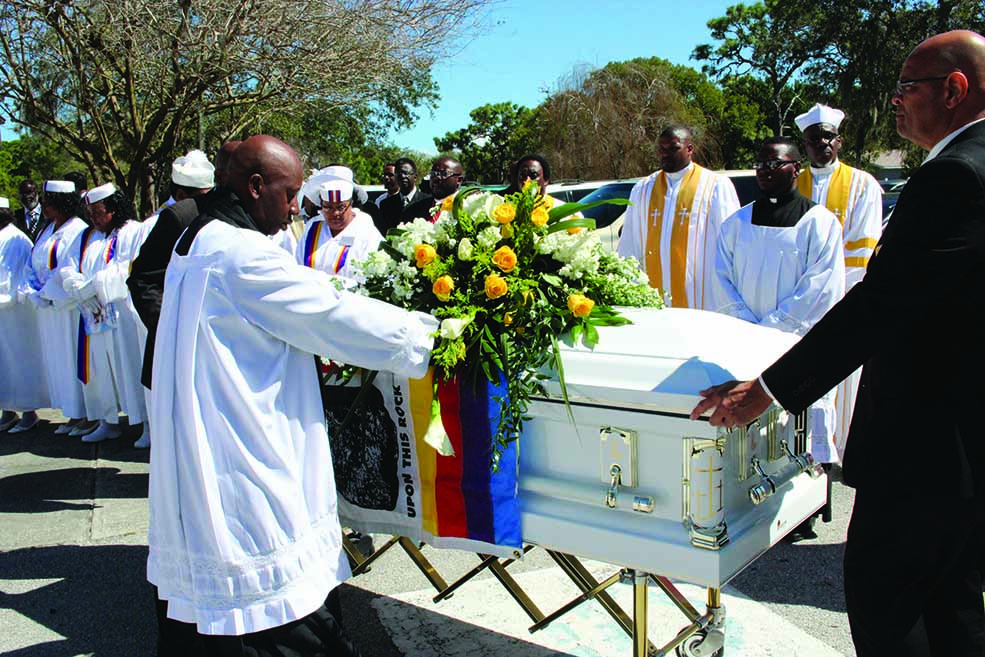 Always known for his sweet voice and musical talents, he too found his calling in the church becoming an ordained deacon in 1977 and just two years later was appointed pastor. By 1985 Overseer James had become an ordained minister with the position of elder and bishop coming in later years.
From the manifestation of the fruit of their labor, many souls were saved and several churches/ministries were born. They worked faithfully in the Kingdom of God and in 1995 built a new sanctuary followed by a fellowship hall five years later.
In 2006, James and Johnnie were ordained as bishop and overseer by Chief Apostle James and served diligently until they passed the mantle to their children Pastor Rhunette Wells and Alvin Williams in 2015.
Prophetess Mary Gavins said she had known Overseer Johnnie since the late 1970s and was mentored by her.
"I knew her as a woman that was able to take it. She gave me the opportunity to walk right beside her. She took my hand. Every time I needed encouragement she would say: 'Mary you can do this.'"
The last time she spoke to Overseer James he said, "I'm going to see you forever," letting her know that she would see him forever in heaven.
Antwan Wells said a tearful goodbye to his grandparents exclaiming, "The patriarch and the matriarch are going to see the king."
Barbara Amerson came from New York to reflect on her aunt and uncle. She said the couple was both loving and caring, singling him out as having a great sense of humor with a quick comeback always on hand.
Dr. Craig Oliver Sr., pastor of Elizabeth Baptist Church in Atlanta, anchored his eulogy on 2 Timothy 4: 6 where he said the couple finished the race and kept the faith.
In order to finish the race, Overseer and Bishop Williams had "a sense of faithful devotion to Christ," calling them faithful servants of God who worked to prepare others to succeed.
"I'm caught up on that word love," revealed Bishop James in 2015 at their retirement celebration. He believed the world's problems could be solved by accepting God and choosing to follow his teachings.
"Let's hook up together and be what the Lord wants us to be."
The couple, who spent 68 years together living in the Word of God, was interred at Royal Palm Cemetery.
"I love every one of you," Overseer Johnnie said at their retirement celebration in 2015, "and you can't do nothing about it."